India
War of billboards: How new year promo ads turned political | India News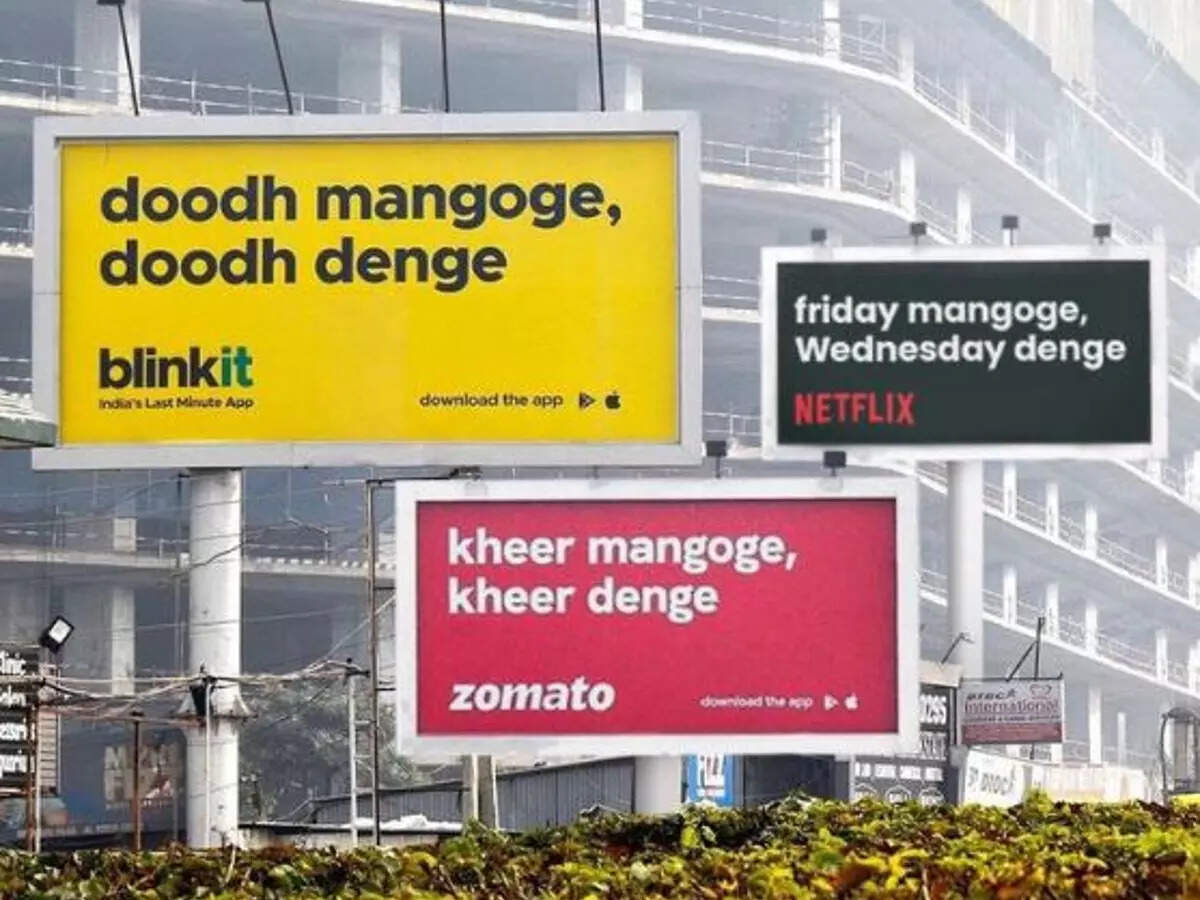 NEW DELHI: It all started with unusual and funny commercial advertisements by three brands to celebrate the new year. However, it soon assumed political overtones and became a slugfest between three prominent parties.
Indian online shopping company Blinkit, Indian food delivery company Zomato and American on-demand over-the-top (OTT) video streaming service company Netflix tagged each other on social media to promote their products on the new year.
Blinkit's post on Twitter said, "New year, new billboard. Doodh mangoge, doodh denge (Ask for milk, will provide milk)."
New year, new billboard 💛 https://t.co/1I29itCz4a

— Blinkit (@letsblinkit) 1672811018000
With the caption 'New collab (collaboration)', Zomato added its own slogan to that of Blinkit and said, "Kheer mangoge, kheer denge (Ask for sweet rice pudding, we will deliver sweet rice pudding)."
new collab 💛❤️ https://t.co/AZtBgoGPwv https://t.co/i0fiOZuF3S

— zomato (@zomato) 1672811094000
On its part, Netflix's post included billboards also of Blinkit and Zomato besides its own. With the caption "It's a great day to go out and look at billboards", it said, "Friday mangoge, Wednesday denge (Ask for Friday, will provide Wednesday."
Wednesday is a currently streaming popular English TV serial by Tim Burton starring Jenna Ortega, Gwendoline Christie and Riki Lindhome among others.
Basically, all these slogans from Blinkit, Zomato and Netflix are adaptations from a popular dialogue "Tum doodh mangoge hum kheer denge, tum Kashmir mangoge hum cheer denge (You ask for milk and we will give you sweet rice pudding. But if you demand Kashmir, we will tear you apart.)" Delivered by an Indian to a Pakistani, the dialogue is from the 2002 Bollywood film 'Maa Tujhe Salaam' starring Sunny Deol, Arbaaz Khan and Tabu among others.
Blinkit replied to the viewers of Netflix shows saying, "Binge watch karoge, popcorn hum la denge (If you watch several episodes of a show in succession, we will get you popcorn).
In a wordplay, Netflix said, "Recommended for us: Hum Aapke Hain Corn." To this, Zomato responded by saying, "Yup, it's a 'Wednesday' after all." Most of the tweets were being exchanged on January 4 which was a Wednesday.
Travel agency company Yatra pitched in and, with the hashtag 'Book now pay later', said, "Hotels mangoge, Re 1 mein denge (Ask for hotels, we will provide for Re 1)."
@letsblinkit #Hotels mangoge, ₹1 mein denge #BookNowPayLater https://t.co/k5o7rtEswh

— Yatra.com (@YatraOfficial) 1672940757000
Food and beverage company Kulhad Biryani, which calls itself 'India's first jhatka biryani brand', used the original dialogue from the film as a slogan to say "Kashmir mangoge, cheer denge".
@letsblinkit Kashmir mangoge,Cheer Denge https://t.co/xqAd0f2f6Z

— Kulhad Biryani (@KulhadBiryani) 1672850102000
Ad war turns political
Subsequently, the ad war, which was funny till then, turned political. The Congress and Delhi chief minister Arvind Kejriwal-led Aam Aadmi Party (AAP) attacked the Bharatiya Janata Party (BJP) using the promos as their template. The BJP responded but belatedly and feebly.
Congress
The youth wing of the opposition Congress – Indian Youth Congress (IYC) – posted more than half a dozen slogans to hit out at the Narendra Modi government at the Centre.
The party, in a reference to BJP's alleged 'Operation Lotus' in states such as Karnataka, Madhya Pradesh and Maharashtra, said, "Jahaan sarkar nahin banehi wahaan vidhayak khareed lenge (Will buy MLAs in states where we fail to form government)."
अब ठीक है! https://t.co/2OjPTRo160

— Indian Youth Congress (@IYC) 1672990885000
IYC posted a tweet with two slogans which said, "Jobs mangoge, jumla denge (If ask for jobs, we will give you rhetorics") and Union finance minister Nirmala Sitharaman's old statement "rupee weak nahi hua hai, dollar strong hai (The rupee has not weakened but the dollar has strengthened)".
Got it Mitron! https://t.co/qzvRdWCTSC

— Indian Youth Congress (@IYC) 1672992431000
Referring to the defence ministry's Agniveer scheme of employment which had caused unrest and violence in some parts of the country last year, IYC said, "Sena me bharti mangoge, Agniveer denge (You ask for recruitment in the defence forces, we will give you Agniveer)."
IYC demanded that those who conceived the Agniveer scheme should also be retired.
अग्निवीर लाने वालों को भी रिटायर किया जाए! https://t.co/BcMefDYlFq

— Indian Youth Congress (@IYC) 1672996059000
Another tweet from IYC said, "Freedom of speech mangoge, UAPA [The Unlawful Activities (Prevention) Amendment Act] denge (You demand freedom of speech, we will give you UAPA)".
In a dig at Modi, who has not held any structured press conference ever since he became PM in 2014, IYC said, "Press conference mangoge to scripted interview denge (If you demand a press conference, we will give you scripted interview)."
Got it Mitron! https://t.co/NVQVuA0rQj

— Indian Youth Congress (@IYC) 1672998448000
IYC also referred to the ongoing Bharat Jodo Yatra led by Congress MP Rahul Gandhi. Captioned 'down to hate, hail the love', it said, "Tum desh todoge, hum Bharat jodenge (You break the country, we will unite it)."
In cited Rahul's statement and said, "Nafrat ke bazaar me, mohabbat ki dukan khol raha hu mai (I am opening a shop of love in a market full of hatred)!"
Down to hate, hail the love! https://t.co/RVoDof2cpR

— Indian Youth Congress (@IYC) 1673021111000
In yet another tweet, IYC said, "Agar sarkar par sawal uthaoge, anti-national declare denge (If you raise questions at the government, we will declare you anti-national)."
Another billboard said, "BJP join karoge, toh clean chit denge (If you join the BJP, we will give you a clean chit)."
Hmm! The reality… https://t.co/XIU2tpCXpR

— Indian Youth Congress (@IYC) 1673077948000
Finally, a tweet attacked the alleged privatisation moves of the Centre and said, "Vikas mangoge, rashtriya sampatti bech denge (If you demand development, we will sell the national properties)."
भाजपा के लिए विकास मतलब राष्ट्रीय संपत्ति की नीलामी! https://t.co/6T3mwveWPV

— Indian Youth Congress (@IYC) 1673082547000
AAP
AAP, which is in power in Delhi and Punjab, also lashed out at the BJP through the ad war. It said, "We found another billboard. Doodh, kheer ya maango tea, sabme laga diya GST (Ask for milk, sweet rice pudding or tea, we have imposed GST on all of them)."
we found another billboard 👀 https://t.co/5N1JzuwKlN https://t.co/YtdxfS35zf

— AAP (@AamAadmiParty) 1672929801000
BJP
In response to more than half a dozen tweets from the Congress and AAP, the Bihar unit of the BJP posted just one tweet. It was a censure of the recent lathicharge in Patna on students who were protesting on January 4 the leak of Bihar Staff Selection Commission (BSSC) papers.
Several aspirants were injured in the police action. The BJP had condemned the JD(U)-RJD-Congress's Mahagathbandhan coalition government and called it the state government's brutality on students.
The BJP Bihar tweet said, "Rozgar mangoge, lathiyon se peet denge (If you demand jobs, we will beat you with sticks)."
कहीं ये मिला, "लठ' बंधन सरकार" 👀 https://t.co/MNfRPnYWSW

— BJP Bihar (@BJP4Bihar) 1673262002000
Meanwhile, in a similar kind of promo ads, but this time on the new year eve, Indian food delivery company Swiggy and condom manufacturers Durex also posted humourous and unconventional tweets.
Swiggy posted a tweet saying: "2757 packets of @DurexIndia condoms delivered by @SwiggyInstamart so far. Please order 4212 more to make it 6969, so we can all say 'nice'."
Durex India replied to Swiggy and said, "Thank you for 'delivering' them O's. We know at least 2757 are having a banging new year. P.S: We hope they order coffee together tomorrow morning."
In a quirky retort, Swiggy Instamart said, "@durexindia, the people who ordered these 2757 condoms are probably not reading this rn (right now)."
@DurexIndia @Swiggy @durexindia the people who ordered these 2757 condoms are probably not reading this rn 🤭

— Swiggy Instamart (@SwiggyInstamart) 1672503225000

#War #billboards #year #promo #ads #turned #political #India #News