India
#Unstoppable21: She's a Carnatic music prodigy with a wide range of talents | India News
Sharanya Mudundi
has been feted nationally and earned international accolades for her singing. She has also made a mark in English Olympiads and marathons and knows karate, too. The TOI #Unstoppable21 jury has picked the
Visakhapatnam girl
as one of the Unstoppable 21 Indians under 21 years
Sharanya Mudundi was hardly seven when her parents recognised her innate vocal talent. The Visakhapatnam-based vocalist started by performing Carnatic music for a small audience but eventually reached international platforms. Years later today, the 16-year-old is an accomplished vocalist.
In 2020, she bagged the Pradhan Mantri Rashtriya Bal Puraskar – in art and culture – India's highest civilian honour bestowed upon exceptional achievers under the age of 18. She received this award from the then president Ram Nath Kovind.
She performed during the Bal Puraskar event closing ceremony in front of top dignitaries. Her vocal delivery kept the audience riveted even at various global platforms, including performing and winning at the Little Model Earth 2017 held in Johannesburg, South Africa and Little Miss Grand Sea Intercontinental in Sofia, Bulgaria.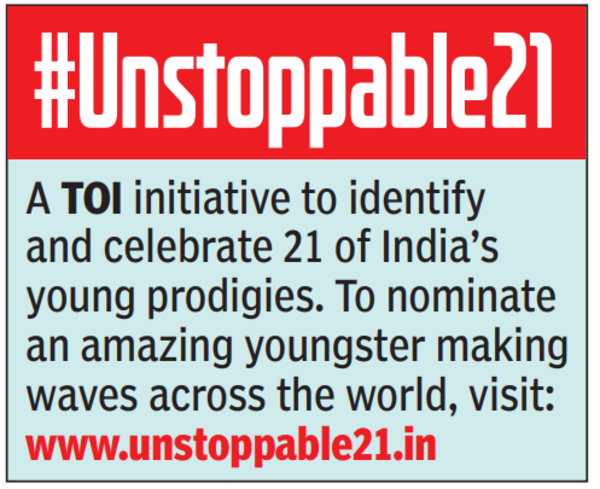 Sharanya, a Class 11 student, is an all rounder with medals and accolades – in karate, marathons, and Olympiads – to her name. She is a brown belt in karate and has won gold and silver medals in international karate championships.
With a flair for running since childhood, she has completed several marathons. She emerged as the winner of the international English Olympiads conducted in 2016 and 2017, and consistently bagged gold and/or silver medals in national Olympiads between 2015 and 2022.
Sharanya plays the guitar and likes to paint. She also runs marathons for a range of public causes – girl child education, cancer prevention, and environment projects. She is also serving as a goodwill ambassador for various national and international organisations.
She received the global child prodigy (GCP) award-2022 in the category of art and culture (vocal Carnatic music). Out of thousands of applicants, Shara nya was selected among the top 100 for GCP. She received the award from Sir Richard J Roberts, a Nobel laureate in physiology or medicine, at an event in Dubai.
Speaking to TOI, she said that the invite to Prime Minister Narendra Modi's residence in 2020 was the high point in her life. "It was a dream-come-true meeting with the Prime Minister. My happiness knew no bounds when Modi ji gifted a book and a personalised watch with my name, which also has his signature engraved on it," said Sharanya.
Sharanya balances her studies and extracurricular activities with her parents' help. "…My mom helps me prioritise tasks and helps me in academics as well. Time management and parents' support have helped me chase my dreams."
Her parents – M Suryanarayana Raju and Swati – were on cloud nine when Union minister for women and child development Smriti Irani declared that "Sharanya has become the nation's daughter".
"We have only nurtured her natural talent. Apart from her gifted brilliance, a rigorous practice has gone into her career trajectory as it requires a certain level of professionalism to master the ragas and kritis in Carnatic music," said M Suryanarayana Raju.
Sharanya was the first Indian girl to win the International Children's Festival of Culture and Art Little Miss and Mister United World 2018 held in Thessaloniki, Greece. The Little Model Earth-2019, a six-day gala event that brought talents across the globe onto a single platform, conferred Sharanya with the international child jury award. She was declared as the Youth Icon 2021 by the Youth Connect Organisation, London. She also made it to the India Book of Records and International Book of Records.
Her mother M Swati, who did an MBA, quit her lucrative job to devote time to her daughter. "While most kids of her age were still playing with toys, Sharanya started making a lasting impression on the Carnatic music world as early as seven. She further thrived in a structured music education environment under her teacher Leepika Reddy. She wants to pursue an MBA. But she would continue her musical journey," said Swati.

#Unstoppable21 #Shes #Carnatic #music #prodigy #wide #range #talents #India #News