India
Popular tribal songwriter, 5 others killed in shelling, firing in Manipur | India News
GUWAHATI: A popular tribal songwriter-composer was among six people killed while 14 others were wounded in an explosion of violence since late Wednesday along Manipur's volatile Bishnupur-Churachandpur border that now represents more than just a geographical divide between the valley and the state's hill districts.
Amid gunshots, blasts and intermittent shelling, news of the death of LS Mangboi Lhungdim (42), who penned the tribal anthem "I gam hilou ham (Is this not out land?)", accentuated the gloom as the state cowered under its second spurt of bloodshed in just over 48 hours following a period of relative calm.
Lhungdim died around 1am Thursday while being evacuated to the Mizoram capital of Aizawl for treatment of injuries suffered in mortar fire. Another person wounded in shelling in the Khoirentak-Naranseina area —Richard Hemkholun Guite (31) – died around 9am while being shifted to Guwahati via Aizawl.
Village volunteers Paokam Kipgen and Pausawndam Vaiphei were killed in firing near the border. Eight others were wounded in shelling at Khousabung village in Churachandpur.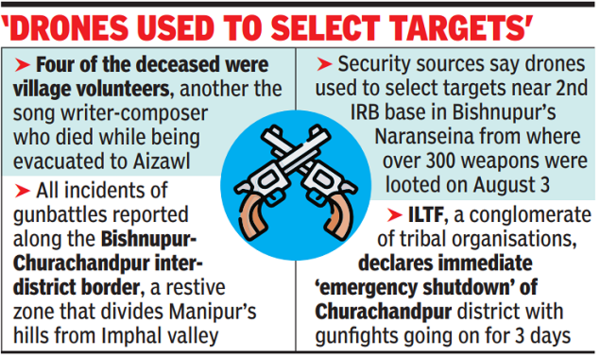 At Thamnapokpi and Naranseina in Bishnupur, two more village volunteers — Pebam Deban and Moirangthem Ropen — were killed and six wounded in a gunfight between two groups.
Arsonists burned down two abandoned houses in Imphal West district in the evening. A power supply station at Thamnapokpi near Moirang was earlier destroyed, leaving more than 10 villages in Khoirentak and Khousabung without electricity.
Sources in the security establishment reported use of drones by armed outfits to obtain targets for incessant mortar shelling. This area is close to the 2nd India Reserve Battalion base at Naranseina, from whose armoury a mob looted 300-odd weapons on August 3, including three 51mm mortars and 81 HE mortar bombs.
Security officials said a cache of weapons was seized during combing operations in the last 24 hours.
CM N Biren Singh called for unity among civil society organisations in the state to help the Centre and the BJP-led state government overcome the challenges in restoring peace through dialogue.
"There are too many organisations. We are at a very crucial stage now. Both the central and the state governments are confused about whom to talk to. We will go with the public and never work against the interest of the people," Singh said at an event in Imphal.
He maintained that the ethnic violence raging for almost four months was "not a communal clash but a creation of demographic imbalance due to the influx of illegal immigrants".
"The state will do everything possible to protect the state from any disintegration," Biren Singh said.
The Indigenous Tribal Leaders' Forum (ITLF), a conglomerate of tribal bodies, said "tribal positions" in areas bordering Churachandpur and Bishnupur had been attacked with mortars snatched from police stations and armouries for the third consecutive day.
The organisation termed the spate of attacks "a ploy to derail political talks between tribal groups in ceasefire and the central government".
ITLF declared an "emergency shutdown" with immediate effect in Churachandpur district, citing the attacks at Lonphai, Khousabung, Kangvai and Sugnu areas.
Former deputy national security adviser DD Padsalgikar, who has been appointed by the Supreme Court to monitor and supervise cases handed over to the CBI and those of SITs, informed the governor that the first status report of the investigation would be submitted to the authorities by the first week of October, Raj Bhavan said.

#Popular #tribal #songwriter #killed #shelling #firing #Manipur #India #News