Entertainment
Parineeti Chopra-Raghav Chadha Wedding: 'Ladkiwaale' Manish Malhotra, Sania Mirza, sister Anam reach Udaipur
Actress Parineeti Chopra and Aam Aadmi Party (AAP) leader Raghav Chadha are getting married in Udaipur today. The wedding guest list includes prominent politicians, with Delhi Chief Minister Arvind Kejriwal and Punjab Chief Minister Bhagwant Mann attending the event. The list of Bollywood guests is not very long. Fashion designer Manish Malhotra and tennis ace Sania Mirza have arrived in Udaipur for the couple's high-profile wedding. 
Manish Malhotra and Sania Mirza arrive in Udaipur for Parineeti Chopra and Raghav Chadha's wedding
As Parineeti Chopra and Raghav Chadha are all set to tie the knot today, Manish Malhotra who has designed the bride's wedding outfits has finally arrived in Udaipur for the highly anticipated wedding of the couple. Not only Manish Malhotra but also former tennis player Sania Mirza, who is close friends with Parineeti Chopra, arrived in Udaipur to attend the actress's wedding with AAP leader Raghav Chadha. Sania was spotted at the Udaipur airport this morning with her sister Anam Mirza. Sania wore a matching pink outfit, while Manish sported a casual look in a long jacket. HAVE A LOOK: 
Sania Mirza shared a picture with Parineeti Chopra confirming her presence at the wedding
On Saturday afternoon, Sania Mirza took to her Instagram story to post a picture with the bride-to-be, Parineeti Chopra, celebrating their strong female bond! The affection between them is clear in the lovely photo as they hugged, and Parineeti made a goofy expression. In her caption, Sania extended her best wishes and wrote, "Congratulations beautiful girl. My turn to give you the Biggest jhappi," along with a red heart and a smiley emoji. HAVE A LOOK: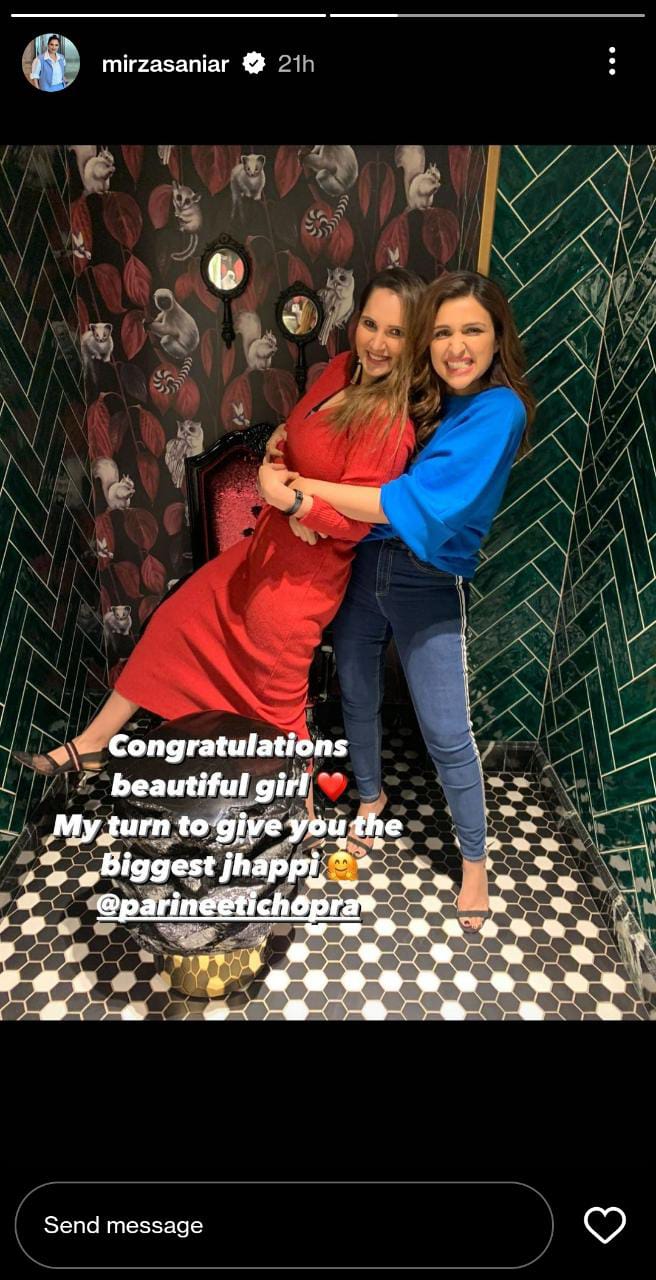 Astrologer Pandit Jagannath Guruji's prediction on Parineeti Chopra and Raghav Chadha's married life
Famous astrologer Pandit Jagannath Guruji has made positive predictions about the beloved celebrity couple, Raghav Chadha and Parineeti Chopra. He believes that they have the potential to become an exceptional couple, setting high standards for others to follow. What distinguishes them is their maturity, respect, and affection for one another, as well as their capacity to value each other's need for personal space. This mutual respect and understanding between the couple are expected to have a beneficial impact on their relationship.
ALSO READ: Parineeti Chopra-Raghav Chadha Wedding EXCLUSIVE: Astrologer Pandit Jagannath Guruji predicts couple's love life, careers

#Parineeti #ChopraRaghav #Chadha #Wedding #Ladkiwaale #Manish #Malhotra #Sania #Mirza #sister #Anam #reach #Udaipur