India
Ganga Vilas cruise booked till March 2024: Ticket prices, booking details, route, all you need to know about the world's longest river cruise | India News
NEW DELHI: The MV Ganga Vilas luxury cruise, which was flagged off by Prime Minister Narendra Modi on Friday, is already fully booked till March 2024.
Ganga Vilas luxury cruise, dubbed the world's longest river voyage, will take passengers on a 51-day trip from Varanasi to Dibrugarh.
"The inauguration of Ganga Vilas will open new vistas for the Eastern India to emerge yet more brighter on the world map of tourism," PM Modi had said after the inauguration.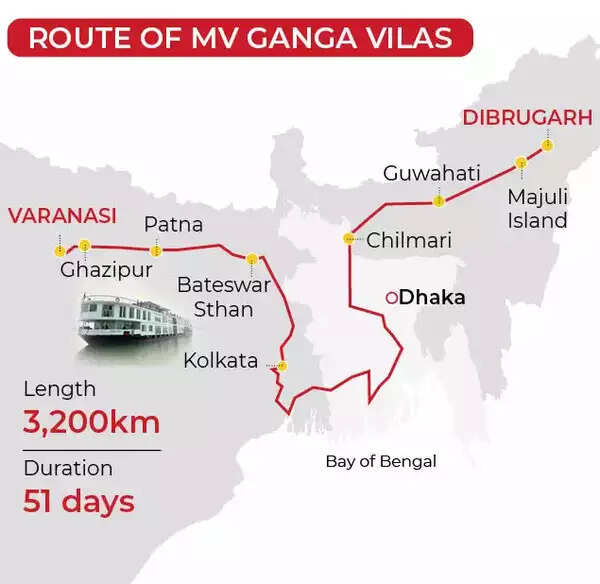 Here's all you need to know about the luxury cruise:
Route
MV Ganga Vilas will begin its journey from Varanasi and end in Dibrugarh (Assam) via Bangladesh.
During its 51-day voyage, the cruise will travel 3,200 km across 27 river systems.
The cruise will visit 50 tourist destinations, including world heritage sites, national parks, river gorges, and major cities.
It will make a stop at Patna (Bihar), Shahibganj (Jharkhand), Kolkata (West Bengal), Dhaka (Bangladesh), Guwahati (Assam) and Dibrugarh (Assam).
Features of luxury cruise
The cruise will have vegetarian Indian cuisine, assorted non-alcoholic beverages, spa, and doctors on call.
Tourists will be served local food and seasonal vegetables.
The holiday promises an experiential voyage as the tourists will get a chance to indulge in the art, culture, history, and spirituality of India and Bangladesh.
The luxury cruise has three decks, 18 suites on board with a capacity of 36 tourists, with all the luxury amenities.
The suites have soothing interiors, furnished with numerous amenities such as French balconies, LED TVs, safes, smoke detectors, and convertible beds.
The ship has a 40-seater restaurant on the main deck, a spa, and a sun deck.
Ticket prices
The 51-day luxury journey costs Rs 50 lakh-Rs 55 lakh per passenger.
Most of the tourists who have secured seats in the maiden voyage are from the US and Europe.
How to book
One will have to wait for more than a year to get a suite in the luxury ship as it is fully booked till March 2024.
The bookings are available for tours April 2024 onwards, said Antara Luxury River Cruises vice-president Saudamini Mathur.
Antara Luxury River Cruises is operating MV Ganga Vilas. Bookings can be made by going to the official website of Antara Luxury River Cruises.
Other features
The ship has 39 crew members and its captain is Mahadev Naik who has more than 35 years of experience.
The MV Ganga Vilas –the first-ever cruise vessel made in India — is 62 meters in length, 12 meters in width and comfortably sails with a draft of 1.4 meters.
(With inputs from agencies)

#Ganga #Vilas #cruise #booked #March #Ticket #prices #booking #details #route #worlds #longest #river #cruise #India #News