India
'We have many choices for PM face, BJP has only one': Leaders of opposition's INDIA ahead of third meeting in Mumbai | India News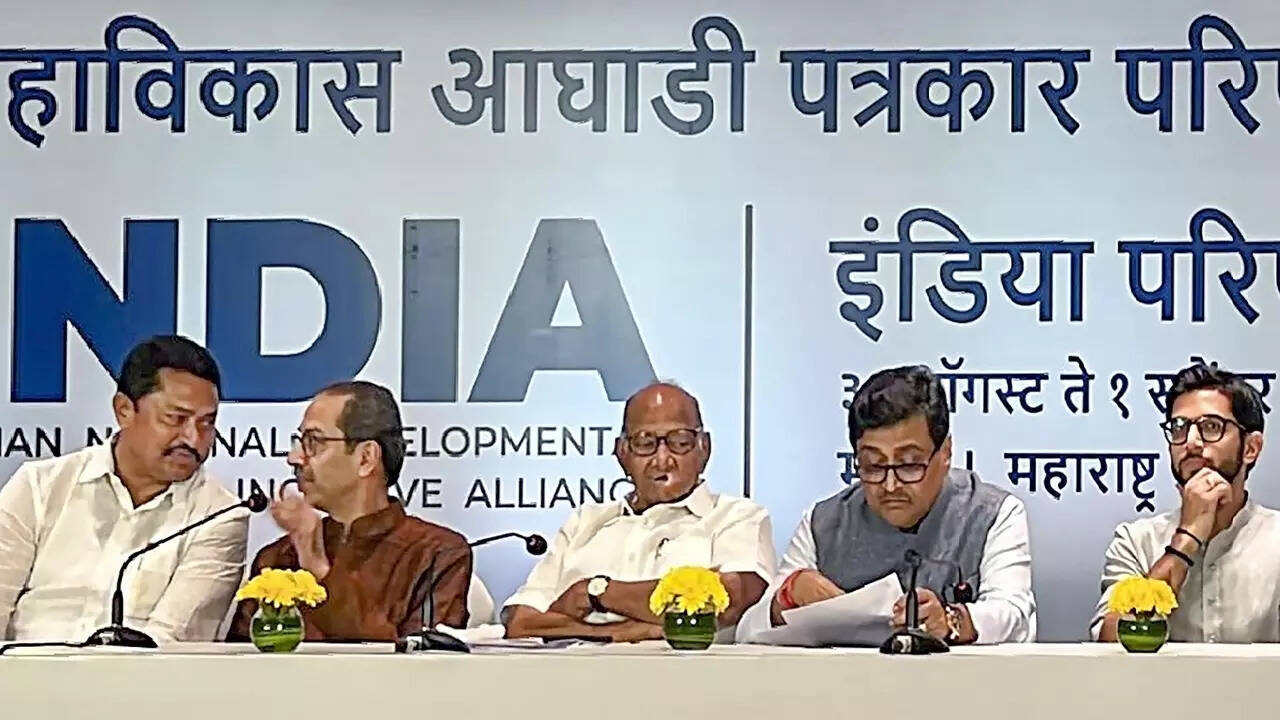 NEW DELHI: The leaders of opposition's INDIA (Indian National Developmental Inclusive Alliance) on Wednesday said they had several options for prime ministerial face unlike the BJP which had only one. A day ahead of the two-day Mumbai meeting starting Thursday, the host parties – Shiv Sena (UBT), the NCP and the Congress – addressed a press conference and said 28 parties will be in attendance. 26 opposition parties had participated in the second meeting at Bengaluru.
Former Maharashtra chief minister and Shiv Sena (UBT) leader Uddhav Thackeray said "our ideologies may be different, but we have a common aim." Former Union minister and NCP supremo Sharad Pawar said that the third meeting may focus on several key decisions. Pawar expressed confidence that the opposition alliance will provide a formidable alternative to bring about political change.
When asked about mutiple claims to PM's post, Uddhav Thackeray said: "The question about choice for the prime minister's post should be asked to the BJP, which has only one choice that we have seen for the last nine years. INDIA bloc has several choices for the PM post. What choices does the BJP have?"
Maharashtra Congress chief Nana Patole said "We're very happy that INDIA alliance meeting is going to take place in Maharashtra … in Bengaluru, we were 26 (parties), here it has become 28 (parties) … jaise INDIA badhega, waise hi China peeche hatega."
Former Maharashtra chief minister and Congress leader Ashok Chavan said "The meeting will discuss the agenda and take things forward. "We have come together to save the democracy and fight against the BJP," he said.
Ashok Chavan said," It is our responsibility to save India. Maharashtra has led from the front during the independence struggle. Today it will again play an important role. We are raising questions on unemployment, and inflation. It is not a personal fight but a fight to save the nation."
'Public sab janti hai'
Uddhav took a dig at Centre's decision to slash the price of LPG and said "this is the impact of two INDIA meetings. As INDIA gains strength, they will be forced to distribute it for free." Calling LPG price cut a poll gimmick, Uddhav questioned why did the PM not give any Rakhi gifts in the last nine years.
"Was there no Raksha Bandhan in the last nine years? No matter what they do, people are smart and understand everything," Thackeray said.
Mamata Banerjee reaches Mumbai
West Bengal chief minister Mamata Banerjee arrived in Mumbai on on the eve of the two-day meeting of the opposition INDIA bloc.
The Trinamool Congress chief was welcomed at the city airport by Shiv Sena (UBT) leader Aaditya Thackeray and members of Maha Vikas Aghadi (MVA) comprising NCP and Congress.
Bihar deputy chief minister Tejashwi Yadav and his father and RJD chief Lalu Prasad Yadav arrived in Mumbai on Tuesday evening.
Leaders from southern states are expected to reach Mumbai by late evening on Wednesday, a Mumbai Congress leader said.
(With inputs from agencies)

#choices #face #BJP #Leaders #oppositions #INDIA #ahead #meeting #Mumbai #India #News