Business
Voda Idea faces DoT's ops & fin inspection
NEW DELHI: The telecom ministry has opened an inspection into the affairs and management of struggling telco Vodafone Idea as talks regarding the government's planned move to pick up equity in the company — in lieu of the interest payout for spectrum payment moratorium — have "more or less collapsed", top sources said. Any re-think on the matter would happen only when the company's promoters — industrialist Kumar Mangalam Birla's Aditya Birla Group and Vodafone Plc of the UK — put money into the debt-laden telco, or else manage to rope in a financial investor, sources said.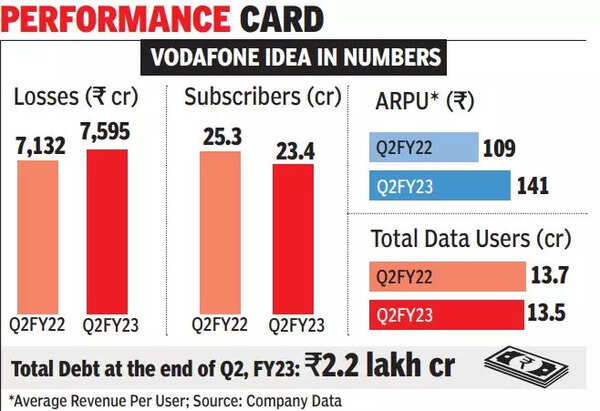 Also, the government is hesitant to pick up equity in the company (as had been approved by the Cabinet) as its share price has fallen under Rs 10 (it closed at Rs 7. 85 on Friday, down 7% in the past six months). The board of the company had offered the government the stake at a par value of Rs 10 per share, based on which the government had made all the financial calculations regarding its entry (for a stake of around 33%). "The DoT has opened an 'inspection' of Vodafone Idea's financials as well as operations to ascertain the health of the company," sources told TOI. "We are studying their performance, their financial position, and their strength with customers. "
When contacted on the issue of inspection, a spokesperson of the company said, "We are not aware of any such information. We cannot comment on baseless, unsubstantiated and malicious rumours which seem to be an attempt to malign the reputation of the company by vested interests. "Senior officials believe the company — formed after the merger between the erstwhile Idea Cellular and Vodafone India — has "mismanaged" its affairs, including costs, even as it bought "excess" spectrum at high prices, which is now lying idle and is proving to be a burden on its finances and operations.
"The confidence is missing when we look at the management and affairs of Vodafone Idea. The talks have more or less collapsed if the present conditions continue," a top source said, when asked about the reasons for the delay in the government's plan to pick up equity.
Vodafone Idea has been reeling under the losses and heavy debt and has failed to show any signs of improvement despite the government throwing in a financial package for the telecom industry in September of 2021. The industry got further boosters at the time of 5G spectrum auctions last year, though the company hasn't been able to turn around business or get any major financial investment. Vodafone Idea, which is the only private operator that has not put up even a single 5G tower even as its much bigger rivals such as Reliance Jio and Bharti Airtel race ahead with the next-generation telecom services, carried anet debt of Rs 2. 2 lakh crore at the end of July-September, 2022 quarter (it's last-reported financial performance).

#Voda #Idea #faces #DoTs #ops #fin #inspection