Entertainment
Thunivu: 5 revelations made by director H Vinoth about Ajith Kumar's action film
Thunivu, the highly anticipated heist-action film that features Ajith Kumar in the lead role, has finally hit the theatres. The project, which is helmed by talented filmmaker H Vinoth, has reportedly opened to positive reviews. From the latest updates, it is evident that Thunivu is going to thoroughly entertain the audiences, and have a great run at the box office. Ajith Kumar is receiving excellent reviews for his performance in a grey-shaded role in the film, while director H Vinoth is being praised for his making style.
Recently, in some of his recent interviews, including his conversation with journalist Baradwaj Rangan for the Galatta Plus YouTube channel and chat with The Hindu, director H Vinoth opened up on working with a major star like Ajith Kumar, and their ambitious project Thunivu. Here are the 6 revelations made by the filmmaker…
1. Advantages and disadvantages of working with Ajith Kumar
According to director H Vinoth, working with a big star like Ajith Kumar has its own advantages and disadvantages. While the name and presence of a commercial movie star like Ajith immensely benefit the film and its storytelling, the same might end up as a major disadvantage. Also, the star is completely a director's actor and gives a free hand to them. However, Vinoth pointed out that his political beliefs or ideologies, which are usually reflected in the scenes and dialogues in the film, are often perceived as Ajith Kumar's ideas, and it has led to many unwanted issues. So even with Thunivu, the filmmaker had to be careful while conceiving the film, and especially its dialogues.
2. Writing and conceiving action sequences
Interestingly, the director admitted that he thoroughly enjoys writing and conceiving action sequences, and that is the reason why his films have many extremely detailed stunts. The same has applied in Thunivu, which has already garnered the attention of audiences with its exceptional action sequences featured in its official trailer.
3. Thunivu doesn't demand a romantic track
According to the filmmaker, he is not a filmmaker who enjoys creating and shooting romantic tracks in his films. This is the reason why both Thunivu and Valimai (his last outing with Ajith Kumar) don't have a full-fledged romantic track. Interestingly, the director added that the plotline of Thunivu doesn't demand a romantic track. So, H Vinoth and his team decided to proceed without a love story in the film.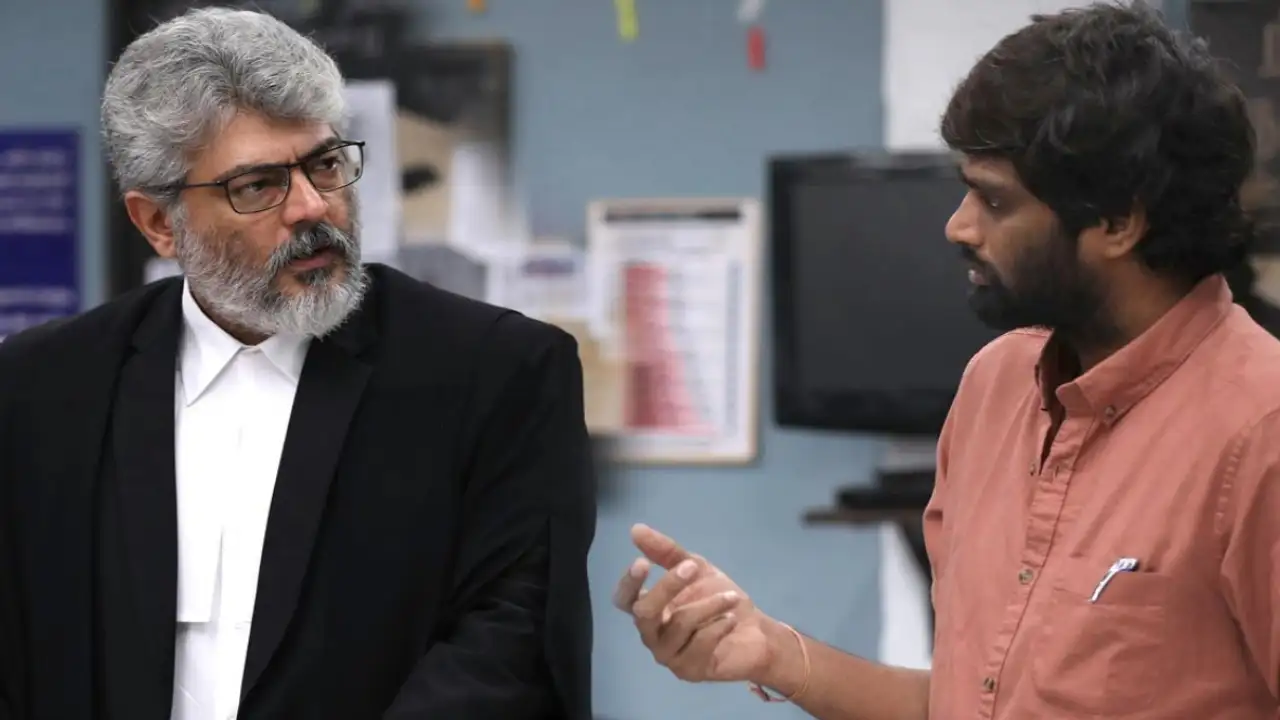 4. When Ajith Kumar decided to collaborate with H Vinoth for Thunivu
According to H Vinoth, he had discussed many stories that he developed amidst the pandemic with Ajith Kumar, during the shooting of their last outing Valimai. When he narrated the story idea of Thunivu, Ajith instantly fell in love with a particular film and suggested that they should work on that particular subject, next. 
5. Thunivu has songs that will not 'disturb' the storytelling
Interestingly, H Vinoth is one of the rare Tamil cinema directors who doesn't really enjoy shooting song sequences or placing them forcefully in his narratives. According to the director, the three soundtracks in Thunivu are placed in a way that they won't 'disturb' the storytelling of the film. However, Vinoth added that he is not against adding songs to a film, as he is well aware that the audiences come to the theatres not just to watch the film, but also for celebrating it.
ALSO READ: EXCLUSIVE: Arjun Kapoor on the possibilities of a crossover film with Ajith Kumar; Says 'It can happen'
#Thunivu #revelations #director #Vinoth #Ajith #Kumars #action #film