India
Tamil Nadu governor's office goes to cops over DMK video | India News
CHENNAI: The Tamil Nadu Raj Bhavan on Saturday filed a complaint with Chennai police commissioner Shankar Jiwal, seeking action against DMK orator Shivaji Krishnamoorthy for using defamatory and abusive language against governor RN Ravi.
Later in the day, DMK general secretary Duraimurugan suspended Krishnamoorthy's primary membership for violating party discipline and bringing disrepute to it. Deputy secretary to governor, S Prasanna Ramasamy, in his letter, said a video of Krishnamoorthy using abusive, defamatory and derogatory language against the governor had been uploaded on social media and was going viral.
Abusive and intimidatory speech attracts IPC section 124, among other provisions, the complaint said, and sought immediate action against Krishnamoorthy.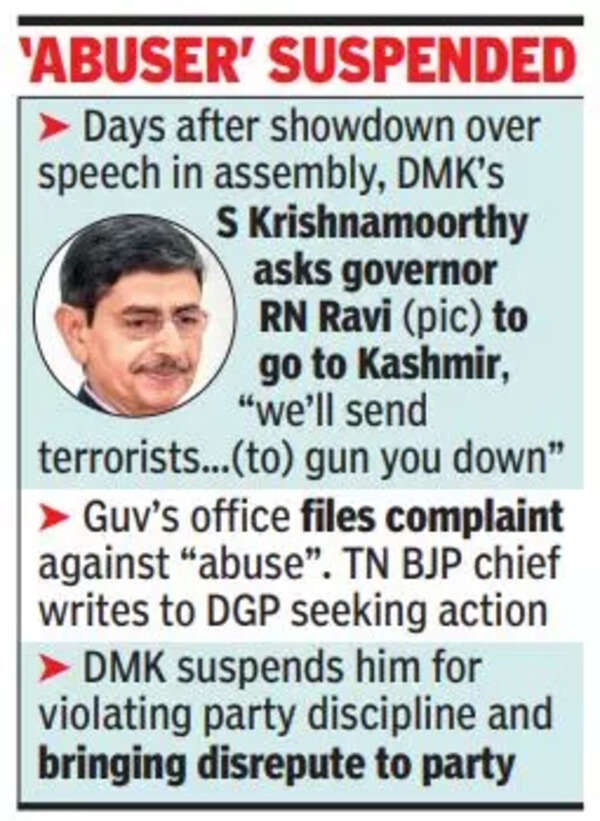 DMK orator's video defamatory: DCP
DCP (cyber crime cell) DV Kiran Shruthi has communicated to the governor's office that a video of DMK orator Shivaji Krishnamoorthy's remarks cited by the latter was legally scrutinised and was found to be defamatory in nature. TN BJP Chief attacks DMK over 'derogatory' remarks against Governor
Police said the charges fell under the ambit of IPC sections 499 and 500 (defamation) and that the complaint, along with the video, had been forwarded to additional chief secretary of home department for taking further action.
BJP state president K Annamalai urged DGP C Sylendra Babu to arrest Krishnamoorthy. In a letter to the DGP, he recalled previous incidents when action was not taken against DMK functionaries who abused women and asked the DGP not to remain silent in this case. "We hope police do not turn a blind eye again and request you to kindly reprimand Shivaji Krishnamoorthy for abusing the constitutional head of the state," said Annamalai.

#Tamil #Nadu #governors #office #cops #DMK #video #India #News