World
Sudan Refugees: Sudan refugees stranded without healthcare in Chad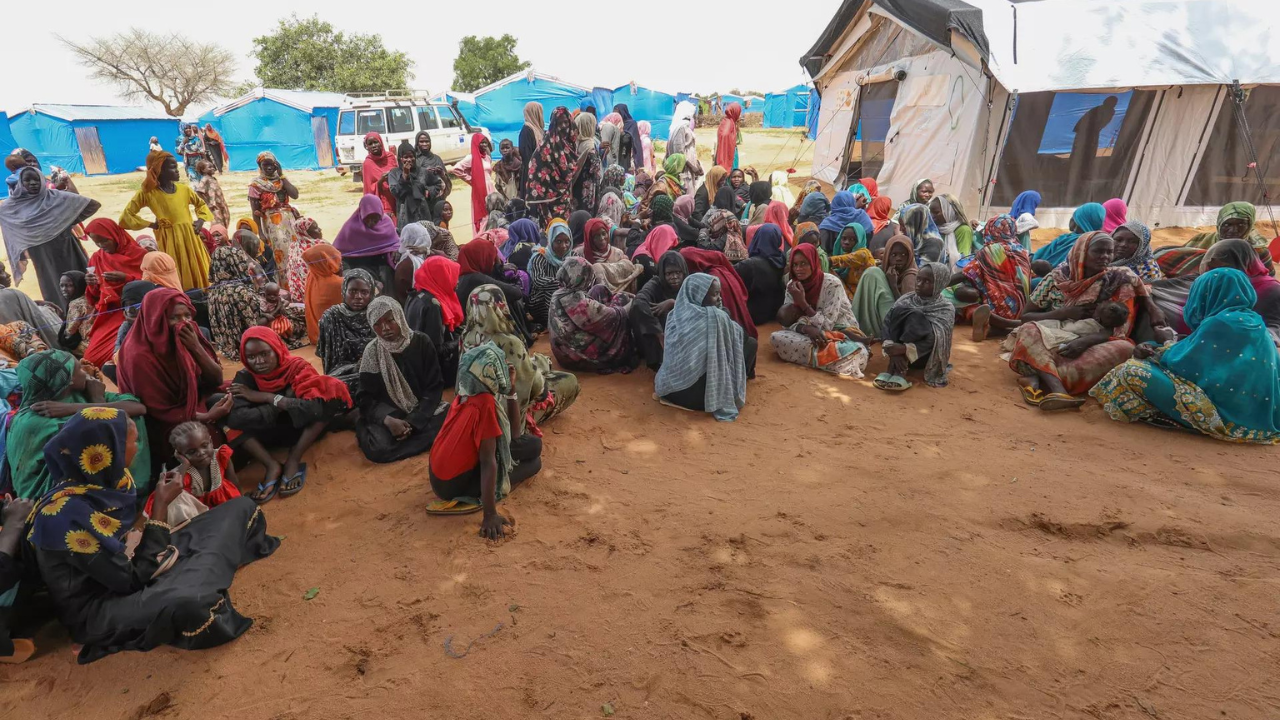 Hundreds of thousands of people fleeing Sudan's war have crossed into Chad to find themselves in overcrowded camps, sweltering in plastic huts and awaiting healthcare that never comes.
One of them, Adam Bakht, is an elderly man with a sparse beard who said he counts "diabetes, asthma and allergies" among his ailments. But he has received only "an injection to ease the pain", he told AFP from a camp in Adre, bordering Sudan's Darfur region which has been gripped by horrific violence.
In a bright white jellaba, Bakht was desperately waiting for medical attention, along with another 200,000 refugees in the town who are trying to survive.
The camps that house them are running low on everything — medical personnel, sanitary facilities and medicine — in scattered makeshift clinics.
Still, hundreds arrive in unending columns every day, fleeing on foot to escape the raging clashes between the army, paramilitary forces and tribal fighters who have also entered the fray.
The new arrivals in Adre may now be safe from the gunfire, but they soon learn they are still in danger — including from torrential rains that pummel camps already experiencing shortages of food and water, according to aid group Doctors without Borders (MSF).
"Malaria cases have sharply increased with the onset of Chad's rainy season, and people are at increased risk of contracting waterborne diseases such as cholera," MSF has warned.
"A lot of diseases are currently circulating," said Muzammil Said, a 27-year-old who sought refuge in Chad himself before volunteering to help keep one of the clinics running.
Every day, they receive "up to 300 patients" who lie on beds placed directly on the sand, close to each other.
The small team has neither the space nor the supplies to better equip the "hospital": a barebones set-up of branches and tarpaulin where staff sterilise what they can in iron sinks.
At rudimentary workstations, they ration the few boxes of medicine left over from international donations.
"Providing medicine is a huge challenge because it's so expensive. We need help," Said told AFP.
Bakht is still waiting for the pills he was promised since he fled El Geneina, the West Darfur capital ravaged by war.
"My diabetes medication is supposed to arrive in three days, but for my asthma they told me to buy an inhaler from outside the camp," he told AFP.
But Chad is the third least-developed country in the world, according to the United Nations, with an already crippled healthcare system, especially in remote areas such as Adre.
The country has one of the world's highest rates of maternal mortality, and one in five children dies before the age of five.
Child mortality has already surged within the camps, where dozens of children under five have died of malnutrition, according to the UN.
Since the war began, at least 500 more children have died from hunger within Sudan, where the World Food Programme warns that more than 20 million people face severe hunger.
"The majority of our patients are sick with malaria, eye infections, respiratory diseases and malnutrition," volunteer doctor Nour al-Sham told AFP from the "North" camp in Adre.
Those arriving from Darfur, a deeply impoverished and war-scarred region, have long suffered the effects of a fragile healthcare system. In Sudan, even before the current conflict began in April, 78,000 children under five died every year "from preventable causes, such as malaria", the UN says.
The risk of disease soars in the absence of clean water, for which people "begin lining up … at 2:00 am" amid shortages in some camps, MSF reported. Aid groups — already navigating security challenges and bureaucratic hurdles — say international donors have supplied just a quarter of the funding they have promised, more than four months into the war.
And in Chad, where need was already extreme, the situation has only grown worse. Even before Sudan's current conflict, Chad hosted tens of thousands of refugees from Cameroon in the southwest and the Central African Republic in the south.
That is in addition to 410,000 Sudanese refugees who had already fled the atrocities of the war in Darfur that began in 2003.
The new conflict in Sudan has driven more than 382,000 refugees to Chad, according to the UN refugee agency, more than 200,000 of them to Adre.
According to UN projections, another 200,000 people could cross the border from Sudan, where the violence shows no signs of abating.

#Sudan #Refugees #Sudan #refugees #stranded #healthcare #Chad