India
Smiths: 3D cabin bag scanners by year end: Smiths Detection sees a big opportunity at Indian airports | India News
NEW DELHI: Smiths Detection, the world's leading threat detection and security screening equipment maker with huge presence in India, is gearing up to meet "significant demand" from the country as the Bureau of Civil Aviation Security (BCAS) has mandated all desi airports handling 50 lakh and more passengers annually to install 3D computed tomography X-ray (CTX) machines for cabin bag checks by this year end. CTX machines do not require personal electronic devices, chargers and liquids to be kept in separate trays and promise to make pre-embarkation security checks a smoother affair for passengers who currently struggle to lay their hands on enough plastic trays to do so for the 2D X-ray scanners being used currently. Several Indian airport operators are in talks with Smiths, which has over 1,000 CTX installed at airports abroad, to ensure the transition from 2D to 3D happens seamlessly.
"Trials have already been conducted at three major metro airports in the last 12-15 months. We are working with BCAS and airport operators to better understand the implementation requirements. The upgrade has to happen in a plug and play mode so as not to affect the functioning of live airports," Smiths Detection Systems Pvt Ltd MD Vikrant Trilokekar told TOI on Thursday.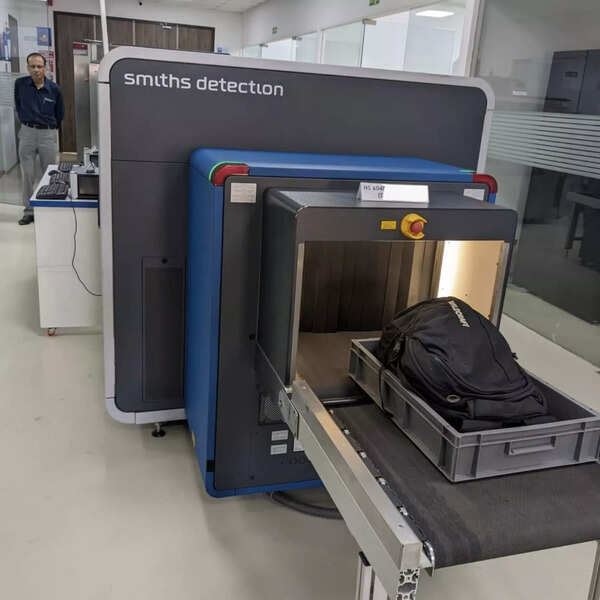 Smiths — whose scanners can be seen at airports, metro stations, ports, hotels, sensitive government offices and commercial establishments in India — does not currently make CTX machines in India. "They are made in Europe and the US. But we are various options (for make in India) using the synergies that exist and are working to create the right supply chain," Trilokekar said.
Part of the London-based Smiths Group, this company has for now stopped making body scanners that also need to be installed at big Indian airports by the year end. The other big opportunity for the company is the BCAS directive to upgrade some scanners used at non RCS airports from single view to dual view by March 31, 2024. "Apart from checking check-in and hand bags, airports use scanners for various other purposes like checking bags of people working there and cargo packages. There is something known as a level 3 X-ray equipment that has to be upgraded to dual view," the MD said. Smiths has so far received orders for about 80 hold baggage scanners as per the new requirement.
While the new machines will improve the quality checks, CTX scanners promise to make pre-embarkation security a seamless process for flyers. "For passengers, it means a better experience. For airport operators, it means faster clearance time and more efficiency with a belt speed of 0.2 metre per second. Instead of spending more time at security check, passengers can then spend more time (and money) at airport retail and food & beverage shops. This has an in-built explosive trace detector mechanism algorithm. And most importantly, CTX will enhance the quality of security checks," Trilokekar said without disclosing the price range of the CTF machines.
"We are unable to comment on (estimated overall expenditure for an airport while considering the new baggage security screening systems) as that will vary from airport to airport depending on their needs and size," he said. Smiths has so far announced the sale of CTX to airports in countries like the US, UK (including Heathrow and Edinburgh), Australia, New Zealand and Kuwait.
While it sees immense potential in India across the sectors where its equipment is used, Trilokekar was beaming with pride for another reason. "Chandrayaan-3 which landed on the moon recently has some equipment made by us like the radio frequency passive component and space flexible cable assemblies," he said.

#Smiths #cabin #bag #scanners #year #Smiths #Detection #sees #big #opportunity #Indian #airports #India #News