Entertainment
Shah Rukh Khan gets a King's welcome as Jawan trailer lights up Burj Khalifa – WATCH | Hindi Movie News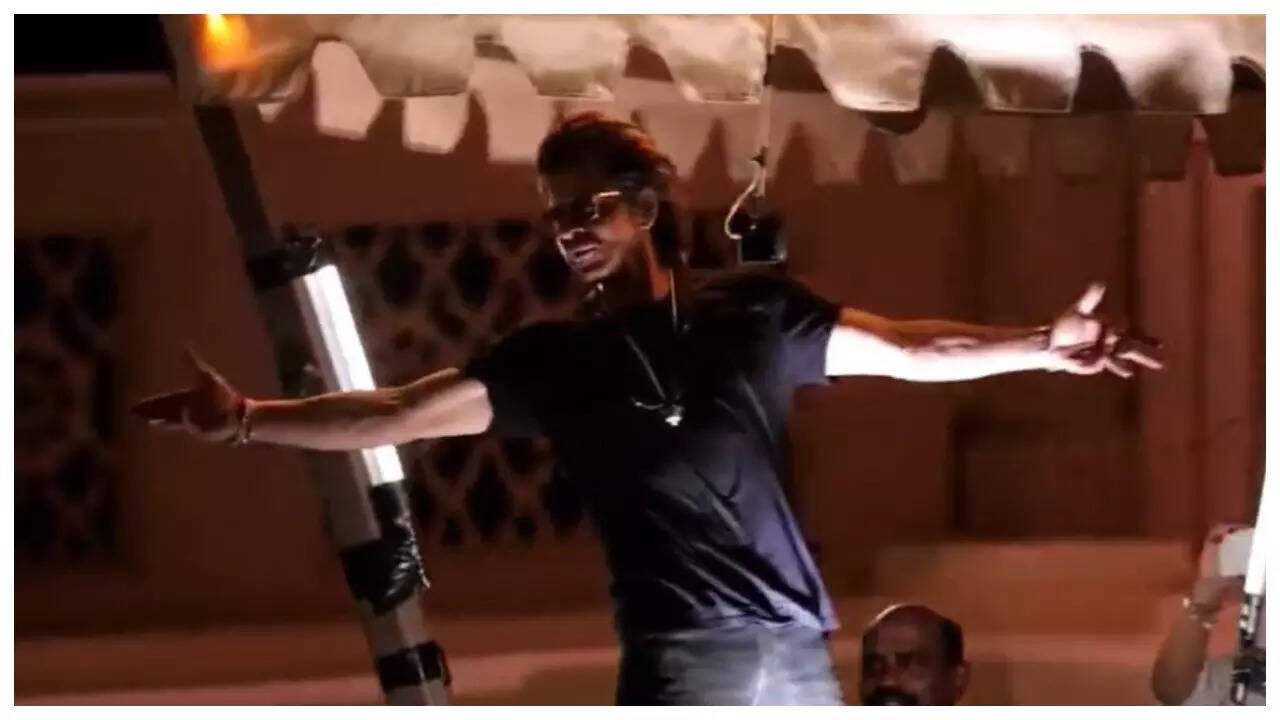 Bollywood superstar Shah Rukh Khan cast his spell over the people of Dubai as he hosted a special event to mark the Jawan trailer launch.
Shortly after releasing the Jawan trailer online, SRK flew out to Dubai to watch his trailer light up the Burj Khalifa. As fans gathered around the building by the thousands, SRK made quite the entrance in a boat. Viral videos from the event see the star waving to fans, blowing kisses, and even striking his iconic pose while arriving at the venue.
As the trailer played on the big screen, fans were seen hooting and cheering while watching some of the epic scenes, including Deepika Padukone's entrance and her fight scene with SRK in the rain."Love you!" fans could be heard shouting as they watched the trailer playing out on the building. According to posts, the clip played again for fans to enjoy the visuals and revel in the festivities.
Those who attended the launch event, were also treated to a live dance performance by Shah Rukh. Dressed in all black, with a bright red jacket, SRK was at his candid best as he took to the stage and performed some of his songs' hook steps. The actor was seen dancing to the Arabic version of the songs Chaleya and Zinda Banda.
The Jawan trailer dropped just a week before the film arrives on the big screen. Unlike the prevue, the trailer shows Shah Rukh in multiple avatars, including one where he is sporting grey hair and a moustache. The many avatars have ignited fan theories that the actor could be playing a double role in the movie.
Nayanthara plays the cop who is tasked with bringing down Shah Rukh's vigilante character but in many moments, she is also seen romancing the actor.
Deepika Padukone, on the other hand, also makes a special appearance and she is seen wrestling Shah Rukh to the ground in one of the scenes. Fans claimed that the actress would be playing mother to the younger version of SRK's character.
The main antagonist is played by Vijay Sethupathi. His character is Kalee, who describes himself as the "fourth largest weapons dealer in the world".
Directed by Atlee, Jawan also stars Sunil Grover and Mukesh Chhabra in key roles.

#Shah #Rukh #Khan #Kings #Jawan #trailer #lights #Burj #Khalifa #WATCH #Hindi #Movie #News