Business
Puri pins fuel price cut hope on stable oil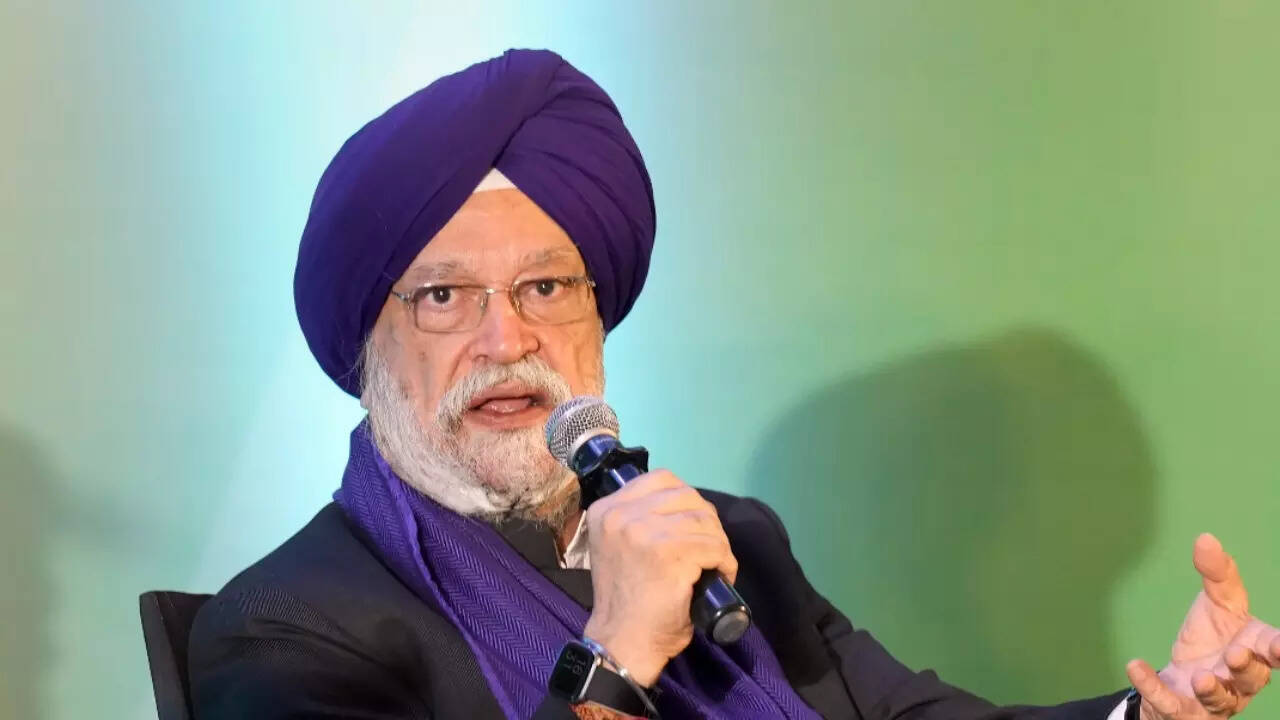 VARANASI: Oil minister Hardeep Singh Puri on Sunday "requested" state-run oil companies to consider reducing fuel prices if international crude prices stabilise in the coming days and their losses were gone.
"I would request the oil companies (state-run fuel retailers) that in the coming days, if international oil prices remain under control and their under-recoveries were gone they could look at reducing (fuel) prices a little," Puri told reporters on Sunday.
But it may be too soon to expect a cut as trade data indicates companies are making a profit of Rs 5 on a litre of petrol but still losing about Rs 13 on diesel.
This is a marked improvement from the time when the losses had risen to Rs 17.40 on a litre of petrol and Rs 27.70 on diesel in June last year as oil and product prices spiked above $100 per barrel after Russia's invasion of Ukraine but pump prices remained unchanged.
Puri said fuel prices have remained stable as the public sector retailers, as "good corporate citizens" decided against burdening consumers by raising pump rates. For good measure, he added "the government did not ask them to hold the price. Pricing is decided by them. They don't listen to me."
The government, he said, too had reduced excise duty twice to cumulatively bring down Central tax by Rs 13 and Rs 16 on petrol and diesel, respectively. "The states where BJP is in the government also reduced VAT but other states did not. Even today you will find a difference Rs 10 (between prices in BJ and non-BJP ruled states)," Puri said.
The three State-owned retailers — IndianOil, Bharat Petroleum and Hindustan Petroleum — have not revised fuel prices since May 22 last year when excise duty was reduced for the second time in 2022.
At the time benchmark Brent crude, which has a weightage of about 25% in the mix of crude bought by Indian refiners, stood at $115 per barrel but has softened to $87.63, remaining range-bound below the $90 mark in recent weeks.
The freeze on pump prices led to the three retailers posting a combined loss of Rs 21,201 crore during the April-September period even after accounting for Rs 22,000 crore Central grant to cover losses on LPG, or household cooking gas, that was announced but yet to be paid.
Puri said the remaining losses have to be recovered as the companies lost about Rs 28,000 crore on LPG but the government could give only Rs 22,000 crore.
"International oil prices have been turbulent in the last couple of years. It dipped into the negative zone (WTI, or US crude) at the start of the pandemic in 2020 and swung wildly in 2022, hitting 14-year high of $140 per barrel in March 2022 after Russia invaded Ukraine before sliding on weaker demand from top importer China and worries over economic contraction," Puri said.

#Puri #pins #fuel #price #cut #hope #stable #oil