Entertainment
Pathaan Review: Pathan is an entertaining globetrotting spy thriller that's massy, messy and outlandish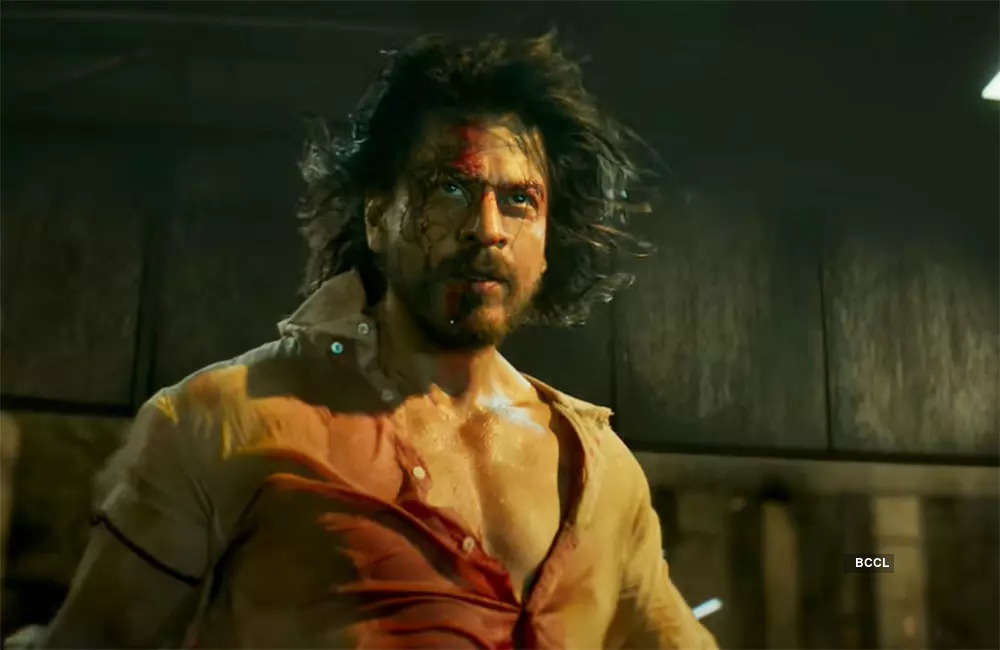 Story:
Expanding Yrf's spy universe (previously led by Salman Khan's Tiger & Hrithik Roshan's Kabir), the film is an origin story of ex army man turned undercover agent Pathaan (Shah Rukh Khan) and his arch nemesis Jim (John Abraham).
Review: An event film of sorts, since it marks Shah Rukh Khan's return to the big screen after four long years, Pathaan is an ambitious action thriller that plays to the gallery and lives up to the hype. Far fetched in writing but high on star power and style, Pathaan feels more like a filmy Mountain Dew commercial which slowly but steadily finds its footing.
The plot follows India's revocation of article 370 (special status of Jammu and Kashmir) and its impact on a Pakistani officer, who wants india to pay for this 'mistake'. He reaches out to the formidable Jim, an Ex RAW agent wronged by his own people. He is joined by his ravishing accomplice Rubai an ex ISI agent (Deepika Padukone) with ambiguous motives. Pathaan, Jim and Rubina lock eyes and horns, as they hop continents and indulge in a dangerous game of betrayal and revenge. The three race to destroy and protect the worlds they believe in.
Director Siddharth Anand gives an over the top treatment to his spy thriller. He presents it more like a superhero film that needs massive suspension of disbelief. His fascination and fan boy worship of mainstream Hollywood blockbusters like Marvel films or Tom Cruise's Mission Impossible series to name a few, is evident here. Expect Falcon like wingsuit, exaggerated action & chase sequences, death and gravity defying stunts on cars, bikes, ice and helicopters, immortal heroes and villains mouthing punchy dialogues, a femme fatale and it all seeped in the idea of patriotism.
Action overrides emotions for major part of the film and given SRK's dominance in that territory, it's interesting how he lets his body do the talking here along with those powerfully evocative eyes. It is his presence that salvages an average script and subpar VFX. While the background score doesn't feel in sync with the scenarios, the title music manages to reflect the heroism and bravado on display.
The film's highlight however is John Abraham's solid portrayal of Jim. Be it his Bane like masked entry or stunt sequences, John is outstanding and makes a classic case of the villain overshadowing the hero in portions. Deepika Padukone can kick ass and is perfectly cast but her chemistry with SRK feels lacklustre and underdeveloped. It lacks the spark that John-SRK's characters share. Dimple Kapadia does a Tenet once again and lends that much needed gravitas and emotional left to the proceedings. You wish other characters exuded the sincerity of her part.
The YRF spy universe reunites Karan and Arjun to give you an out and out whistle moment. If you are willing to overlook the frivolity in dialogues like 'You are pretty screwed', Pathaan has all the ingredients of a masala potboiler — slowmo entries, iconic battle of good versus bad and most importantly a sexy-smouldering Shah Rukh Khan, who can fight the good fight on and off the screen.
Also See: Pathaan movie review and release LIVE updates
#Pathaan #Review #Pathan #entertaining #globetrotting #spy #thriller #massy #messy #outlandish