India
'One Nation, One Election': Why BJP favours it and opposition doesn't | India News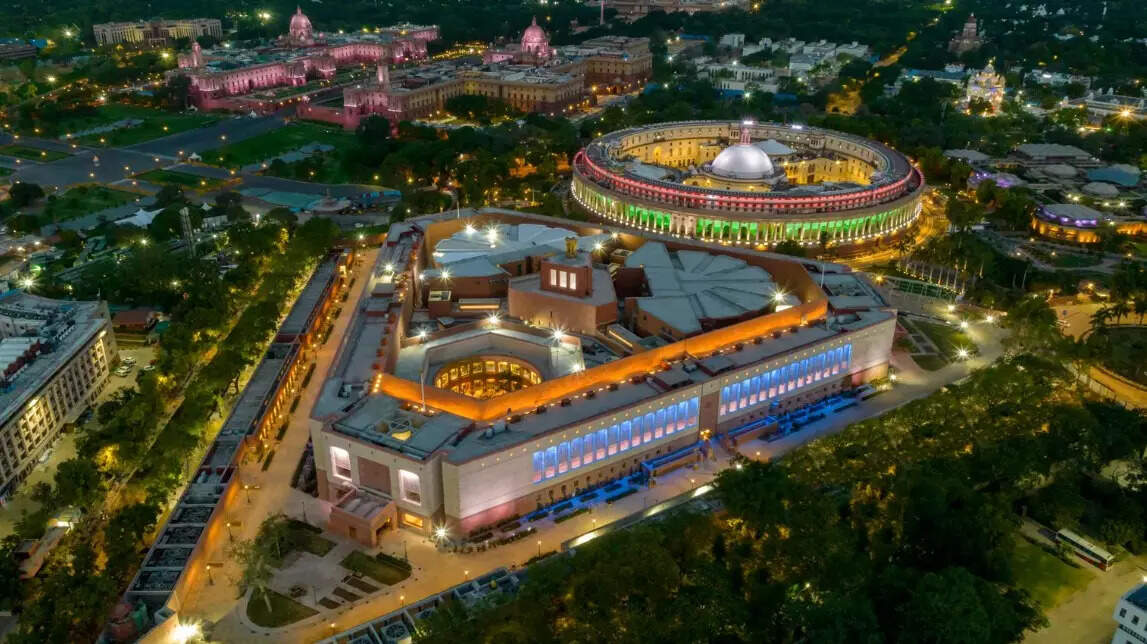 NEW DELHI: Amid a growing buzz that the Centre might introduce legislation to enable 'one nation, one election' during the upcoming special session of Parliament from September 18-22 , the BJP-led government on Friday set up a committee under the chairmanship of former president Ram Nath Kovind to work on the Bill.
Government sources said the panel has been formed to not only explore viability of bringing a legislation soon in this regard but also reach out to other political parties for a consensus and smooth passage of the legislation.
Read Also
Explainer: What is 'one nation, one election' and what are its pros and cons
NEW DELHI: The Modi government has formed a committee under former President Ram Nath Kovind to assess the viability of the "one nation, one election" concept. The move to form a committee comes a day after the government convened a special session of Parliament from September 18-22. However, the
One Nation, One Election: Here's what the Constitution says
NEW DELHI: The Centre is considering the possibility of holding simultaneous Lok Sabha and state assembly elections in the country. It may even introduce the "One Nation, One Election" Bill in the upcoming special session of Parliament later this month. The government has also formed a committee
What will this special session of Parliament bring us?
Amid speculation about its objective, the government has decided to hold a special session of Parliament from September 18 to 22, just five weeks after the monsoon session ended. The last special session of Parliament was called in 2017 for inaugurating the GST
Govt forms committee to work on 'One Nation, One Election' legislation
A day after making an announcement for a special session of the parliament from September 18-22, the government on Friday set up a committee under the chairmanship of former president Ram Nath Kovind to work on "One Nation One Election", legislation, a move set to be the central theme for the next
'One nation, one election' move ploy to divert attention from issues of unemployment, inflation: Sena (UBT)
Priyanka Chaturvedi accused the ruling BJP of diverting the attention from the issues concerning people like unemployment, inflation and also farmers' issues. "Three reports that looked into the proposal (of 'one nation, one election') have said that five constitutional amendments, three fourth
The idea and practice of holding simultaneous elections is not new in India's case.
Not a novel idea
Independent India's tryst with democracy began with simultaneous elections, which were held between October 25, 1951, and February 21, 1952 — an exercise of over 100 days. The elections were held for State assemblies as well as the Lok Sabha.
However, as States were restructured and assemblies were prematurely disbanded, this set-up started falling apart.
Nonetheless, simultaneous elections were held in 1957, 1962 and 1967.
In 1970, the Lok Sabha was itself dissolved prematurely and fresh elections were held in 1971.
By 1972, the synchronised election trend had been broken and almost no State election coincided with the general election for the Lok Sabha.
Why the BJP favours one election
Since taking over as PM in 2014, Modi has been a staunch advocate of 'one nation, one election', stating that continuous election cycles are a financial burden and stalls development due to the model code of conduct.
The Election Commission of India had pegged the expenditure for simultaneous elections at Rs 4,500 crore. (The 2014 Lok Sabha polls cost Rs 3,870 crore to the exchequer while the 2015 Bihar elections alone cost the government Rs 300 crore).
The BJP has said that simultaneous elections will help ruling parties focus on governance instead of being constantly in "election mode". It will also reduce disruption of normal public life as political rallies will be kept to a minimum.
Frequent imposition of the Model Code of Conduct during polls, which stalled all development work for months at a time, will also be a thing of the past.
With the party's performance in State polls often inferior to its show in Lok Sabha elections, its leaders are of the view that simultaneous Lok Sabha and State assembly polls will result in overarching national issues and 'Modi factor' to play a bigger role, stripping regional agenda and leadership of some of their sway.
Generally, it is the regional parties, and not the main opposition Congress, which have proved more resilient and successful in fighting the BJP.
Political experts believe that they may be at a disadvantage if assembly polls are held together with Lok Sabha elections as national issues are bound to make a deeper impact.
Though Odisha voters made a point in 2019 when their support for the BJP in the assembly polls was 6% less than in the Lok Sabha election despite both being held simultaneously.
Why the opposition has reservations
Lessons learnt from 1951-972 show that simultaneous elections are nearly impossible to implement, as it would mean arbitrarily curtailing or extending the terms of existing legislatures to bring their election dates in line with the due date for the rest of the country.
Such a measure would undermine democracy and federalism, said opposition parties.
Some political parties have argued that simultaneous polls may influence voter behaviour in a manner that voters would end up voting on national issues even for State elections and this may lead to larger national parties winning both State and Lok Sabha elections thereby marginalising regional parties.
It is often seen that regional parties do better in State assembly polls as they focus on regional and local issues, while the national parties do better in Lok Sabha polls as they deal with larger national and global issues.
State and national elections are often fought on different sets of issues — and in simultaneous elections, voters may end up privileging one set over the other in ways they might not have done otherwise, the opposition has said.
Some leaders also said there is an automatic check to a politician's power as having to face the electorate more than once every 5 years enhances accountability and "keeps them on their toes".
Legal provisions for simultaneous polls
Implementing the legislation will necessitate a constitutional amendment, a process that mandates ratification by 50% of the States.
Article 83(2) of the Constitution provides for a normal term of five years for the House of People (Lok Sabha).
Article 172 (1) provides for a similar tenure for the State Legislative Assembly from the date of its first sitting. Tenure of the House cannot be extended beyond five years except in emergency situations.
Implementing this measure will require multiple constitutional amendments, amendments to the Representation of People's Act, and other such laws. It will also require a great deal of political support and understanding. Many believe the special Parliament session may be a step towards this.
Suggestions by poll panel
The standing committee on law and personnel, which came out with a report on "Feasibility of holding simultaneous elections to the Lok Sabha and State Legislative Assemblies" in December 2015 had cited suggestions made by the Election Commission on the issue.
The EC has suggested that the term of the Lok Sabha could commence and end on predetermined dates, and not on the date on which it completes five years from the date of its first sitting.
To avoid premature dissolution, no-confidence motions should be moved simultaneously with a confidence motion for the individual hoping to be the next PM.
If the House is still dissolved, the President can run the government for the rest of the term — or, if that period is long, fresh elections can be held for a House that would last only for the remaining length of time.
State assemblies can, as a one-time measure, be extended or curtailed to align their elections with the Lok Sabha cycle.
Any vacancy caused by a collapse of the State government would have to be filled by an alternative government for the remainder of the five-year term. This can happen either by the opposition proving its majority through a vote of confidence, or by mid-term polls to elect a government for a partial term.
The EC further said two windows of one-and-a-half months each may be fixed for holding all by-elections that become due in a particular year.
Logistics
Apart from the debate around the pros and cons, there are multiple logistical challenges in conducting polls simultaneously for the Lok Sabha and the State assemblies.
Though they might be conducted in multiple phases, simultaneous elections would need massive manpower to be deployed around the same time at a stretch.
It would also require greater numbers of electronic voting machines (EVMs) and voter verifiable paper audit trail (VVPAT) machines.
For conducting simultaneous elections, the EC expects that a total of Rs 9,284.15 crore will be needed for procurement of EVMs and VVPATs. The machines would also need to be replaced every 15 years, which would again entail expenditure.
"Further, storing these machines would increase the warehousing cost," the standing committee had said citing EC's inputs.
A tiny club
If India somehow does implement simultaneous elections, it will be only the fourth in the world to have such a system.
South Africa, Belgium and Sweden also have simultaneous elections.
In Sweden, general elections for the Riksdag (apex legislative body), regional or county council assemblies, and municipal councils are held every four years on a single day. Sweden has a proportional electoral system, which means that political parties are assigned seats in assembly based on their share of the vote.
In Belgium, parliament elections are held every five years.
In South Africa, provincial and national elections are held simultaneously every five years. Separate voting papers are provided to voters to cast ballots for the national and provincial legislatures.
Nepal briefly experimented with simultaneous elections in 2017. This was to be Nepal's first election after the country adopted a new Constitution in 2015.
The country's poll panel, however, raised concerns over the complexity of holding national and state elections at the same time. The government then decided to hold the election in two phases.
Watch 'One Nation, One Election' closer to becoming a REALITY, Opposition fears special Parliament session

#Nation #Election #BJP #favours #opposition #doesnt #India #News