Business
LPG cut: Rs 18,500 crore relief to buyers
NEW DELHI: The government is likely to put LPG (cooking gas supplied to households in cylinders) price on freeze for the rest of the year, after announcing a cut of Rs 200 per cylinder on Tuesday, providing a relief of over Rs 18,500 crore to consumers during the remaining seven months of the fiscal.
State-run fuel retailers are left with an estimated profit of more than Rs 100 per domestic refill even after the reduction. The government has decided to compensate them for any possible losses after reconciling the accounts for the year, sources told TOI.
The reduction of Rs 200 in the price of refills is estimated to provide an annual relief of Rs 32,000 crore for 33 crore households, given that nearly 160 crore refills were consumed in 2022-23.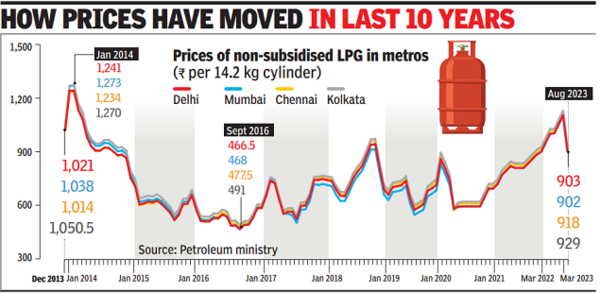 Officials, however, expect higher consumption this year as the 75 lakh new Ujjwala connections will be given and beneficiaries, who had joined the scheme earlier, are expected to buy more cylinders now that the relief has been increased to Rs 400 for them. Ujjwala households currently have an average annual consumption of four cylinders, while it hovers above eight for general category consumers.
"At this point of time, it is not possible for the government to assess how prices will behave for the remaining part of the year. But given that the current price is the administered price, we will compensate the oil companies in case they face any shortfall," said a source.
The government had in 2022-23 given a one-time grant of Rs 20,000 crore to state-run fuel retailers for not raising domestic gas refill prices, in spite of a surge in benchmark Saudi Contract Price. India is heavily dependent on imports for meeting LPG demand.

#LPG #cut #crore #relief #buyers