Business
IT hardware PLI 2.0: 32 local, global players show interest
NEW DELHI: The government struck a rich haul in its attempt to get IT hardware and laptop makers to commit investments in India with almost all top global manufacturers barring Apple and Samsung agreeing to beef up production in the country – directly or through domestic makers and suppliers. Those who will be investing in India include America's HP and Dell, Taiwanese Asus and Acer, and Chinese Lenovo (through a local manufacturing partner).
The development follows the government's decision to sweeten the deal for laptop, tablet, and server makers to manufacture in India by boosting the benefits under the production-linked incentive (PLI) scheme to Rs 17,000 crore against the Rs 7,350 crore envisaged earlier.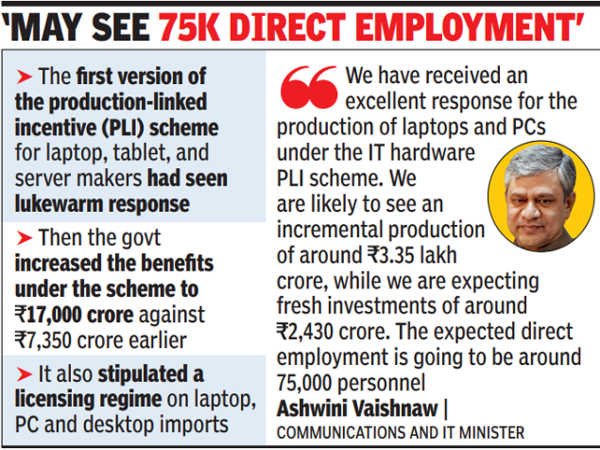 The first version of the scheme had met with a lukewarm response as the companies had complained that it was not sufficient to address the concerns surrounding manufacturing in India, especially when laptops can be imported here without any duty under the World Trade Organisation's Information Technology Agreement (ITA1).
"We have received an excellent response for the production of laptops and PCs under the IT hardware PLI scheme. We are likely to see an incremental production of around Rs 3.35 lakh crore, while we are expecting fresh investments of around Rs 2,430 crore. The expected direct employment is going to be around 75,000 personnel," communications and IT minister Ashwini Vaishnaw said.
To prod the companies to invest in India, the government had to not only sweeten the incentive scheme, but it stipulated a licensing regime on laptop imports, something that the industry had objected to initially but later agreed to as they were allowed to freely ship their products till the end of October.
Currently, around 75% of laptop needs in India are met through China and other markets such as Singapore and Hong Kong.
A total of 32 companies have applied under the scheme and apart from the global brands, these include contract manufacturers such asRising Stars Hi-Tech and Flextronics. On the Indian side, those who have applied under the scheme include Dixon's Padget Electronics, Optiemus Telecommunication, VVDN Technologies, Bhagwati Products, Neolync Telecommunications, ITI Ltd, and Mirc Electronics.

#hardware #PLI #local #global #players #show #interest