Business
India sees Russian oil imports ebbing as rival suppliers step up
India's splurge on cheap Russian crude may be over, as New Delhi's traditional suppliers in the Middle East step back in with attractive conditions.
"Our dependence on Russian oil is going to decrease sharply," oil minister Hardeep Puri said in an interview. "The cost viability from the Gulf is much more attractive now."
India's consumption of Russian crude has soared since President Vladimir Putin's invasion of Ukraine in February last year, ousting Saudi Arabia and Iraq from the top spots. From negligible levels, it soared to account for nearly half of supplies in May.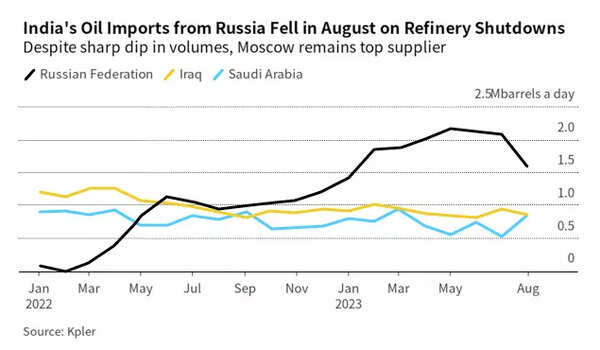 However, rising prices have squeezed the discount on Russian crude and limited the attractiveness of those spot purchases, making other sources, some with term contracts, appealing once again. Moscow has also said this week it plans to extend export curbs.
In August, imports from Russia fell for the third consecutive month to 1.57 million barrels a day, according to data-intelligence firm Kpler, down 24% on the month and at the lowest since January — though Russia remains India's top supplier.
Refiners last month also cut shipments from Iraq, another top source of crude, by 10% to 848,000 barrels a day. Those from Saudi Arabia jumped 63% on month to 852,000 barrels a day, the data showed.
"I am very clear. We are in the market today, and we will buy from whomever," Puri said.
He added the government was not involved in the buying decisions of India's refiners, but instructed them to follow the Group of Seven price cap on Russian oil.
India meets over 86% of its oil demand via imports, making its economy highly vulnerable to crude prices. Every $10 increment leads to an increase of over $10 billion in current account deficit and lowers the GDP by about 0.5%, according to economist estimates.
It also hurts households, making fuel inflation a major concern for Prime Minister Narendra Modi's government as the country heads into elections next year. Earlier this week, New Delhi cut cooking fuel prices for all consumers by 18% and has kept diesel and gasoline prices unchanged since May last year to protect consumers from volatile oil prices.

#India #sees #Russian #oil #imports #ebbing #rival #suppliers #step