India
'Have killed Rahul Gandhi, he is long gone': Former Congress chief's quirky reply to reporter | India News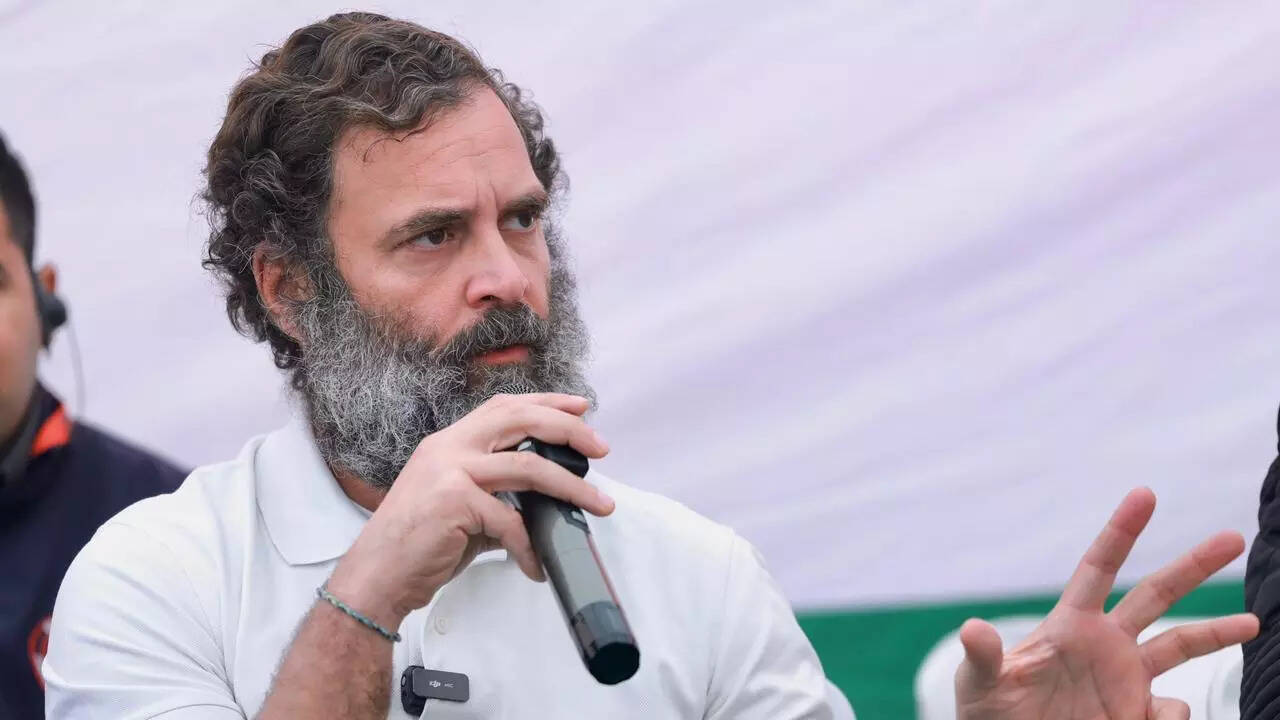 NEW DELHI: As the war of words between BJP and Congress over Rahul Gandhi's "tapasvi" vs "pujari" remark continues, it appears the former Congress president has now turned philosophical
"Rahul Gandhi is just in your minds, I have killed him … he is long gone," Congress leader Rahul Gandhi said during a press conference in Haryana, leaving reporters momentarily confused with his curious word play.
The Congress leader, who is leading the multi-state Bharat Jodo Yatra, alluded that he has long shed the image of Rahul Gandhi and it only exists in the mind of BJP but not his.
His response came after a reporter asked him to describe what perspective "Rahul Gandhi" gained from the people during the yatra.
"Rahul Gandhi is just in your minds, I have killed him. He is long gone. The person you are seeing right now is not Rahul Gandhi, only you are seeing him," the Congress leader said.
Quizzing the reporter on whether he understood the answer or not, Rahul said, "You should read more about Hindu religion and Shiv Ji to understand. Don't be shocked."
The former Congress president added that the image of Rahul Gandhi "exists in your mind, BJP's mind but not mine".
Rahul also asserted that he is not bothered about his image, adding that the Bharat Jodo Yatra should not be about him.
"I am not interested in my image. Good or bad, project whatever image you want, it is up to you. It doesn't matter to me. I am focussed on my work," he said.
"Why are you astonished," Rahul quipped at the reporter again.
Rahul's recent attack on the BJP, RSS and Prime Minister Narendra Modi by calling himself "tapasvi" (ascetic) and BJP "pujari" (priest) drew the ire of the saffron party as well as Hindu priests.
The Congress-led foot march had entered Kurukshetra district from Karnal on Sunday with a large number of people joining the yatra.
The yatra, which started from Kanyakumari in Tamil Nadu on September 7, will end after reaching Srinagar by January 30 with Gandhi hoisting the national flag there.
The march has so far covered Tamil Nadu, Kerala, Karnataka, Andhra Pradesh, Telangana, Maharashtra, Madhya Pradesh, Rajasthan, Delhi and Uttar Pradesh.
Watch "Rahul Gandhi is just your imagination, I have killed him…" Congress leader on his public image

#killed #Rahul #Gandhi #long #Congress #chiefs #quirky #reply #reporter #India #News