World
Explainer: Tensions high over isolated Azerbaijan region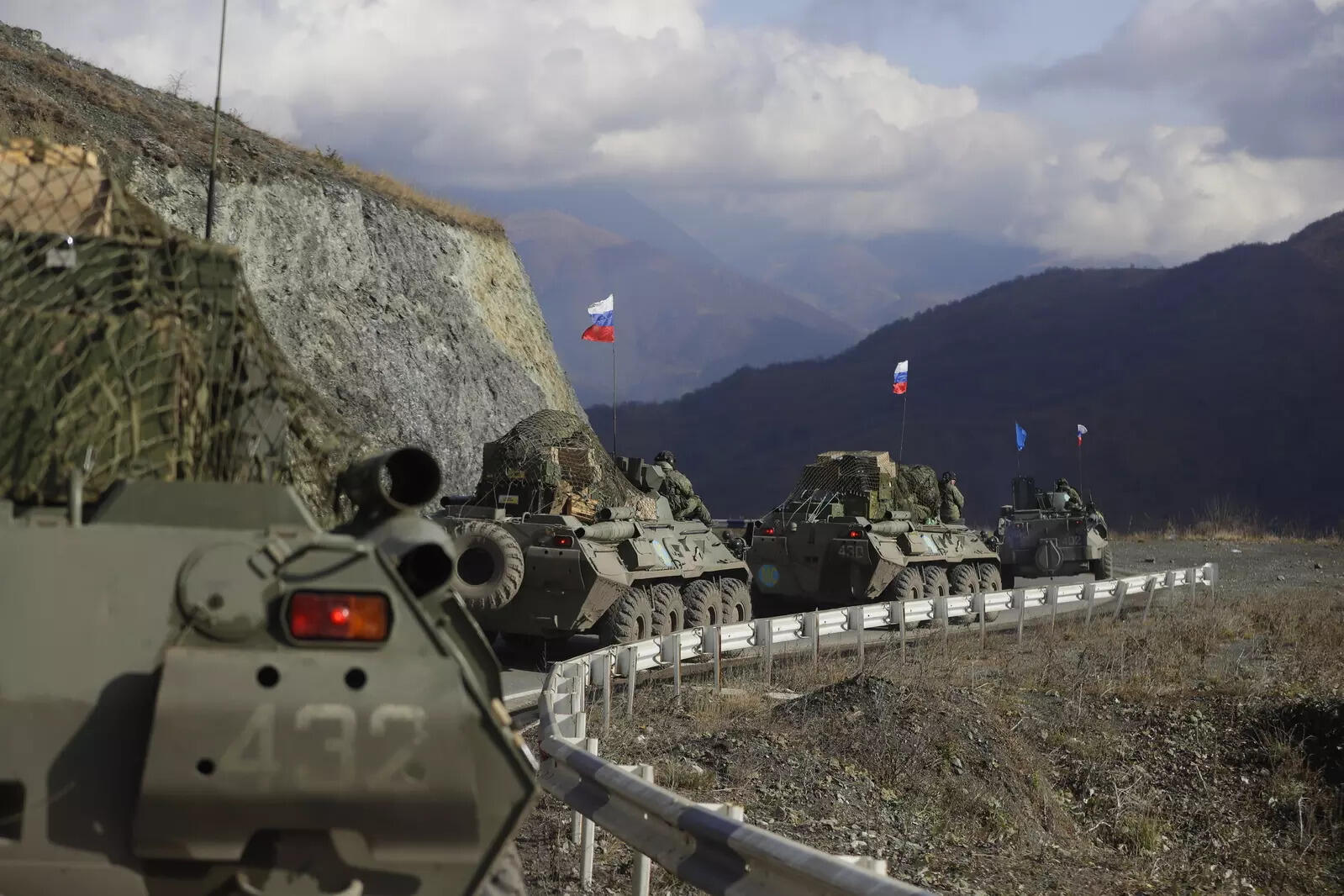 MOSCOW: Two years after Azerbaijan and Armenia ended a war that killed about 6,800 soldiers and displaced around 90,000 civilians, tensions between the countries are again high in a dispute over a six-kilometre (nearly four-mile) road known as the Lachin Corridor.
The winding road, which is the only land connection between Armenia and the ethnic Armenian Nagorno-Karabakh region in Azerbaijan, has been blocked by protesters claiming to be environmental activists since mid-December, threatening food supplies to Nagorno-Karabakh's 120,000 people.
The dispute raises fears that new fighting could break out. It also could destabilise Armenia's chronically excitable politics.
As well, it casts doubts on the competence and intentions of Russia, whose peacekeeping troops are charged with keeping the road secure.
ROOTS OF THE DISPUTE

Mountainous Nagorno-Karabakh, smaller than the US state of Delaware, has significant cultural importance to both Armenians and Azeris. It had a substantial degree of autonomy within Azerbaijan when it was part of the Soviet Union.
As the USSR deteriorated, Armenian separatist unrest broke out, later turning into a full-scale war after the Soviet Union collapsed.
Most of the Azeri population was driven out by the end of the fighting in 1994. Ethnic Armenian forces backed by Armenia took control not only of Nagorno-Karabakh itself but of sizable surrounding Azerbaijani areas.
For the next quarter-century, Nagorno-Karabakh was a "frozen conflict," with Armenian and Azerbaijani forces facing off across a no man's land and occasional clashes.
In September 2020, Azerbaijan launched a full-scale assault to take the region. The fierce fighting lasted six weeks.
The war ended with a Russia-brokered armistice under which Azerbaijan regained control of parts of Nagorno-Karabakh and all the surrounding territory previously occupied by Armenians.
Russia sent a peacekeeping force of 2,000 troops to maintain order, including ensuring that the Lachin Corridor remained open.
CURRENT TROUBLE

In mid-December, Azeris claiming to be environmental activists began blocking the road, saying they were protesting illegitimate mining by Armenians.
Armenia contends the protests are orchestrated by Azerbaijan. In turn, Azerbaijan alleges that Armenians have used the corridor to transport land mines into Nagorno-Karabakh in violation of the armistice terms.
After more than a month of blockages, food shortages in Nagorno-Karabakh have become severe as reserves run low.
The local government on Friday implemented a coupon system allowing only limited purchases of rice, pasta, buckwheat, sugar and sunflower oil.
Local authorities have called for a humanitarian airlift for critical supplies, but Azerbaijan hasn't given authorisation for the region's airport to operate.
Azerbaijan also has sporadically cut gas supplies to Nagorno-Karabakh — most recently on Saturday evening — and electricity supplies are reduced.
Although Russia is tasked with ensuring the Lachin Corridor's operation, it has taken no overt action to end the blockade.
The European Parliament has called for Russian peacekeepers to be replaced by a mission from the Organisation for Security and Cooperation in Europe — even though it criticised the OSCE for failing to resolve Nagorno-Karabakh's status during the decades that preceded the 2020 war.
CONSEQUENCES
With its attention focused on the fighting in Ukraine, Russia has taken a wait-and-see approach to the Lachin Corridor blockade, angering Armenia.
Prime Minister Nikol Pashinyan this month refused to allow Armenia to host military exercises of the Russia-led Collective Security Treaty Organisation alliance, saying that "Russia's military presence in Armenia not only fails to guarantee its security, but it raises security threats for Armenia."
Armenia hosts a Russian military base.
Russia's involvement in ending the 2020 war was seen as a significant accomplishment that boosted its influence in the region.
The esteem it gained could be lost if it doesn't take stronger measures to open up the road.
Pashinyan's assenting to the Russia-brokered agreement to end the fighting was widely unpopular in Armenia, with opponents accusing him of being a traitor and large protests demanding his resignation.
Failure to resolve the current dispute, leaving Nagorno-Karabakh's Armenians suffering and isolated, could provoke new unrest — and Pashinyan is aware of the potential power of such protests, having become prime minister himself on the heels of large demonstrations in 2018.

#Explainer #Tensions #high #isolated #Azerbaijan #region