Business
Explained: Why tech giants are laying off staff globally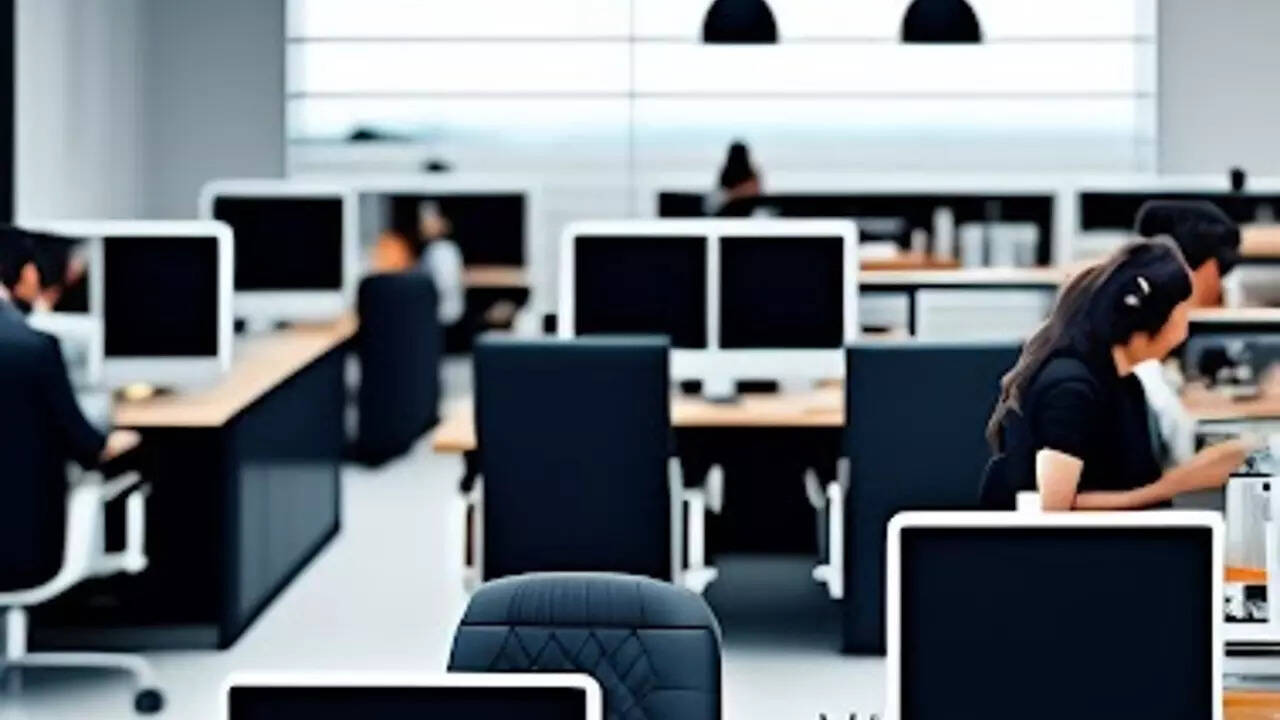 NEW DELHI: The gloomy outlook for global economy in 2023 has pushed several tech firms and Wall Street titans to lay off staff across offices worldwide.
A string of tech companies like Microsoft, Twitter, Meta were already in the grasp of this layoff wave. On Friday, Google parent company Alphabet became the latest firm to join the list of IT giants to opt for job cuts.
Thanks to a resilient search business, Google has been one of the longest tech holdouts. But the company is dealing with a slowdown in digital advertising and its cloud-computing division continues to trail Amazon and Microsoft.
Cumulatively, more than 1.5 lakh tech company workers faced job cuts in 2022, according to tracking site Layoffs.fyi.
Tech layoffs continue in 2023
The job cuts started in 2022 and accelerated across much of the technology world.
The tech industry is slashing jobs at a pace nearing the early days of the Covid-19 pandemic.
In November last year, the sector announced 52,771 cuts, for a total of 80,978 over the course of the year, according to consulting firm Challenger, Gray & Christmas Inc. It was the highest monthly total for the industry since the firm started keeping data in 2000.
As a pandemic-led demand boom rapidly fades, tech companies shed more than 150,000 workers in 2022, according to tracking site Layoffs.fyi, and more layoffs are expected as growth in the world's biggest economies start to slow.
Here are some of the job cuts announced so far:
Amazon
The e-commerce giant has said that it will cut some jobs in the United States, Canada and Costa Rica as part of its plan to lay off 18,000 employees.
The company terminated 2,300 employees in Seattle and Bellevue, according to an update on the Worker Adjustment and Retraining Notification (WARN) site quoted by Reuters.
Microsoft
Microsoft has eliminated 10,000 jobs earlier this week.
The tech giant said it would take a billion-dollar charge from severance costs among other changes. US-eligible staff, for instance, will get healthcare coverage and stock vesting for six months.
Twitter
The upheaval at Twitter has more to do with its recent buyout — and the accompanying debt — than economic concerns.
The social media platform laid off roughly 3,700 employees in early November 2022 in a cost-cutting measure by its new owner Elon Musk, and hundreds more subsequently resigned.
Earlier this month, the firm made further staff cuts in the trust and safety team handling global content moderation and in the unit related to hate speech and harassment.
Meta
Facebook's parent Meta Platforms laid off around 11,000 employees in November last year. This was one of the biggest tech layoffs — roughly 13% of staff.
It was also the first time in Meta's 18-year history when it had to go for broad job cuts.
"I want to take accountability for these decisions and for how we got here," CEO Mark Zuckerberg said in the statement. "I know this is tough for everyone, and I'm especially sorry to those impacted."
Apple
The iPhone maker has paused hiring for many jobs outside of research and development, an escalation of its plan to reduce budgets heading in the new year, according to people with knowledge of the matter quoted by Reuters.
The break generally doesn't apply to teams working on future devices and long-term initiatives, but it affects some corporate functions and standard hardware and software engineering roles.
Intel
Intel is cutting jobs and slowing spending on new plants in an effort to save $3 billion, the chipmaker said.
The hope is to save as much as $10 billion by 2025, a plan that went over well with investors, who sent the shares up more than 10% on October 28.
Bloomberg News reported earlier that the headcount reduction could number in the thousands.
Lyft
Lyft Inc.'s cost-saving efforts include divesting its vehicle service business. It's eliminating 13% of staff, or about 683 people. The company had already said it would freeze hiring in the US until at least the new year. It's now facing even stiffer headwinds.
"We are not immune to the realities of inflation and a slowing economy," co-founders John Zimmer and Logan Green said in a memo. "We need 2023 to be a period where we can better execute without having to change plans in response to external events — and the tough reality is that today's actions set us up to do that."
Qualcomm
Qualcomm said that it's frozen hiring in response to a faster-than-feared decline in demand for phones, which use its chips. It now expects smartphone shipments to decline in the double-digit percent range this year, worse than the outlook it gave earlier.
Upstart
Upstart Holdings Inc., an online lending platform, said in a regulatory filing it cut 140 hourly employees "given the challenging economy and reduction in the volume of loans on our platform."
Vimeo
Vimeo announced it will cut 11% of its global full-time workforce, according to a January 4 regulatory filing.
Adobe
Adobe has eliminated about 100 jobs, concentrated in sales. The company shifted some employees to other roles internally.
HP
HP will cut as many as 6,000 jobs over the next three years as declining demand for personal computers cuts into profits. In addition to reducing its workforce by about 10%, the company will reduce its real estate footprint.
What led to layoffs
* Recession fears: Amid widespread caution regarding global economic slowdown, IT firms are reassessing their spending and bracing for a potential recession.
Many economists believe that a global recession is likely in 2023. The World Bank and International Monetary Fund (IMF) have already cautioned economies to brace up for slowdown in pace of growth.
A majority of the World Economic Forum's Community of Chief Economists expect to see geopolitical tensions continuing to shape the global economy, and anticipate further monetary tightening in the United States and Europe.
* Weak consumer demand: The world has been facing major challenges since the beginning of 2022 in form of high inflation and weak demand.
In wake of geopolitical crisis, consumer price inflation has soared in almost every major economy of the world be it the US, UK, India, Japan, European Union and others.
The impact is being felt even more now as the global economy was already reeling under the pressure of Covid-related lockdowns since 2020. Just when situation seemed to be improving gradually, the war between Russia and Ukraine made matter worse by disrupting a major trade route.
* Rapid rate hike: Persistently rising consumer prices forced central banks to opt for monetary policy tightening since the beginning of 2022. After a long haitus, almost all central banks started raising key interest rates.
Th US Federal Reserve was the first to hike rates from sub-zero levels and is continuing to do so even now. Central banks of other economies have also followed suit.
Even though the World Bank has cautioned economies from rapidly raising interest rates, it is deemed to be important to tame the rising inflation.
* Pressure from investors: According to a report in Reuters, Google's reduction in headcount follows investor pressure to adopt a more aggressive strategy to curb spending.
In November, TCI Fund Management urged the internet search giant in an open letter to publicly set a target for profit margins, increase share buybacks and reduce losses in its portfolio of Other Bets, Alphabet's moonshot division.
"The company has too many employees and the cost per employee is too high," TCI managing director Chris Hohn said, noting that Alphabet's headcount had swelled 20% per year since 2017.
* Cost cutting: Google has made a series of cost-cutting moves in recent months, canceling the next generation of its Pixelbook laptop and permanently shuttering Stadia, its cloud gaming service.
Earlier in January, Verily, a biotech unit of Alphabet, said it was cutting 15% of its staff.
What Pichai said in email
Alphabet CEO Sundar Pichai was the one to announce the job cuts to his staff via an email.
He said that the company faced a different economic reality from the past two years when it rapidly expanded headcount, decisions for which Pichai said he took full responsibility.
"Over the past two years we've seen periods of dramatic growth," Pichai wrote. "To match and fuel that growth, we hired for a different economic reality than the one we face today."
He said the layoffs reflect a "rigorous review" carried out by Google of its operations.
The jobs being eliminated "cut across Alphabet, product areas, functions, levels and regions," Pichai said. He said he was "deeply sorry" for the layoffs.
He said, Google was gearing up "to share some entirely new experiences for users, developers and businesses," and the company has "a substantial opportunity in front of us with AI across our products."
Pichai added that Google, founded nearly a quarter of a century ago, was "bound to go through difficult economic cycles."
"These are important moments to sharpen our focus, reengineer our cost base, and direct our talent and capital to our highest priorities," he wrote.
Google staff compensation
The laid off employees at Google will get 16 weeks of severance and 6 months worth of health benefits in the US, with other regions receiving packages based on local laws and practices.
Pichai said that the company will pay employees during the full notification period of 60 days. Besides, they will also get 2022 bonuses and remaining vacation time.
Layoffs beyond tech
As fears of recession looms, the US corporate sector is already feeling the heat. The layoffs are not just limited to the IT sector but financials, retail, energy, healthcare are also sailing on the same boat.
Goldman Sachs began laying off staff on January 11 in a sweeping cost-cutting drive, with around a third of those affected coming from the investment banking and global markets division, a source familiar with the matter told Reuters.
Citigroup also eliminated dozens of jobs across its investment banking division, as a dealmaking slump continues to weigh on Wall Street's biggest banks, Bloomberg reported.
Meanwhile, vegan meat maker Blue Apron Holdings announced its plans to cut 200 jobs this year, with the layoffs expected to save about $39 million.
Pharma giant Johnson & Johnson has said it might cut some jobs amid inflationary pressure and a strong dollar, with CFO Joseph Wolk saying the healthcare conglomerate is looking at "right sizing" itself.
Cryptocurrency exchange also said it would slash nearly 950 jobs, the third round of workforce reduction in less than a year after cryptocurrencies, already squeezed by rising interest rates, came under renewed pressure following the collapse of major exchange FTX.
(With inputs from agencies)

#Explained #tech #giants #laying #staff #globally