India
Battle over icons in Netaji's homeland | India News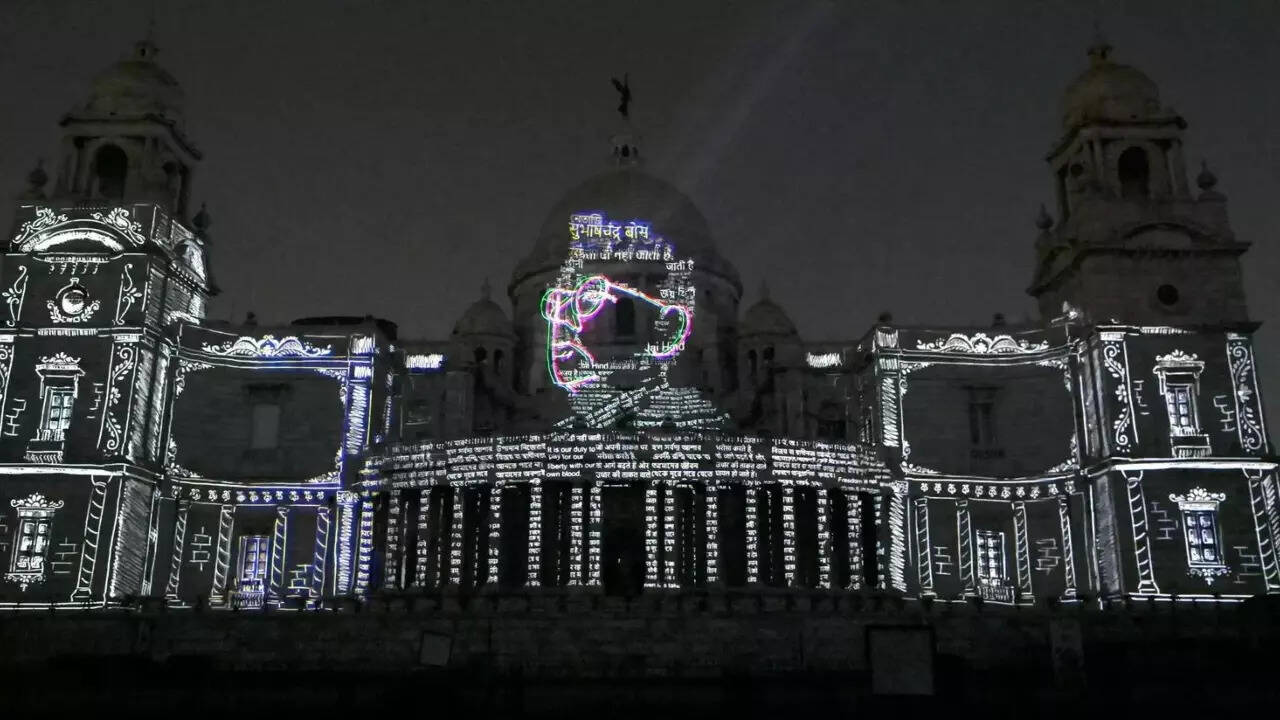 KOLKATA: India's 'revolutionary capital' has become the epicentre for a different kind of battle – this time over its own icon –Subhas Chandra Bose, the legendary hero of the country's freedom movement, who enjoys more than a cult status in this megalopolis.
Much to the consternation of some Kolkatans, the RSS will possibly for the first time in its history hold a mega-rally to commemorate his birth anniversary at the iconic Shahid Minar, a scene for many protest rallies before and after India's Independence, including some addressed by Bose himself.
The Hindutva outfit's leader Mohan Bhagwat has already flown into the former capital of British India and will be the chief speaker at the public programme on January 23, which is likely to be held around the same time when Chief Minister Mamata Banerjee will be garlanding Bose's statue with its hand pointing towards Delhi, near the Red Road.
Quite naturally, the RSS's move has set the proverbial cat among the pigeons with eminent thinkers, the Congress, Communists and TMC frowning in disproval.
"His ideology of secular, democratic principles, his staunch opposition to British rule was diametrically opposite to that of the RSS and the Hindu Mahasabha, and he had during his lifetime made this clear," said Prof Aditya Mukherjee, eminent historian and author of several books on India's freedom struggle.
Both the Congress, of which Bose, also called by the honorific Netaji, was president twice, the Forward Bloc that he founded and the TMC which draws inspiration from him, will be organising functions as will tens of thousands of schools, youth clubs, gymnasiums and apartment blocks across this teeming city.
Festoons and buntings are being readied to decorate various Bose statues from the Red Road caped Subhas, to the Netaji on a charger at Shyambazar's five point crossing to the more humble painted busts at various by-lanes of Kolkata manufactured by the dozen at the insistence of local enthusiasts.
While clashes are unlikely between rival political or ideological groups, a war of words that has already sprung up is likely to cloud the INA's emblem of springing tiger, a logo adopted from Mysore's Tipu Sultan.
"After more than one and a quarter century of his birth, all political parties across the spectrum are trying to appropriate Netaji … (but) to live up to an icon, one has to live up to his ideals … when will that happen?" said Sukhendu Sekhar Roy, TMC MP and life-long Bose researcher, with a wry smile.
For its part, the Hindutva outfit claims Bose and RSS founder Dr Hegdewar had met at some stage before Independence and the organisation had been paying tribute to Netaji for many years.
At Netaji Bhavan on Elgin Road, where Bose lived, and which is now a museum and research centre, a staider programme far away from the political bickering will be conducted by his grandnephew Prof Sugata Bose, where members of INA families will be present and a Sufi ensemble from A R Rahman's KM Music Conservatory will perform.
While Prof Bose declined to comment as he was busy with arrangements for his function, another of Netaji's relative, grandniece Madhuri Bose, author of 'The Bose Brothers and Indian Independence,' pointed out that the revolutionary's "whole life was an example of inclusive, secular character of our country".
"Everyone is welcome to pay homage to Netaji," she added, but also said that she and many others in the family felt a true homage will be to live up to Bose's belief "that the state and modern Indians must rise above caste, religion, and race to create an inclusive society".
Bose, who was born in Cuttack in 1897, lived for the most of his life in Kolkata and after chucking away a prestigious job as an ICS officer, joined the ranks of the Congress. A born orator and administrator, he is remembered for his stint as Mayor of Calcutta. After breaking with the Congress over norms to be followed in the freedom struggle, he first set up the Forward Bloc and then escaped from home confinement during 1941 to set up the INA and wage war against Britain from Singapore and Burma.
The CPI(M), which too, has in the past been accused of similarly co-opting Netaji as an icon after vilifying him during the Second World War as "running dog of Tojo", felt RSS's attempt to project a secular leader as one of their own was incongruous.
"They cannot name one freedom movement icon as their own… so they appropriate Gandhi and Sardar Patel, who were Congressmen till their end… Subhas Bose, a very progressive and secular-minded person is now on their radar. Even Bhagat Singh who became a Communist, they have sought to appropriate," pointed out Saira Shah Halim, CPI(M) leader and social worker.
Roy pointed out that serious researchers like him had been trying to get the government to declassify a manuscript prepared by a team of historians led by Dr P C Gupta for Ministry of Defence titled 'History of the INA', for years. "Both the Congress and the Narendra Modi government have stonewalled our attempts… letters to the PM have not yielded any results," he claimed.
"They (BJP-led central government) have disbanded the Planning Commission; that was an organisation envisioned by Netaji for planning this country's development…," the TMC leader lamented.
Kingshuk Chatterjee, head of the department of History at Calcutta University and an alumnus of Presidency College, where Bose studied, tried to analyse the reason for political parties appropriating icons sometimes across centuries and ideological spectrum by tracing the origins of this trend.
"Appropriation of icons by political parties to serve their own purposes is pretty routine affair in the Indian political landscape," he explained, adding that this was largely because of the "language of politics that Congress chose to speak right from 1947, that of drawing political legitimacy from the freedom struggle".
Having been a platform for all shades of political opinion, the Congress could easily claim just about everyone, either "on account of them being associated with the Congress, or because the party espoused pretty much every single political cause within the template of the freedom movement", Chatterjee said.
This forced all political parties "to speak the same language, justifying their own political legitimacy in terms of their association with protagonists of the freedom struggle".
"The Congress claims Subhas as originally/basically a Congress-man; Forward Bloc claims him by virtue of having being founded by him; the Left Front occasionally tried to establish his socialist credentials; the BJP of course means to appropriate everyone as standing for their ideology," he pointed out.
"Gandhi, they have almost claimed, and maybe someday they may claim Nehru as well. There is and would be nothing incongruous about such appropriations," Chatterjee said with a smile.

#Battle #icons #Netajis #homeland #India #News