India
1.9°C at main city station as Delhi faces extended cold wave | India News
NEW DELHI: Delhi suffered its fourth consecutive cold wave day on Sunday, with the minimum at the city's base station Safdarjung falling below 2 degrees Celsius for the first time in two years and the city experiencing one of its worst fog spells of the season with nine hours of lower than 200m visibility.
Contrary to earlier forecasts of the extreme cold spell ending by Sunday, the met department said the cold wave is now expected to abate only by Tuesday as a western disturbance expected to relief over the region weakened before entering north India.
Over 100 flights were delayed at IGI Airport due to dense fog and 42 trains were running late. Two Delhi-bound flights diverted to Jaipur between 10am and 10.30am.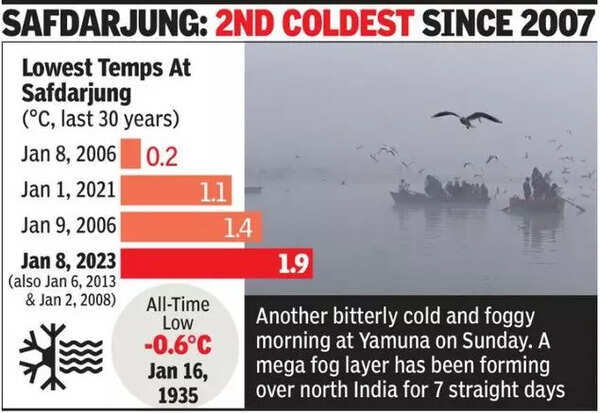 Safdarjung recorded 1.9 degrees C on Sunday, five notches below normal, making it the coldest morning in the past two years. It was also the second coldest January morning in the past 16 years, although 1.9 degrees was recorded on two other occasions during this period, IMD data reveals.
The capital also saw one of its worse spell of dense fog of the season. Fog engulfed Delhi for around 15.5 hours and of these, the duration of dense fog (when the visibility dips to below 200 metres) was nine hours. The visibility at Indira Gandhi International (IGI) Airport was 50m from 2.30am to 10am, improving to 100m from 10am to 11.30am. Fog lifted completely at IGIA only around 1pm. The visibility at Safdarjung was 200 metres on Sunday morning.
The last time Safdrajung recorded a lower minimum temperature was on January 1, 2021 when the mercury dipped to 1.1 degrees C. On January 6, 2013, and on January 2, 2008, the minimum temperature stood at 1.9 degrees C like Sunday. However, January 2006 recorded a lower minimum temperature on two days with readings of 0.2 and 1.4 degrees C. Coldwave conditions continue in north India, 41 flights delayed
IMD's data showed that the minimum temperature dropped to 2.2 degrees C, five degrees below normal, at Delhi Ridge and 2.6 degrees C, four notches below normal, at Ayanagar. Many spots in Delhi were colder than several hill stations such as Manali (4.4 degrees C), Kullu (6.1), Dharamshala (6.2) and Shimla (9.5).
The maximum temperature at Safdarjung was recorded at 18.2 degrees Celsius, one degree below normal. However, Palam and Jafarpur saw cold-day conditions with maximum temperatures of 14.4 and 14.1 degrees C, respectively.
IMD declares a cold wave when the minimum temperature is four or more notches below normal or when the minimum temperature is less than 4 degrees Celsius. A 'cold day' is declared when the minimum temperature is below 10 degrees C and the departure of the maximum temperature from normal is 4.5 degrees or above.
The met department has issued a 'yellow' alert (be aware) for Monday for cold wave conditions and dense fog in the morning while a higher orange alert is in place for Punjab, Haryana and Uttar Pradesh. Yellow alert is also in place for Tuesday for moderate to dense fog. "A western disturbance, which was expected to impact the plains from January 7, weakened before reaching northern India. It did not contribute in suppressing temperature and fog," said R K Jenamani, senior scientist IMD.
However, respite is expected from January 10. "Another western disturbance is expected to affect the region from January 10-11. Though dense fog is likely on the intervening night of Sunday and Monday, duration of fog is predicted to reduce. It is likely to reduce further on Monday night," said Jenamani.
Watch Delhi: City records season's lowest minimum temperature, continues to face cold wave conditions

#1.9C #main #city #station #Delhi #faces #extended #cold #wave #India #News