India
Varanasi exhibits initiatives to reduce carbon emission | India News
VARANASI: This year when G20 presidency is with India, a CNG-driven boat rally was flagged off by Union petroleum & natural gas minister Hardeep Singh Puri at Namo Ghat in Varanasi on Sunday as part of Prime Minister Narendra Modi's initiative to cut India's carbon emission.
Addressing the event, Puri said, "From February 6 to 8, an event 'Growth, Collaboration, Transition' is being organised at — India Energy Week — in Bengaluru as the first major event under India's G20 Presidency. The India Energy Week follows the PM's pledge at COP26 to cut India's emissions to net-zero by 2070. As part of this proposed event in Bengaluru, the CNG boat rally is organised in Varanasi to exhibit how PM's vision has resulted in conversion of high polluting diesel engines to CNG engines in boats floating in river Ganga in Varanasi," Puri further added.
Second floating CNG station will come up at Ravidas Ghat as the first one is already operational at Namo Ghat.
"It was PM Modi's wish to replace diesel boats with CNG, he said adding, it is pleasant to see that over 580 diesel boats have been switched to CNG leading to an increase in income of boatmen apart from checking carbon emission. It has helped in checking noise and air pollution in the Ganga, he added.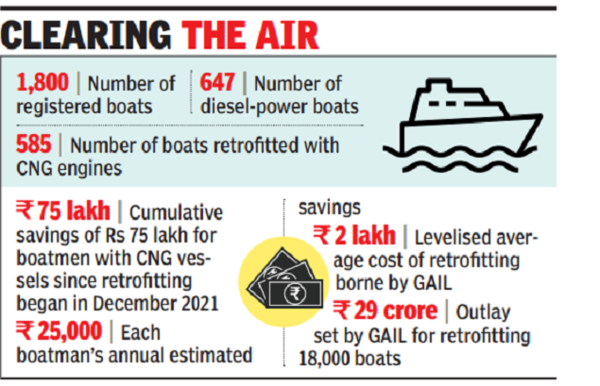 "Varanasi has been witnessing the golden era of its rejuvenation envisioned by the PM. By keeping the heritage and culture preserved, the city has witnessed the rejuvenation of Kashi Vishwanath Dham and ghats along river Ganga while modern facilities are getting added for boosting tourism", said Puri adding, "We are thankful to the PM for drawing a parallel line of energy transition and energy security with the transformation of Varanasi."
Expressing hope that the days would also come when boats in Ganga would float with green hydrogen, he said announcing to establish one more floating CNG refilling station at Ravidas Ghat. With the allotment of land by state government the petroleum ministry will start the process of establishing second CNG terminal along river Ganga.
Mentioning that emerged as fastest growing economy of the world India is on the path of becoming 26 trillion dollar economy in its 100th year of independence due to PM's vision of making country self-reliant, Puri highlighted four-pronged strategy to cut India's emissions to net-zero by 2070.
Speaking on the occasion Union minister of state for petroleum Rameshwar Teli termed the CNG boat rally as an exhibition of India's culture, heritage and energy transition.
UP energy minister AK Sharma expressed gratitude for petroleum and natural gas of government of India for the project of converting diesel boats into CNG boats and also promotion green energy in the state. He assured that state government would keep extending all support to its future ventures.
Later, with the flagging off by Puri the boat rally started from Namo Ghat. After passing through Dashashwamedh Ghat it culminated at Chetsingh Ghat, where a laser show was also organized to mark the occasion.

#Varanasi #exhibits #initiatives #reduce #carbon #emission #India #News