India
Uttarakhand crisis: Ready for special missions as well as for helping in Joshimath, say Indian Army troops | India News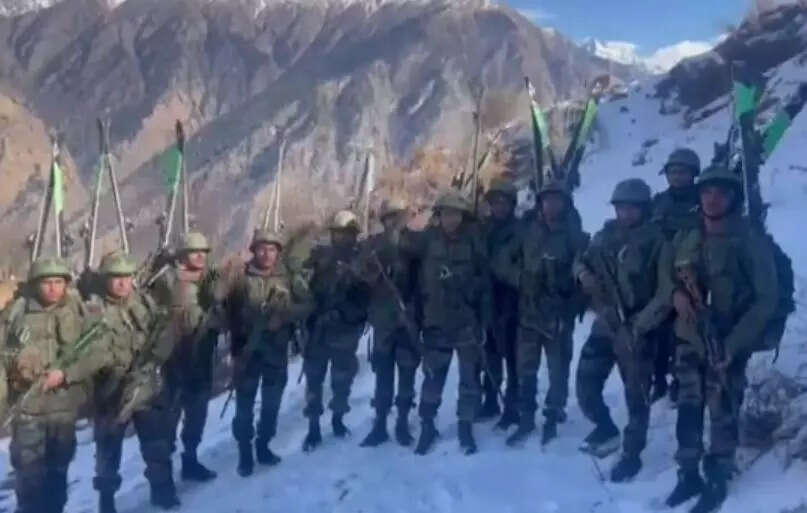 CHAMOLI (Uttarakhand): Indian Army troops deployed in the high-altitude mountains near the China border in Uttarakhand say that they are ready for both special missions as well as for relief and rescue operations in Joshimath which has been affected by land subsidence.
The soldiers while exuding confidence in successfully executing all the operations or missions said that they are up to any task assigned to them.
The troops are training in case they are called upon for the operations to help out the civil administration. Soldiers deployed in high altitude locations around 14,000 feet in the Uttarakhand sector along the Line of Actual Control are carrying out multiple roles.
"Indian Army is up to any job assigned to it, be it a natural calamity or any special mission. Our one troop is training for the Joshimath disaster. The troop will be prepared to contribute in the operation," a soldier said.
"Indian Army executes numerous operations," another soldier said.
While on the one hand, the soldiers are preparing for mountain warfare along the border, they are also fully prepared to provide support to the local administration in Joshimath in disaster relief operations due to the cracks developed there in the land subsidence cases.
Meanwhile, the Uttarakhand government has distributed an amount of Rs 2.85 crore to 190 families affected by land subsidence as advance for displacement, said Disaster Management Secretary Ranjit Kumar Sinha on Monday.
"It was informed that an amount of Rs 2.85 crore has been distributed to 190 affected families as an advance for displacement by the state government. There is news of relief that the initial discharge of water in Joshimath which was 540 LPM on 6 January 2023 was presently reduced to 163 L.P.M," Sinha said.
Secretary Disaster Management informed that crack meters have been installed on the concerned buildings by CBRI at the Government of India level to assess the damage to the buildings.
"So far damage assessment of 400 houses has been done. 3 seismic stations have been installed by the Wadia Institute, from which data is also being obtained. A hydrological survey is being done by NGIR. CBRI, IIT Roorkee, Wadia Institute, GSI, and IIRS are working in Joshimath," he said.
Sinha informed that there are a total of 615 rooms in Joshimath with a capacity of 2190 people and 491 rooms in Pipalkoti with a capacity of 2205 people in the temporarily identified relief camps.
"Under the relief amount distributed to the affected, at the rate of Rs 5,000 per family, a total of Rs 3.65 lakh has been distributed to the 73 affected families for domestic relief material. An amount of Rs 13.00 lakh has been distributed to 10 affected people for completely damaged buildings. People are applying for house rent," he said.
Earlier on Sunday, a team from the Prime Minister's Office visited disaster-hit areas of Joshimath in Uttarakhand's Chamoli and inspected the situation, an official said.
"A team headed by Mangesh Ghildiyal had come from the Prime Minister's Office to visit the disaster-hit areas of Joshimath, mainly the Joshimath Auli ropeway tower which has cracks and is closed for the time being," District Magistrate of Chamoli, Himanshu Khurana said. (ANI)
Watch
Uttarakhand crisis: eady for special missions as well as for helping in Joshimath, say Indian Army troops

#Uttarakhand #crisis #Ready #special #missions #helping #Joshimath #Indian #Army #troops #India #News