World
US President Biden hails Japan defence reforms, tells Kishida alliance strong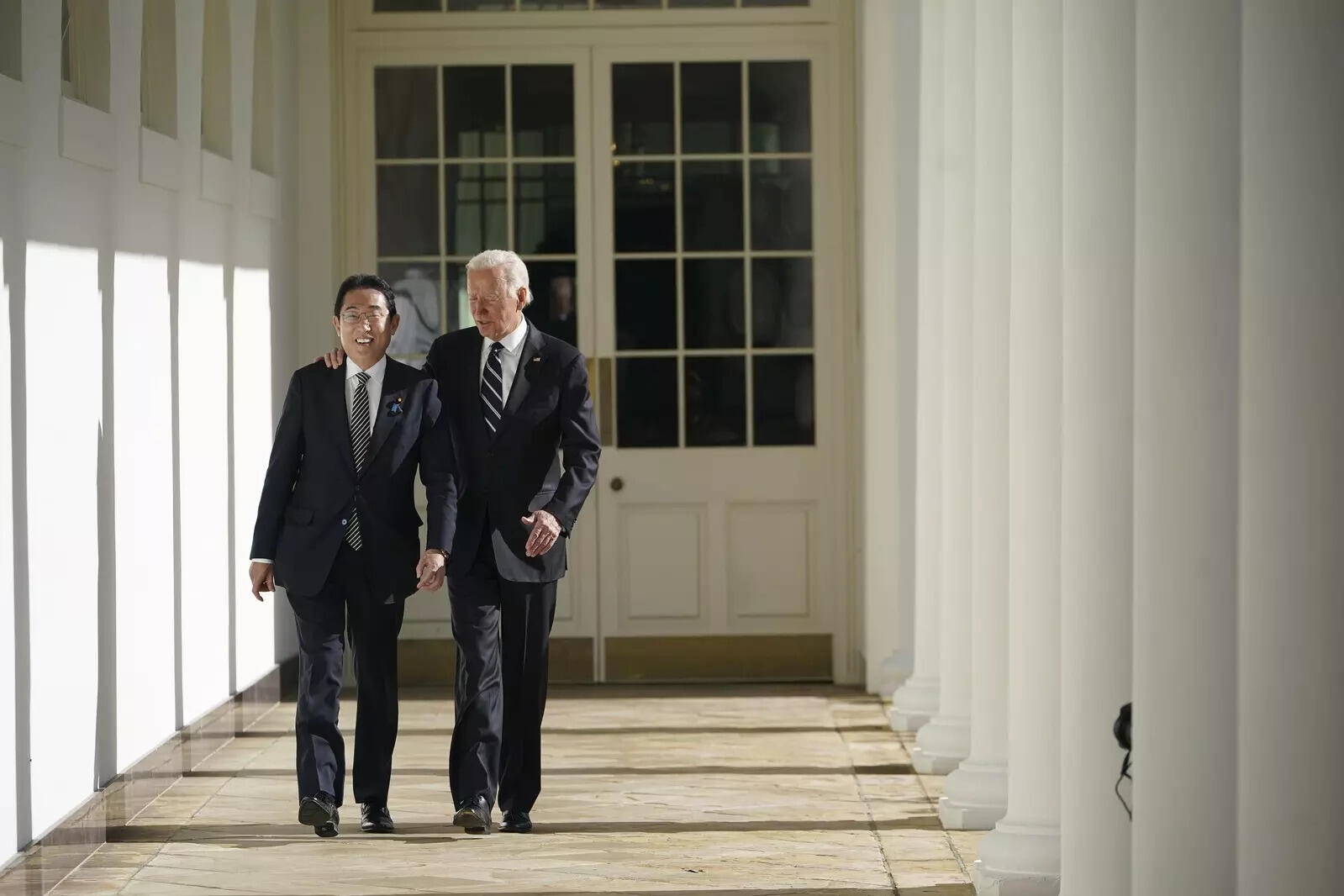 WASHINGTON: United States President Joe Biden welcomed Japanese Prime Minister Fumio Kishida at the White House on Friday and said the United States remained strongly committed to its alliance with Japan, while hailing a "historic increase" in Japanese defense spending.
Kishida is in Washington on the last stop in a tour of the G7 industrial powers and has been seeking to bolster long-standing alliances amid rising concern in Japan about mounting regional security threats from China, North Korea and Russia.
In an Oval Office meeting, Biden called it a "remarkable moment" in the U.S.-Japan alliance and said the two nations had never been closer.
"Let me be crystal clear: The United States is fully, thoroughly, completely committed to the alliance," he said, while also thanking Kishida for strong leadership in working closely on technology and economic issues.
Kishida thanked Biden for U.S. work on regional security and said, "Japan and the United States are currently facing the most challenging and complex security environment in recent history." He said Tokyo had formulated its new defense strategy released last month "to ensure peace and prosperity in the region."
Kishida said at the start of an earlier meeting with Vice President Kamala Harris that topics for his Washington talks included the U.S.-Japan alliance as well as "establishing a free and open Indo-Pacific," a reference both sides use to describe efforts to push back against China.
Harris said the U.S.-Japan relationship is "ironclad" and that the two sides would sign an agreement on space cooperation later in the day.
Japan last month announced its biggest military build-up since World War Two – a dramatic departure from seven decades of pacifism, largely fueled by concerns about Chinese actions in the region.
U.S. and Japanese foreign and defense ministers met on Wednesday and announced stepped-up security cooperation following nearly two years of talks and the U.S. officials praised Tokyo's military build-up plans.
Japan's military reform plan will see it double defense spending to 2% of GDP and procure missiles that can strike ships or land-based targets 1,000 km (600 miles) away.
Biden and Kishida are expected to discuss security issues and the global economy and that their talks are likely to include control of semiconductor-related exports to China after Washington announced strict curbs last year, a senior U.S. official said.
Japan is the current G7 chair and it also took up a two-year term on the U.N. Security Council on Jan. 1 and holds the rotating monthly presidency of the 15-member body for January.
Kishida has said he backs Biden's attempt to limit China's access to advanced semiconductors with export restrictions. Still, he has not agreed to match sweeping curbs on exports of chip-manufacturing equipment that the United States imposed in October.
The U.S. official said Washington was working closely with Japan on the issue and believes they share a similar vision even if their legal structures are different. He said the more countries and significant players that backed the controls, the more effective they would be.
A Japanese official said economic security, including semiconductors, was likely to be discussed, but that no announcement was expected on that from the meeting.

#President #Biden #hails #Japan #defence #reforms #tells #Kishida #alliance #strong