Business
'Two-wheeler market set back by decade'
NEW DELHI: Cost escalations and Covid dampers have set back the Indian two-wheeler market by around a decade, said a top official at Japanese auto major Honda's Indian subsidiary.
Affordability has been hit in the price-sensitive category, which led to withdrawal by many entry-level buyers, especially those in the rural and semi-urban areas, said Atsushi Ogata, president and CEO of Honda Motorcycle & Scooter India (HMSI)
"Even if you look at Activa scooter, there has been a huge gap in price of the vehicle today and what it was around five years back," the head of HMSI said, adding that some recovery is being noticed now.
After hitting a record high of 21.2 million units in 2018-19, the two-wheeler industry saw massive reversals, with volumes shrinking to 13.4 million units in 2021-22. While there has been growth in numbers this year, the final figures would still be far short of the industry highs. Ogata said the industry can start creating new highs in sales only around 2028-29.
He said HMSI is saddled with over-capacity as it set up annual peak production of 5.8 million units in India, though it could sell only around 3.9 million units in 2021-22.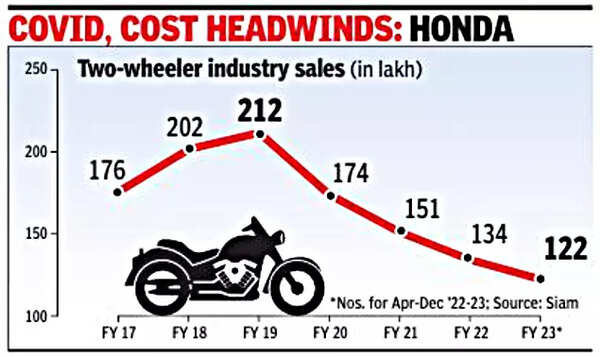 "The pandemic came in like an accident for the industry and its health, and its timing couldn't have been worse as the migration from BS4 to BS6 products also happened during the same time. The next accident was the spike in commodity prices," he said, pointing out reasons that saw vehicle prices go up.
Honda also plans to bring in a 100cc entry motorcycle by March this year, as it works to get higher volumes. This will compete against arch rival Hero Moto, which dominates the entry market.

#Twowheeler #market #set #decade