Hollywood
That '90s Show Cast Discuss Netflix Series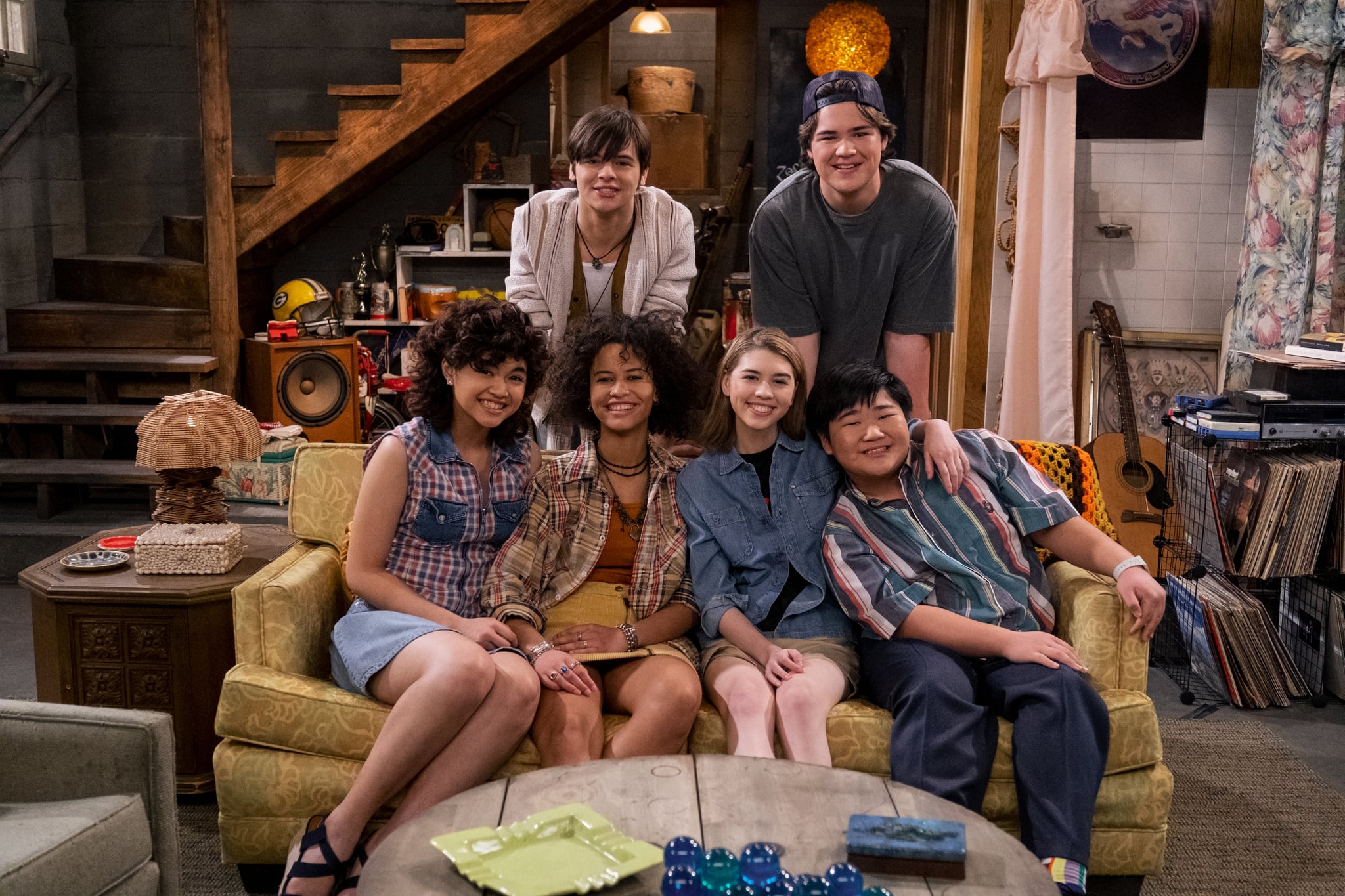 Image Source: Netflix
The teens of "That '90s Show" may hang out in the same basement where the "That '70s Show" crew spent many a summer night in a smoky circle, but they're definitely forging their own paths. The Netflix spinoff, which premiered on Jan. 19, stars a fresh cast that includes Callie Haverda, Mace Coronel, Maxwell Acee Donovan, Reyn Doi, Sam Morelos, and Ashley Aufderheide, as well as "That '70s Show" originals Kurtwood Smith (Red) and Debra Jo Rupp (Kitty).
The show follows Eric (Topher Grace) and Donna's (Laura Prepon) teenage daughter, Leia (Haverda), as she navigates coming of age and making new friends in the exact place where her parents fell in love so many years ago. But despite the similarities between the sitcoms, the young "That '90s Show" cast are set on paving their own way.
"Each of us are our own characters," Haverda tells News JoJo. "None of us are trying to be copies." Though Haverda's Leia appears to have inherited some elements of her dad — including his awkward charm (though no teenager ever wants to admit they might be anything like their parents) — her character is very much her own person and determined to individuate and experience life on her terms.
Leia's desire for independence, somewhat ironically, drives her to follow in her parents' footsteps by living with her grandparents, Red and Kitty, for the summer. There, she meets a host of new friends, which include Jay Kelso (Coronel), the jokester son of none other than Michael Kelso (Ashton Kutcher) and his now-wife, Jackie (Mila Kunis). Kunis and Kutcher, like many of their "That '70s Show" costars, do make cameos on the show, including Prepon, Grace, Rupp, and Smith, as well as other alums like Wilmer Valderrama (Fez), Don Stark (Bob Pinciotti), Timmy Chong (Leo), and Jim Rash (Fenton), who all have their own special moments on the spinoff designed to satisfy any nostalgic fan.
In an effort to bridge the gap between the original cast and that of "That '90s Show," the older castmates took time to encourage the new generation in their spinoff. "They were all very welcoming. They welcomed us into their family," says Donovan, who plays well-intentioned jock Nate. Morelos, who plays intelligent, ambitious Nikki, adds, "They're very supportive of this new generation of Point Place kids. It's really, really inspiring to see this old cast lift us up and support us in that way."
Doi, who plays the sharp-tongued Ozzie, says, "We're all unique, and everyone has their own special moments with the original cast. They were always by our side. It didn't matter if they were only coming for that week or if they were only coming a couple times in the season. They were always really supportive."
The "That'70s Show" cast leave behind a memorable legacy, but according to Morelos, stepping into their basement doesn't necessarily mean they're stepping into their shadow. "I think it's more stepping beside them," she says. It also means stepping into a brave new world full of flannels, Alanis Morissette, and '90s dances, which Donovan says are his favorite trend of the decade.
Despite their fresh characters and time period, the new Point Place crew hope to inherit some elements from the original "That '70s Show" cast. "I think the chemistry that they had in 'That '70s Show' where all the characters together really bonded — that's what we wanted to have," says Aufderheide, who plays the spirited, Morissette-loving Gwen (who also happens to live in Donna's old house next to Red and Kitty's). "We all get along really well in real life. We wanted that to flourish onscreen, while being our own authentic characters."
"That '90s Show" is now streaming on Netflix.

#90s #Show #Cast #Discuss #Netflix #Series