India
Tejasvi Surya | Indigo Flight Emergency Door: MP Tejasvi Surya opened emergency exit of IndiGo plane by mistake, has apologised says Civil aviation minister Jyotiraditya Scindia | India News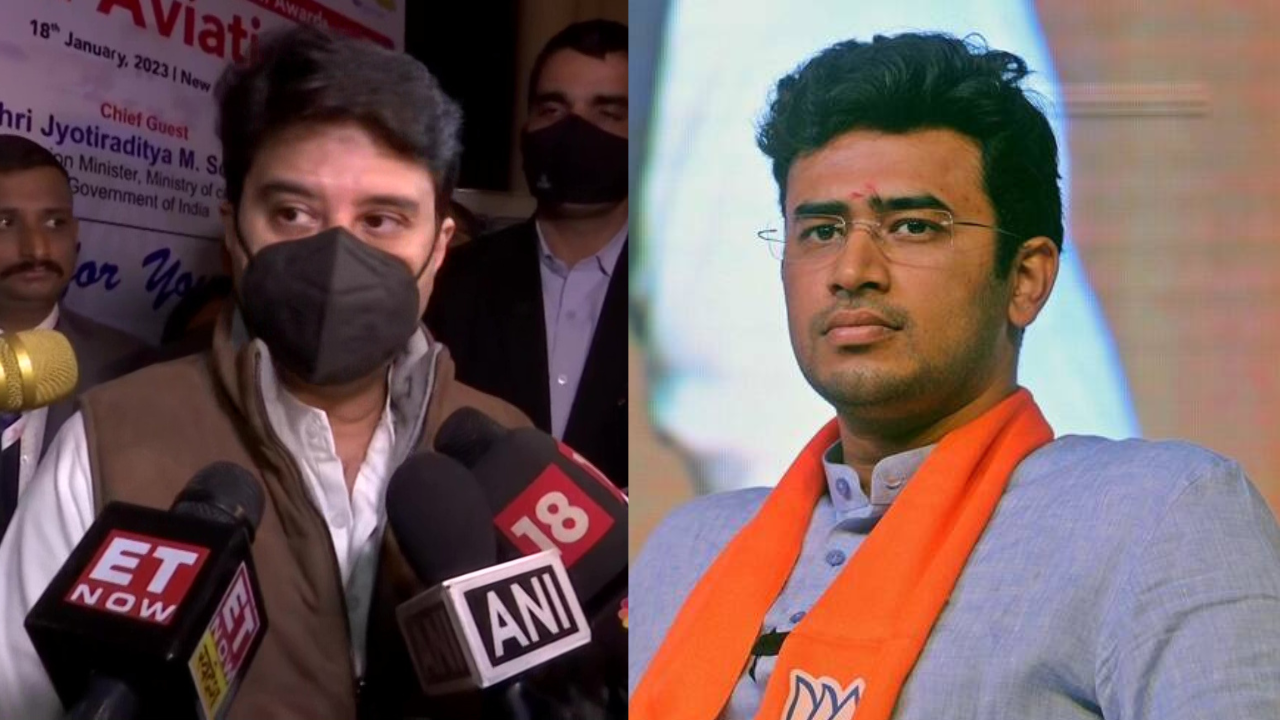 NEW DELHI: Bengaluru South MP Tejasvi Surya "mistakenly" opened the emergency exit of an IndiGo plane last month and he has already apologised for it, Civil aviation minister Jyotiraditya Scindia said on Wednesday.
IndiGo had recently stated that on December 10, a passenger had accidentally opened the emergency exit of flight 6E 7339 (Chennai to Tiruchirapalli) at the Chennai airport during the boarding process, when the plane was on the tarmac. The airline added that the passenger had apologised.
The minister's statement confirms that BJP MP Surya was the passenger in question and that the incident happened over a month ago.
"When the incident happened, Tejasvi Surya himself reported it to the pilot and crew. Full protocol was followed as the DGCA has investigated. Only after all checks, the aircraft took off. He (Surya) himself apologised for the delay caused due to the incident," said Scindia.
The minister added that it was important to look at the facts. "The door was opened by him by mistake when the flight was on the ground. He has apologised."
Congress attacks govt for 'hiding incident'
The opposition Congress has questioned the government over why it hid the incident for so long.
"Tejasvi Surya is an example of what will happen if children playing games are given the proprietorship. An act of children's mischief by trying to open the emergency exit door of the plane has come to light. Why prank with the lives of passengers?" Karnataka Congress said.
In a series of tweets, sharing media reports, it asked as to why the government hid Surya's attempt to open the emergency exit door, by violating the flight safety rules.
"What was the Bengaluru South MP's intention? What plans were there to create a disaster? Why was he transferred to the back seat after apologising?," the Congress asked, while questioning Prime Minister Narendra Modi as to who would have been responsible for the disaster if this "prank" had been carried out after take-off.
A senior official at aviation regulator DGCA on Tuesday said the event was duly reported and that no safety was compromised.
Karnataka Congress president D K Shivakumar too sharing the news report accusing Surya said, "For a safe take-off and landing, always fly with Congress."
While, AICC general secretary in-charge of Karnataka Randeep Singh Surjewala in a tweet said, "The BJP VIP Brats ! How dare the airline complain? Is it the norm for the BJP power elite? Did it compromise passenger safety? Ohhh! U can't ask questions about BJP's entitled VIP's !"
Questioning whether the MP used his good offices to suppress this news, Congress MLA and KPCC's Communications in-charge Priyank Kharge tweeted, "Why is Indigo so hesitant to name the passenger? Why didn't they report to DGCA? Why is No Comments from the MP? BJP's Tejasvi Surya allegedly opened emergency exit of IndiGo flight, flight delayed by 2 hours."
(With inputs from agencies)Watch Tejasvi Surya opened emergency exit of IndiGo plane by mistake: Scindia

#Tejasvi #Surya #Indigo #Flight #Emergency #Door #Tejasvi #Surya #opened #emergency #exit #IndiGo #plane #mistake #apologised #Civil #aviation #minister #Jyotiraditya #Scindia #India #News