India
Tapasvi vs pujari: Rahul Gandhi's remarks draw ire from BJP and priests | India News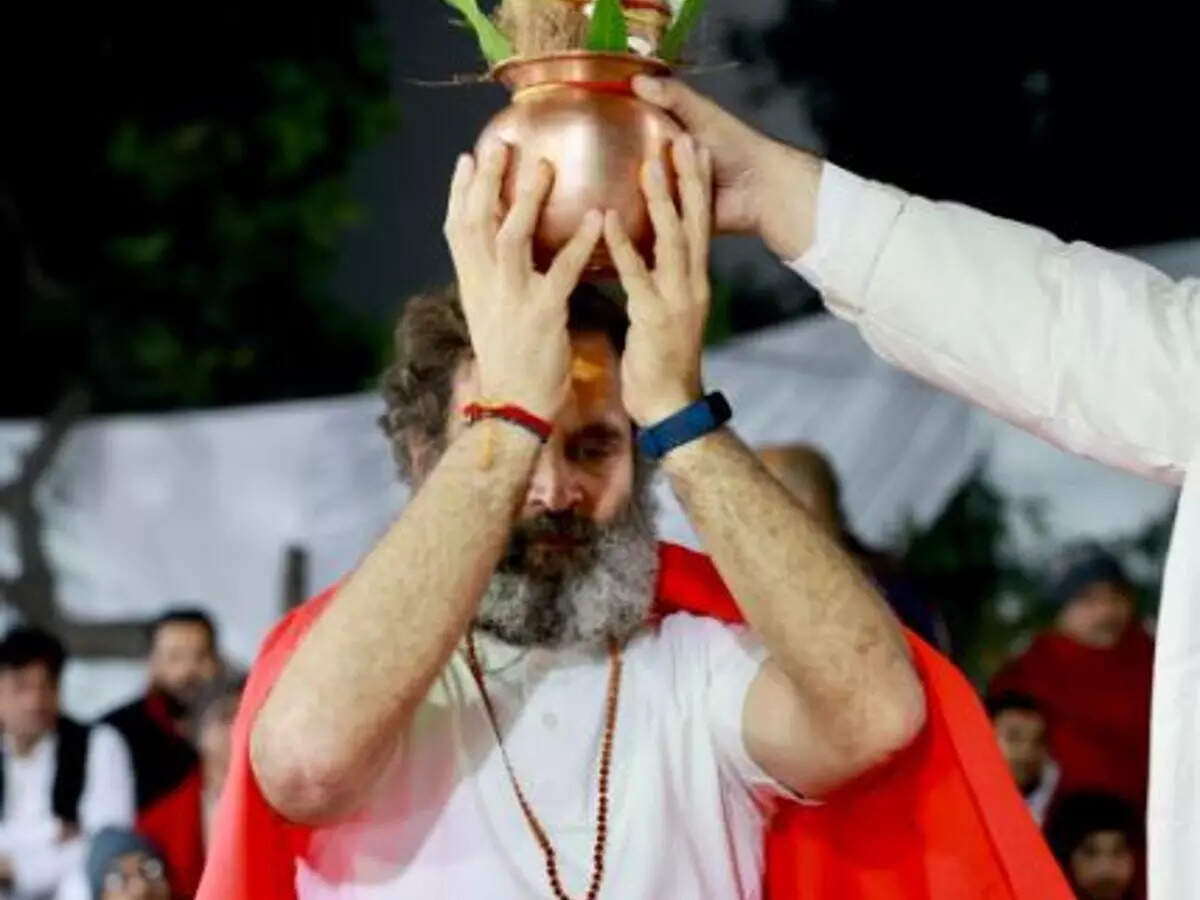 NEW DELHI: Congress leader Rahul Gandhi's attack on the BJP, RSS and Prime Minister Narendra Modi by comparing "tapasvi" (ascetic) with "pujari" (priest) has not just drawn the ire of Hindu priests but also ruling party leaders.
The Congress MP from Wayanad in Kerala, who is leading the party's Bharat Jodo Yatra, took part in two significant events in Haryana on Sunday. He first spoke with media persons at Samana and later performed 'aarti' at Brahma Sarovar in Kurukshetra.
During his interaction with media persons, Rahul hit out at the BJP and its ideological compass RSS by comparing "tapasvi" with "pujari". He said India is a country of "tapasvis" not "pujaris".
The former Congress president said, "The BJP and RSS say that there should be no respect for tapasya. Those who will worship us will be respected. Did demonetisation respect the tapasya of India's poor? Absolutely not. It was an attack on tapasya. It (note-bandi) conveyed the message that however much tapasya farmers and labourers do, it will not make any difference."
The Nehru-Gandhi scion went on to target Modi. "The BJP and RSS are driving this country towards forced puja by using money, capturing institutions, frightening people and frightening you (media persons). They are telling you not to do your duty by showing the truth on TV. Otherwise, we will finish you. Worship us. This is the reason why the PM cannot come in front of you because the glimpses of your tapasya will be visible. Someone or the other will ask a question. This is the fight between puja and tapasya. Our organisation is of tapasya."
Rahul also talked about tapasya in reference to Mahabharata and its protagonist Arjun. He quoted Lord Shri Krishna and said: "It is within the jurisdiction of humans to do work and not to worry about its result. That is why do not do anything with the desire to get the result, nor think why to do work without the expectation of the result."
भगवान श्री कृष्ण ने कहा है- कर्म करना मानव के अधिकार क्षेत्र में है न कि उसके फल की चिंता करना। इसलिए फल प्रा… https://t.co/McmdHgiV2f

— Congress (@INCIndia) 1673199412000
He said, "It is said in the Gita 'do your work, don't worry about the result'. When Arjun was aiming at the eye of the fish, he did not say what he would do after aiming."
Rahul said the hard work of farmers and labourers was tapasya. "Every farmer and labourer of India has walked more than me. But you do not say that look how many kilometers the farmers and the labourers have walked, because you do not respect tapasya. I do and I want to bring this change in the country."
Later in the day, the Congress leader performed aarti at the holy Brahm Sarovar in Kurukshetra. The Congress party posted a tweet calling him a 'tapasvi'.
जय कुरुक्षेत्र धरा, जय-जय कुरुक्षेत्र धरासमता प्रेम के जल से, जहां ब्रह्म सरोवर भराआज @RahulGandhi जी ने कुरु… https://t.co/cfEEyVrZTV

— Congress (@INCIndia) 1673192400000
BJP attacks Rahul
The BJP mocked Rahul for his 'tapasvi vs pujari' remarks. Reacting to the Congress leader's attack on the BJP, RSS and Modi, the party's co-in-charge of West Bengal Amit Malviya said, "Now he has problems with priests as well."
The BJP leader also attacked Rahul for his comment about Arjun. Taunting the Congress leader by calling him a 'yuvraj (prince), he said, "Arjun was at a swayamvar sabha to prove himself worthy of marrying Draupadi, for which he had to aim for the eye of the fish. He knew the purpose and wasn't clueless like Yuvraj."
Congress reacts
The Congress reacted to Malviya's attack on Rahul. Party spokesperson Supriya Shrinate said, "Fake news leader, hypocrites like you BJP pujari want to get their worship done by disrespecting the tapasya of the people of this country. It is a serious matter – which is a little above your level. But no issues. Carry on. Maybe one day you will become capable of understanding this."
फ़ेक न्यूज़ सरग़ना तुम्हारे जैसे ढोंगी भाजपाई 'पुजारी' अपनी पूजा कराना चाहते हैं – इस देश के लोगों की तपस्या का अना… https://t.co/Ia4Cvpzlhw

— Supriya Shrinate (@SupriyaShrinate) 1673171653000
Priests protest
While the Congress defended Rahul, priests from several parts of the country protested against the remarks. They accused the opposition party leader of "insulting" those engaged in worship.
At a few places including Prayagraj in Uttar Pradesh, priests protested against Rahul's remarks and burnt his effigies. At Deoghar in Jharkhand, famous for being one of the 12 Jyotirlingas, priests demanded an apology from Rahul for insulting their tradition.
Rajnikant Semwal of Gangotri Dham said priests held a prominent position in the land of 'sanatan dharma'. He asked Rahul to study the ancient tradition which the priests have been following for ages.
Ujjwal Pandit of Yuva Teerth Purohit Mahasabha in a statement alleged that Gandhi had humiliated the country's ancient cultural traditions in which priests have played a central role. "It is evident that the Congress leader wore 'janeu' (sacred thread) and put tilak on his forehead just for show," he said.
Swami Dipankar noted that the Gandhi scion had described his Bharat Jodo Yatra as his "mohabbat ki dukan" (place for love), but was now talking about "hate". The Congress leader should think before speaking as he, on one hand, is working to unite people and on the other hand, is making this kind of statement. Should priests be then thrown into sea, he asked.
"He has undertaken such a glorious journey. I am shocked that he has made such a statement," Dipankar said.
(With PTI inputs)

#Tapasvi #pujari #Rahul #Gandhis #remarks #draw #ire #BJP #priests #India #News