Entertainment
Sushmita Sen's brother Rajeev wishes Lalit Modi a speedy recovery; IPL founder on oxygen support post COVID-19
Lalit Modi, founder of the Indian Premier League, recently revealed that he is on 24×7 external oxygen support. In an Instagram shared on Friday, Lalit Modi revealed that his health deteriorated after contracting COVID-19 twice in 2 weeks, accompanied by influenza and deep pneumonia. He was then airlifted to London from Mexico after three weeks of confinement. Sharing an update about his health, Lalit Modi added that he still needs time to recover, and that he is currently on 24×7 external oxygen support. Soon after Lalit Modi shared the post, wishes for Lalit Modi's speedy recovery started pouring in. His alleged girlfriend Sushmita Sen's brother Rajeev Sen also reacted to his Instagram post.
Sushmita Sen's brother Rajeev Sen wishes Lalit Modi a speedy recovery
Lalit Modi took to his Instagram to share a series of photos and videos of himself from the hospital. In his caption, he wrote, "After 3 weeks in confinement with a double Covid in 2 weeks accompanied by influenza and deep pneumonia – and post trying several times to leave. Finally landed via air ambulance accompanied by two doctors and superstar super efficient son who did so much for me back in london. The flight was smooth. Unfortunately still on 24/7 external oxygen. Thank u to all at @vistajet for going the extra mile. I am extremely grateful to all. Love to all. Big hug."
Sushmita Sen's brother Rajeev Sen commented, "Wishing you a speedy recovery Lalit. Stay strong," while cricketer Harbhajan Singh wrote, "Get well soon."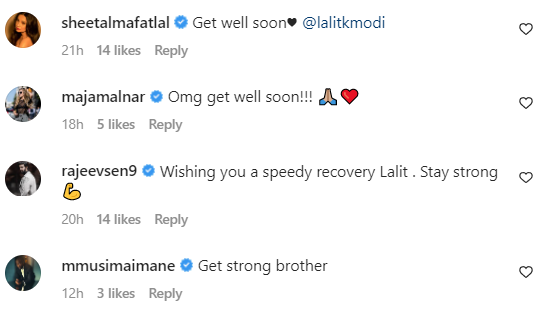 Lalit Modi thanks his doctors
In another post, Lalit Modi shared a picture after landing in London. The picture shows him standing with his two doctors, and in his post, he thanked them both. "With my two saviours. The two Drs seriously for 3 weeks monitored me treated. Me 24/7. 1 Mexico City based whose care I was under and the second my London Dr who specifically flew in to Mexico City to accompany me back to London. I have no words to describe of they sacrificed there time etc to get me out. Still need time to recover. Currently on 24/7 external oxygen. I was I thought touch and go. But my children and thief friends and my close friend @harish_salve_ who were all with me 2 out of my three weeks fully by my side. They are all my family and part of me. God bless. Jai hind," he wrote.
When Sushmita Sen and Lalit Modi's relationship grabbed headlines
In 2022, Lalit Modi took the Internet by storm after he shared a series of love-filled pictures from his vacation with Bollywood actress Sushmita Sen. In a post shared in July last year, he wrote that he and Sushmita were dating. " Just back in london after a whirling global tour #maldives # sardinia with the families – not to mention my #better looking partner @sushmitasen47 – a new beginning a new life finally. Over the moon. In love does not mean marriage YET. BUT ONE THAT BY GODS GRACE WILL HAPPEN. I JUST ANNOUNCED THAT WE ARE TOGETHER," he wrote.
Back in July, he proclaimed his love for the former Miss Universe by mentioning her in his bio, which read, "founder @iplt20 (Indian tricolour emoji) INDIAN PREMIERE LEAGUE (cricket emoji) finally starting a new life with my partner in crime. My love @sushmitasen47."  
Sushmita Sen remained tight-lipped, and neither confirmed nor denied the relationship. However, in an Instagram post back then, she shut down trolls and slammed them for calling her a 'gold digger'. Sharing a picture of herself posing in the infinity pool, Sushmita had written, "The so called intellectuals with their idiosyncrasies….the ignorant with their cheap & at times funny gossip  The friends I never had & the acquaintances I've never met….all sharing their grand opinions & deep knowledge of my life & character…monetising the 'Gold Digger' all the way!!!  Ah these geniuses!!! I dig deeper than Gold…and I've always (famously) preferred Diamonds!! And yes I still buy them myself!!!"
A few months later, however, rumours of Sushmita Sen and Lalit Modi's breakup surfaced after Modi removed his Instagram profile photo with Sushmita and also changed his bio. 
ALSO READ: Sushmita Sen attends a family wedding in Kolkata with ex-boyfriend Rohman Shawl; PICS

#Sushmita #Sens #brother #Rajeev #wishes #Lalit #Modi #speedy #recovery #IPL #founder #oxygen #support #post #COVID19