India
Supreme Court rejects RAW objections, sends Kirpal's name for high court judge again | India News
NEW DELHI: The Supreme Court collegium headed by CJI D Y Chandrachud has rejected "objections" of the Research and Analysis Wing (RAW) to reiterate for the second time the name of gay senior advocate Saurabh Kirpal for appointment as a judge of the Delhi high court.
While the RAW had expressed apprehensions over Kirpal's same-sex relationship with Swiss national Nicolas Germain Bachmann, the law ministry had objected to Kirpal's "ardent involvement and passionate attachment to the cause of gay rights" and said since "same-sex" marriage is not legalised in India, such characteristics of his could involve possible bias and prejudice.
The reiterated recommendation, also signed by Justices S K Kaul and K M Joseph, said the two communications from RAW (April 11, 2019 and March 18, 2021) do not reflect Kirpal's conduct having even a remote bearing on national security and that it was unfair to presuppose that his partner would be inimically disposed to India.
The Justice Chandrachud-led collegium cited constitutional post holders having foreign nationals as spouses (ex-President K R Narayanan and present foreign minister S Jaishankar) and said "as a matter of principle, there can be no objection to Kirpal's candidature just because his partner is a foreign national".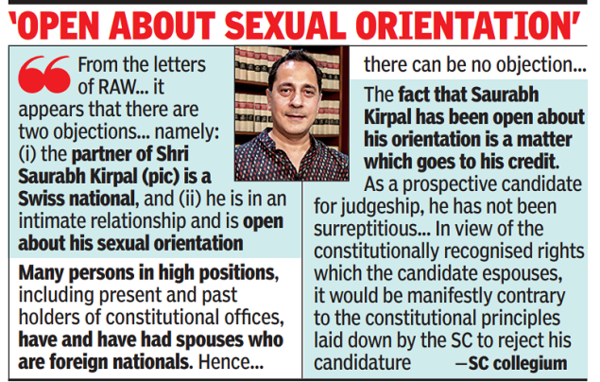 On Kirpal's openly gay orientation, the collegium reminded the Centre about the Navtej Johar constitution bench verdict, which ruled that every individual is entitled to maintain his own dignity and individuality, based on sexual orientation. Rejection of his candidature for judgeship on the ground of sexual orientation would be "manifestly contrary to the constitutional principles laid down by the SC", it said.
The collegium said, "Kirpal possesses competence, integrity, and intellect. His appointment will add value to the bench of the Delhi high court and provide inclusion and diversity. His conduct and behaviour have been above board."
However, it said, it would have been better if he had not spoken to the media accusing the government of stalling his appointment just because of his sexual orientation. However, it understood Kirpal's pain and anguish arising from stalling of his name for five years.
The Delhi HC collegium had sent Kirpal's name to the SC for appointment as judge on October 13, 2017. The SC collegium had considered his name on four occasions — September 4, 2018, January 16, 2019, April 1, 2019 and on March 2, 2021. Every time, it had deferred taking a decision, given the stout opposition recorded by the Centre based on intelligence reports primarily focusing on Kirpal's foreign partner.
On November 11, 2021, the collegium comprising then CJI N V Ramana and Justices U U Lalit and A M Khanwilkar recommended Kirpal's name to the government. It was returned by the government on November 25, 2022. On January 18, 2023, the SC reiterated his name.

#Supreme #Court #rejects #RAW #objections #sends #Kirpals #high #court #judge #India #News