India
'Sane views': Kiren Rijiju shares video of ex-judge amid judiciary-govt standoff | India News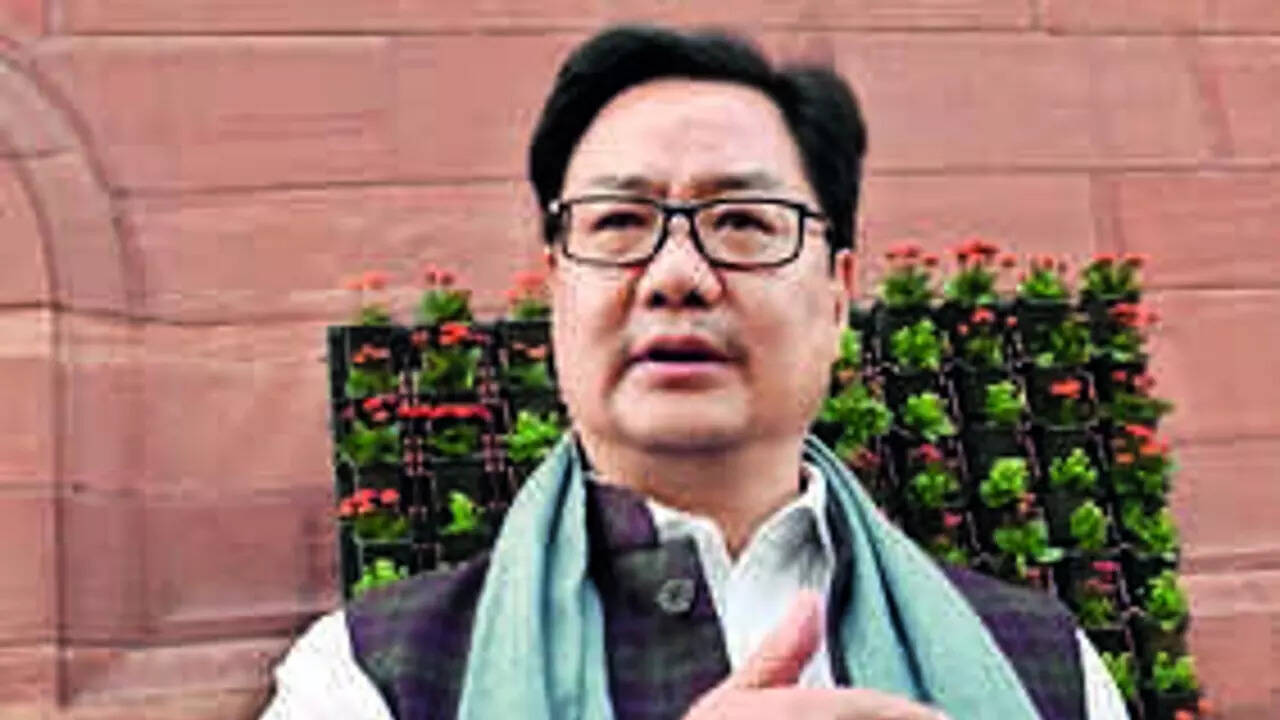 NEW DELHI: Amid an apparent discord between the government and judiciary over the appointment of judges, law minister Kiren Rijiju on Sunday sought to support the views of a retired high court judge, who said the Supreme Court "hijacked" the Constitution by deciding to appoint judges itself.
Rijiju shared the video of an interview of Justice R S Sodhi (retd), a former judge of the Delhi court, saying it is "voice of a judge" and that majority of people have similar "sane views".
Justice Sodhi said the right to frame laws lies with Parliament.
The law minister also said that "actually majority of the people have similar sane views. It's only those people who disregard the provisions of the Constitution and mandate of the people think that they are above the Constitution of India."
"Real beauty of Indian Democracy is its success. People rule themselves through their representatives. Elected representatives represent the interests of the People & make laws. Our Judiciary is independent and our Constitution is Supreme," the minister tweeted.
Actually majority of the people have similar sane views. It's only those people who disregard the provisions of the… https://t.co/Kq7sPpNmNX

— Kiren Rijiju (@KirenRijiju) 1674355646000
In the interview, Justice Sodhi also said the apex court cannot frame laws as it does not have the right to do so. The right to frame laws belongs to Parliament, he said.
"… Whether you can amend the Constitution? Only Parliament will amend Constitution. But here I feel the Supreme Court for the first time 'hijacked' the Constitution. After 'hijacking' they (SC) said that we will appoint (judges) ourselves and the government will have no role in it," Justice Sodhi said in Hindi.
The appointment of judges to the Supreme Court and the high courts has become a major flashpoint between the executive and the judiciary.
The apex court has questioned the government for delay in clearing the appointments of Supreme Court and high court judges.
Recently, the Supreme Court collegium reiterated its earlier recommendation for appointing senior advocate Saurabh Kirpal, an openly gay person, as a judge of the Delhi high court, rejecting Centre's objections.
Saurabh was recommended for appointment as judge by the collegium of the Delhi High Court in October 2017 and approved by the Supreme Court collegium on 11 November 2021. However, the government returned his file to the apex court collegium on November 25, 2022, for reconsideration.
The collegium also reiterated the names of two advocates for appointment as judges of the Calcutta high court "expeditiously", saying it was not open for the government to repeatedly send back the same proposal.
Meanwhile, earlier this week, law Minister Kiren Rijiju wrote to the Chief Justice of India D Y Chandrachud for the inclusion of government nominees in the collegium system on appointments to the higher judiciary and defended it as a "precise follow-up action" suggested by the apex court while striking down the NJAC Act.
While Rijiju has described the collegium system to appoint judges as something "alien" to the Indian Constitution, Vice President Jagdeep Dhankhar has questioned the top court for striking down the National Judicial Appointments Commission Act (NJAC)and a related constitution amendment.
Also the chairman of Rajya Sabha, Dhankar had said a law passed by Parliament, which reflects the will of the people, was "undone" by the Supreme Court and "the world does not know of any such instance".
By bringing the NJAC law, the government had sought to overturn the collegium system which came into being in 1992.
(With inputs from PTI)

#Sane #views #Kiren #Rijiju #shares #video #exjudge #judiciarygovt #standoff #India #News