Business
Q1 GDP data: Indian economy grows 7.8% in April-June quarter, government data shows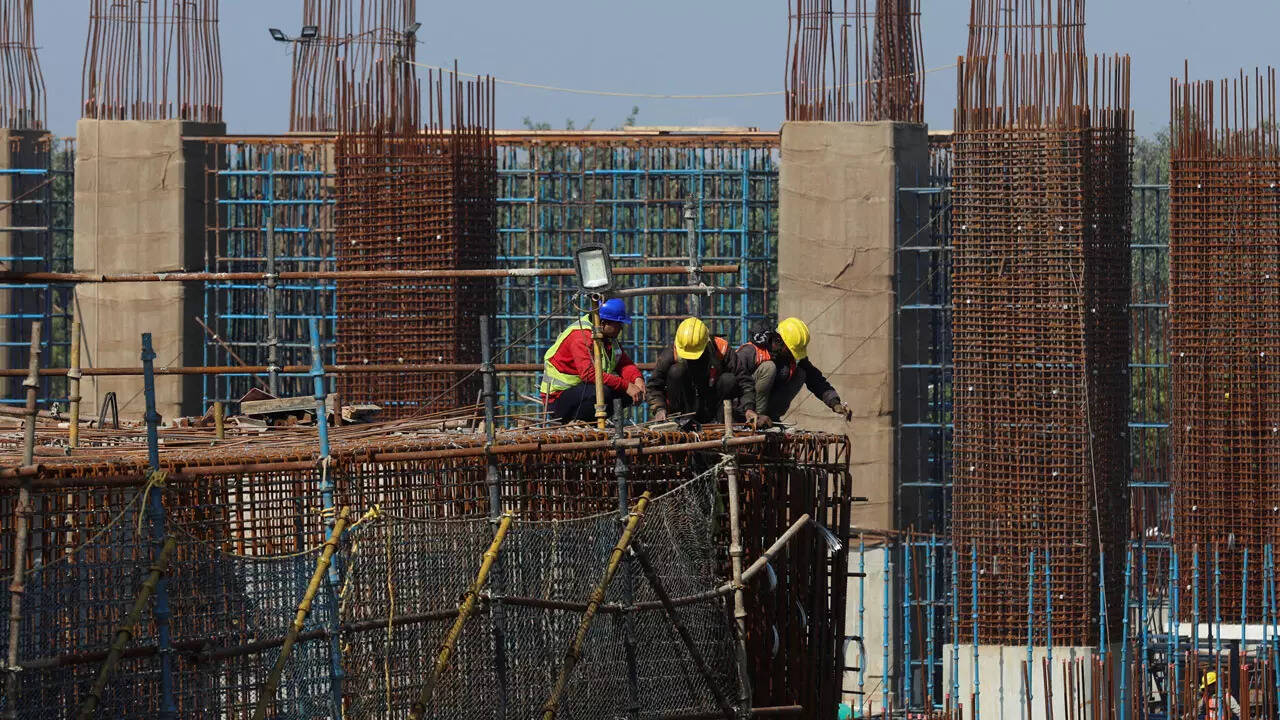 NEW DELHI: India's Gross Domestic Product (GDP) grew 7.8 per cent in the April-June quarter of FY 24, compared to 13.1% growth rate witnessed in Q1 of FY 2022-23, data released by government showed.
The Central government's NSO office on Thursday released the GDP figures for the first quarter of the new financial year.
India remained the fastest-growing major economy as China's GDP growth in the April-June quarter was 6.3 per cent.
The South Asian nation overtook Britain last year to become the world's fifth-largest economy, and recently surpassed China to become the most populous country.
Its growth has rebounded since the Covid-19 pandemic – up 7.2 percent for the year to March – and has remained near the top of the pack among the world's biggest economies.
Thursday's figure was the highest in four quarters, with official statistics showing on-year growth of 12.2 percent for the financial, real estate and professional services sectors.
As per the NSO data, the agriculture sector recorded a 3.5 per cent growth, up from 2.4 per cent in the April-June quarter of 2022-23.
However, the growth in the manufacturing sector decelerated to 4.7 per cent in the first quarter of the current fiscal compared to 6.1 per cent in the year-ago period.
The nominal GDP or GDP at current prices in Q1 2023-24 is estimated at Rs 70.67 lakh crore, as against Rs 65.42 lakh crore in Q1 2022-23, showing a growth of 8 percent as compared to 27.7 percent in Q1 2022-23, data showed.
The growth in Gross Domestic Product (GDP) during the January-March quarter of 2022-23 was 6.1 per cent and 4.5 per cent in October-December.
The rise in Q1 GDP numbers come amid strong demand, robust service sector growth and increased government expenditure.
The figures have beaten certain estimates that had pegged the growth at 7.7% in the June quarter.
Meanwhile, the growth of eight key infrastructure sectors rose to 8 per cent in July 2023 compared to 4.8 per cent in the same month last year on expansion in production of coal, crude oil, and natural gas, according to the official data released on Thursday.
'Inflation no cause for concern'
Addressing media after the release of the GDP numbers, CEA V Anantha Nageswaran said that the figures are in line with expectations.
On rising inflation due to recent spike in vegetable prices, the CEA that it is no cause of concern as the government as well as RBI are taking measures to maintain adequate supply.
"Food inflation is likely to subside with arrival of fresh stock and govt measures … impact of deficient rains in August will be watched," he said.
"There is momentum in economic activity in general and it is not driven by price-related distortions. Therefore our projections still are very comfortably placed at 6.5 per cent for the current financial year," he said.
Risk is evenly distributed to around 6.5 per cent growth projection for FY2023-24, he said.
Rising crude prices may warrant attention and prolonged geopolitical uncertainty and likely tighter financial conditions can pose risk to growth, he added.
The CEA also said that at the moment, there is no threat to the 5.9% fiscal deficit target announced in Union Budget 2023-24.
Service sector boost
India's economy shined in its latest report card primarily on strong services growth and a modest pick up in manufacturing despite still-high interest rates, Bloomberg reported.
"The data shows today that domestic factors, especially services, remain in the driver's seat as far as economic activity is concerned for India," said Rahul Bajoria, an economist with Barclays Plc.
Companies in the information technology, hotels and transport industries are expanding and could bring more business to the the services sector, which contributes to more than half of GDP. Double-digit credit growth in the financial services sector is also helping.
However, slowing exports weighed on manufacturing growth despite easing supply chain bottlenecks and global commodity prices. Merchandise shipments have contracted for eight straight months as orders from major buyers have fallen.
"Economic activity recovery is not yet broad-based," said Madhavi Arora, lead economist at Emkay Global Financial Services. "Falling income growth in urban sector, shrinking corporate profitability, demand-curbing monetary policies and diminishing global growth prospects may weigh on output."
More expert views
Sachchidanand Shukla, group chief economist at L&T Mumbai: "Q1 GDP numbers (are) broadly in line with expectations, with a confirmation of weakness on the consumption side and with El Nino impact yet to reflect on agri/rural and discretionary consumption. But importantly, while from a year-on-year perspective this seems a peak for GDP numbers, from an absolute output perspective the numbers will actually be going up each subsequent quarter for the remainder of FY24."
Sujan Hajra, chief economist & executive director, Anand Rathi shares and stock brokers, Mumbai: "India's GDP growth in Q1FY24 at 7.8% was a tad below our expectations of 8%. This once again makes India the fastest growing major economy, a position the country is likely to maintain for several years. Yet, we do not expect this pace to continue for the rest of the year and see the yearly growth at 6.2%. But that, too, is very good performance against the current global backdrop."
"We expect consumption to remain resilient and net exports to improve during the year but still remain a drag. We expect slowdown in investment. But this is likely to recover in FY25. With strong growth and elevated inflation, the RBI would be hard-pressed to tighten monetary policies. If retail inflation does remain high in August, we would expect a symbolic rate hike."
Garima Kapoor, economist, institutional equities, Elara Capital, Mumbai: "Economic activity in Q1 FY24 at 7.8% was boosted by a continued uptick in urban centric services demand, and improved investment activity, led mainly by government. We see FY24 GDP growth at 6.2-6.3%.
(With inputs from agencies)

#GDP #data #Indian #economy #grows #AprilJune #quarter #government #data #shows