India
PM Modi, Egypt President Sisi hold discussion on cross-border terrorism | India News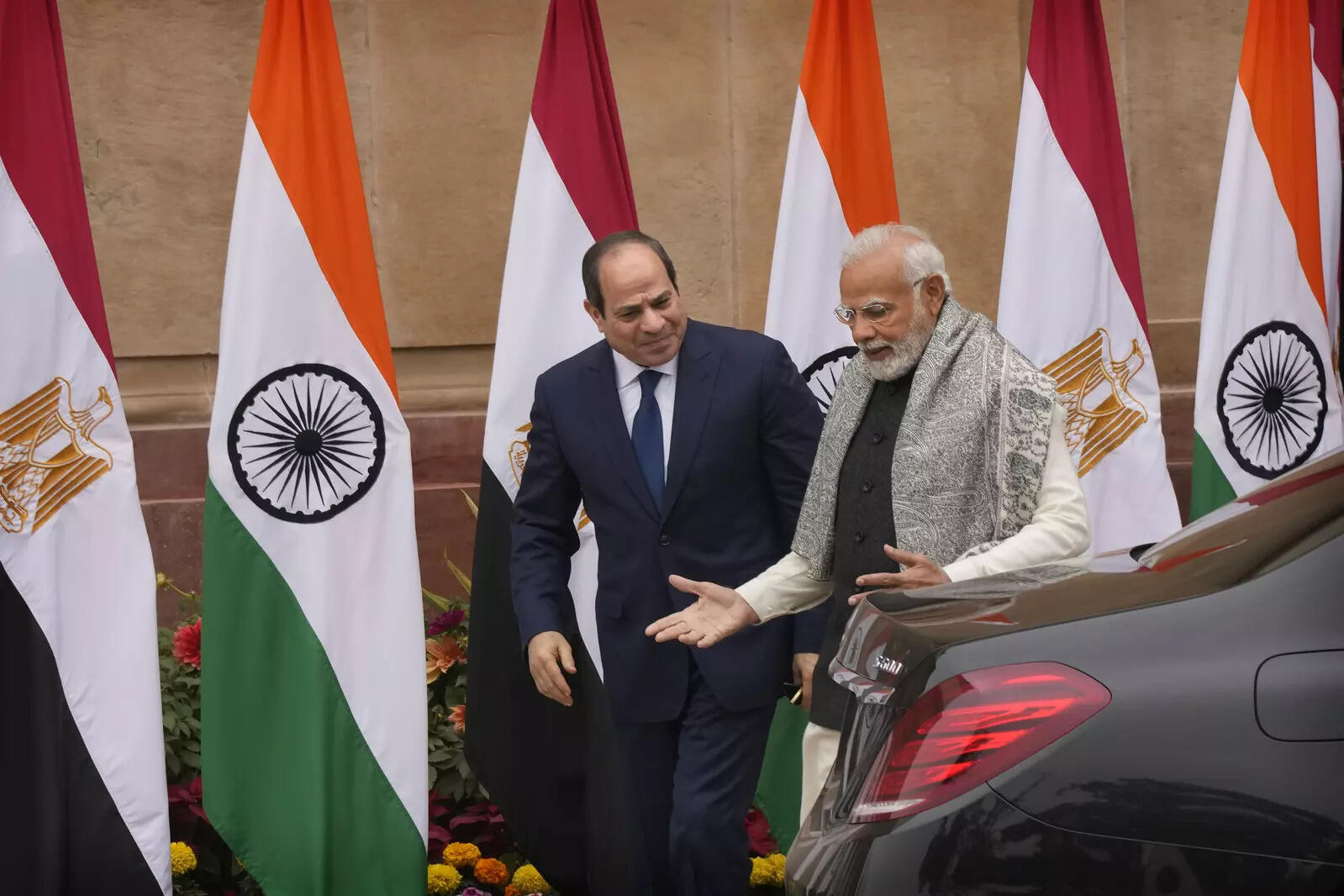 NEW DELHI: After meeting with Egyptian President Abdel Fattah El-Sisi, Prime Minister Narendra Modi said that they have discussed security issues and cross-border terrorism.
Taking to Twitter PM Modi said, "President @AlsisiOfficial and I discussed ways to augment cooperation in healthcare, environment and global supply chains. We also talked about issues pertaining to security and the need to end cross-border terrorism."
Earlier today, PM Modi and El-Sisi held discussions at Hyderabad House in New Delhi. After the meeting, PM Modi announced that India has decided to elevate bilateral relations with Egypt to a strategic partnership.
"We've decided that under India-Egypt Strategic Partnership we will develop a long-term framework for greater cooperation in the fields of politics, security, economics and science," PM Modi said at a joint press conference after holding wide-ranging talks with visiting Egyptian President sisi," Abdel Fattah El-Sisi.
India and Egypt also today exchanged MoUs in the fields of cyber security, culture, information technology, youth matters and broadcasting.
PM Modi and President Sisi also witnessed the release exchange of commemorative postage stamps to mark the milestone of 75 years of the establishment of diplomatic ties between India and Egypt.
Addressing a joint media statement after the talks that focussed on ways to enhance bilateral ties in a range of areas, including agriculture, digital domain, culture and trade, Egyptian President Sisi said that he has invited PM Modi to Cairo to complete the talks to move forward the ties between the two nations.
"I am going to take part in the Republic Day parade. I am thankful to PM Modi for such a grand welcome. During our discussions, we talked about trade and investment and how to further expand our cooperation in import and export," the Egyptian President said.
He further said, "I met PM Modi in 2015 in New York and I had full confidence in him. I knew he will take his nation forward. I have invited Prime Minister Modi to Cairo, Egypt to complete our talks and elevate the ties between the two nations to a strategic partnership."
Abdel Fattah El-Sisi said that he told PM Modi about investment opportunities in Egypt and the government's measures to promote investment in Cairo.

#Modi #Egypt #President #Sisi #hold #discussion #crossborder #terrorism #India #News