India
Parts of Joshimath may have sunk over 2ft: Ground survey | India News
DEHRADUN: Parts of Joshimath may have sunk by nearly 2.2 feet (70cm), sources told TOI on Saturday on the basis of ground investigation of affected areas carried out recently in the picturesque town, which is facing aggravated land subsidence since the beginning of January.
The startling figure is way above Indian Space Research Organisation's (Isro) satellite data survey on surface deformation which found 5.4cm subsidence in the past 12 days. The Isro report has been taken down now. Joshimath 'sinking': ISRO satellite report highlights subsidence up to 9 cm in 7 months
A senior official privy to observations of the field investigation by experts, said, "The ground investigation clearly shows 70cm subsidence in and around the badminton court inside Jaypee Colony where an aquifer burst on January 2. In pockets of Manohar Bagh, 7-10cm subsidence has been observed."
The official further said remote sensing technology deployed by Isro can tell horizontal displacement, which occurs during earthquakes, more accurately than vertical subsidence, as in Joshimath. The official added: "Changes in ground surface can be gauged through remote sensing but what is happening below the ground needs a detailed field investigation." Geologist SP Sati said something had triggered the subsidence and it would continue if unchecked.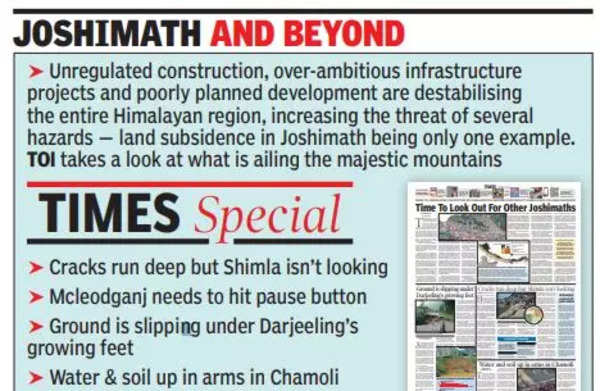 Report: Sinking will stop only if there is an obstacle
In the report prepared on the basis of a field survey conducted by an eight-member team led by disaster management secretary Ranjit Sinha on January 5-6, it was observed that the aquifer burst at Jaypee Colony on the night of January 2 had aggravated the cracks in that area. The report further pointed out that "the water flow probably created some underground void space, which is being manifested as sinking and subsidence in different spots above and below the colony. Joshimath: Engineers inspect houses that have developed cracks amid fears of land subsidence
This has caused several large cracks, some more than one metre deep". Geologist SP Sati told TOI: "Some parts of Joshimath have witnessed subsidence up to a couple of feet, while in other areas it is a few inches. The most important thing is that something has triggered the land subsidence, which will only stop if there is an obstacle, or else it will continue."
Confirming the nature of subsidence, resident Durga Prashad Saklani said, "My room has sunk by over a foot and the verandah has subsided by nearly two feet, making the entire house uninhabitable." Chirag Prajapati, caretaker of a hotel, added, "My hotel has sunk by nearly 6 inches in the past 15 days. The building behind our hotel has also leaned towards our hotel."

#Parts #Joshimath #sunk #2ft #Ground #survey #India #News