Hollywood
Paopao Manifested Her Dream Music Career Into Reality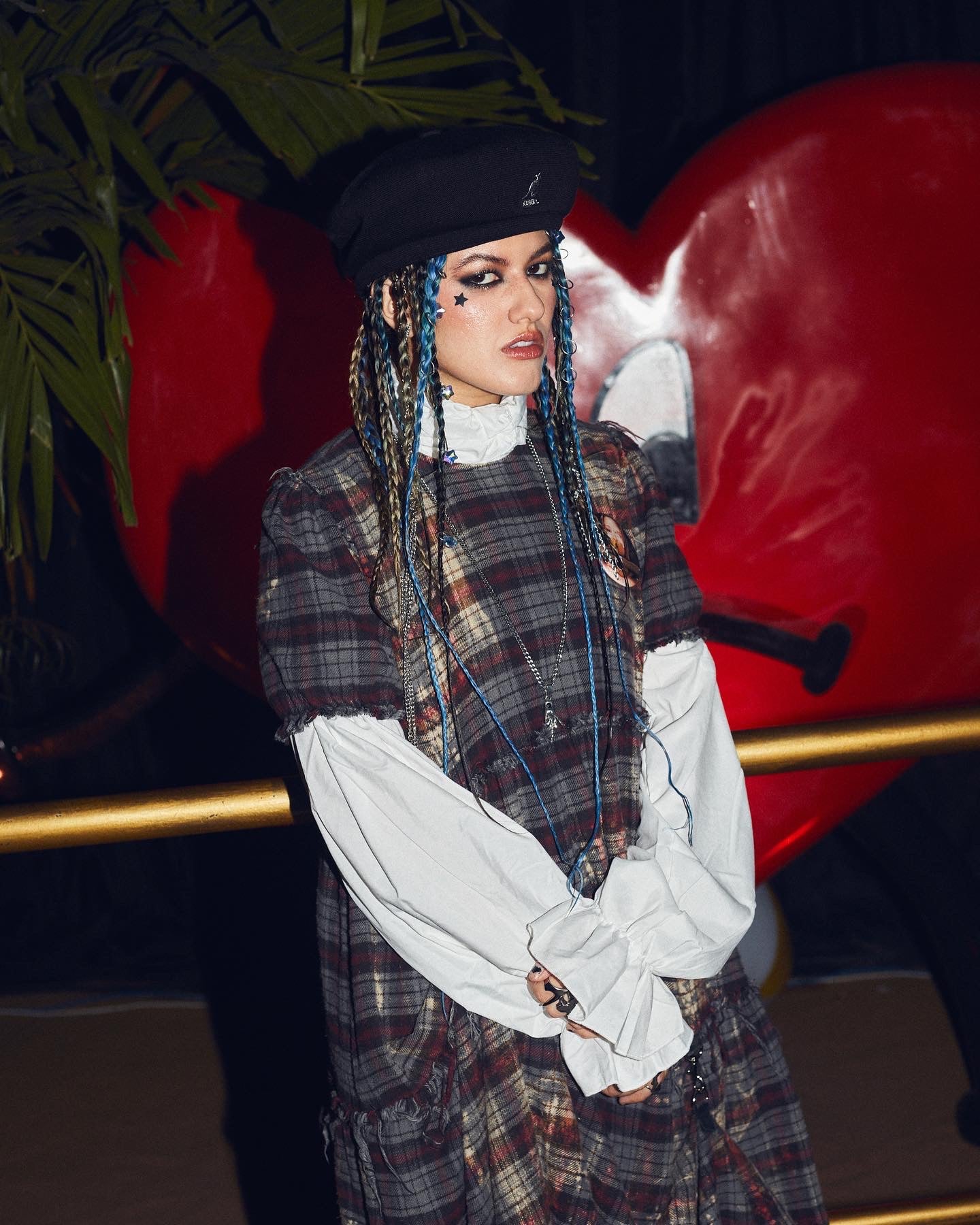 We live in a world where we're constantly discouraged from following our dreams — we're taught we're better off letting them go to pursue more practical ambitions. Sometimes these voices come from our parents; sometimes they come from other relatives, friends, even teachers and mentors. Eventually, they start coming from us. It wasn't until Puerto Rican singer and songwriter Paopao, born Paola Nicole Marrero Rodríguez, finally stopped listening to those voices — putting her fears and excuses aside — that she was able to make her dreams of being a music artist happen.
In less than two years, the reggaeton star has dropped three EPs: the all-women "Hembrismo"; "Relaciones Tóxicas," in collaboration with iZaak; and her debut solo EP, "Diamantes y Espinas." Not only did Bad Bunny call her one of his favorite rising music artists, but she was recently selected to perform at his tour's closing party in Mexico City. Tidal, Spotify, Amazon Music, and Apple Music also chose her as one of their artists to watch in 2023, and on Friday, Jan. 20, she released the deluxe version of "Diamantes y Espinas." There's no stopping her now!
Paopao knew from a really young age that she wanted to be a music artist. But for years, she says, she allowed others' opinions to discourage her from embracing her calling. The 26-year-old grew up living between Puerto Rico and the Dominican Republic and initially chose to pursue a career behind the scenes. Paopao studied media writing and production at the University of Miami's Frost School of Music and got a master's degree in music business. She did a few internships at music studios while also pursuing songwriting on the side, which eventually led to her first job as an A&R for RichMusic.
"I feel like people put music artists on these pedestals — like it's impossible to do this, but it's really just a job like anything else. You have to commit. It's not easy, but you can do it."
"My mom really supported me throughout my career, but a lot of family members and friends that were around were like, 'Nah, this isn't a possibility,'" she tells News JoJo. "I feel like people put music artists on these pedestals — like it's impossible to do this, but it's really just a job like anything else. You have to commit. It's not easy, but you can do it."
After two years of working in the industry and developing other talents, Paopao started to feel lost. After her mom passed in 2021, she realized it was time for a shift. "I remember when I was working in the business, she was like, 'Why are you doing this? You're not happy. Why can't you be an artist?'" Paopao remembers. "I used to tell her, 'Look, it's not that easy, I have to go through this step to get there.' I would always give her an excuse as to why I wasn't where I wanted to be. . . . And she would be like, 'No you don't believe that you're an artist. You're not going to do it.'"
Paopao says her mom started teaching her about the power of manifestation from a young age, and it's easy to see why it's become so appealing to people in recent years: we're finally starting to understand that we're only capable of what we believe in. "She wasn't wrong, and she taught me a lot about manifestation and the spirituality of things," Paopao says. "When she passed away, it's crazy, but I heard her voice say, 'If you're not going to do it, I'm going to do it for you.' And everything started changing."
That was when Paopao finally started to make the transition from A&R to music artist. In October 2021, Rich Music signed her as its first woman music artist after she finally shared with the founders her true dreams. In March 2022, she released the "Hembrismo" EP, a collaborative all-women project that she spearheaded featuring La Gabi, Villano Antillano, Aria Vega, and Cami Da Baby. Paopao was responsible for finding the artists and getting them together to write and record, and she had the final say on the approved songs. It was the first EP she released — and the whole experience was a whirlwind
"I had La Gabi and Villano in mind and Cami and Aria were recommendations from friends and they all said yes, somehow," Paopao says. "We didn't know each other. We all went to Colombia together [to record]. It was crazy, but it was one of those things where we all had to meet and we had to do this. We did the songs in about a week, and a week later we did the music video. It was a lot."
A month later, Paopao released her second EP, "Relaciones Tóxicas," with iZaak, which was spearheaded by producer Dímelo Flow. All of that started getting her buzz. In August 2022, Bad Bunny shared on Instagram that he had Paopao's single "Algo Así" on repeat, a song she collaborated on with Mora. The shout-out resulted in more recognition and exposure; then, last fall, she dropped another single with Mora called "Cositas," along with a few remixes. And that brings us to today: the luxe version of her EP "diamentes + y espinas" just dropped with two new singles to boot, titled "n la disco" and "gatax."
Paopao's career taking off so quickly is no coincidence, she says. It all happened once she believed in herself and started doing the work. When she became set on becoming a music artist, not only did she start making the industry moves, but she also started to do manifestation exercises — from constant journaling to visualization meditations. In other words, she finally started trusting that all of her dreams were already making their way to her.
"Yes, this industry is a lot of work, but it's a lot of mental work as well. I feel like it's more mental than anything else."
"Yes, this industry is a lot of work, but it's a lot of mental work as well. I feel like it's more mental than anything else," she says. "You don't have to be suffering and putting 50 hours in. Sometimes they don't believe they're going to make it, so it just doesn't happen . . . The more it happens and the more you start seeing it happen, the more hooked you get."
It's during these career highs and moments of success that Paopao finds herself thanking her mom for all the words of wisdom she bestowed upon her. "I wouldn't be doing music if it weren't for her because I was not supported . . . Whenever I'm journaling or even after Bad Bunny shared my songs, I get really strong microseconds of what I call just being present," Paopao says.
For her, that comes in the form of gratitude: "No one knows this, but I'm always thanking her. I'll get random moments when I'm on stage and I'm just like, 'Thanks, Mom. This is dope. We did it.' And that will continue to be a thing throughout my career."
Image Source: Luis de la Luz

#Paopao #Manifested #Dream #Music #Career #Reality