India
Over 1,500 cases of stone pelting on moving trains across country in 2022: Railways | India News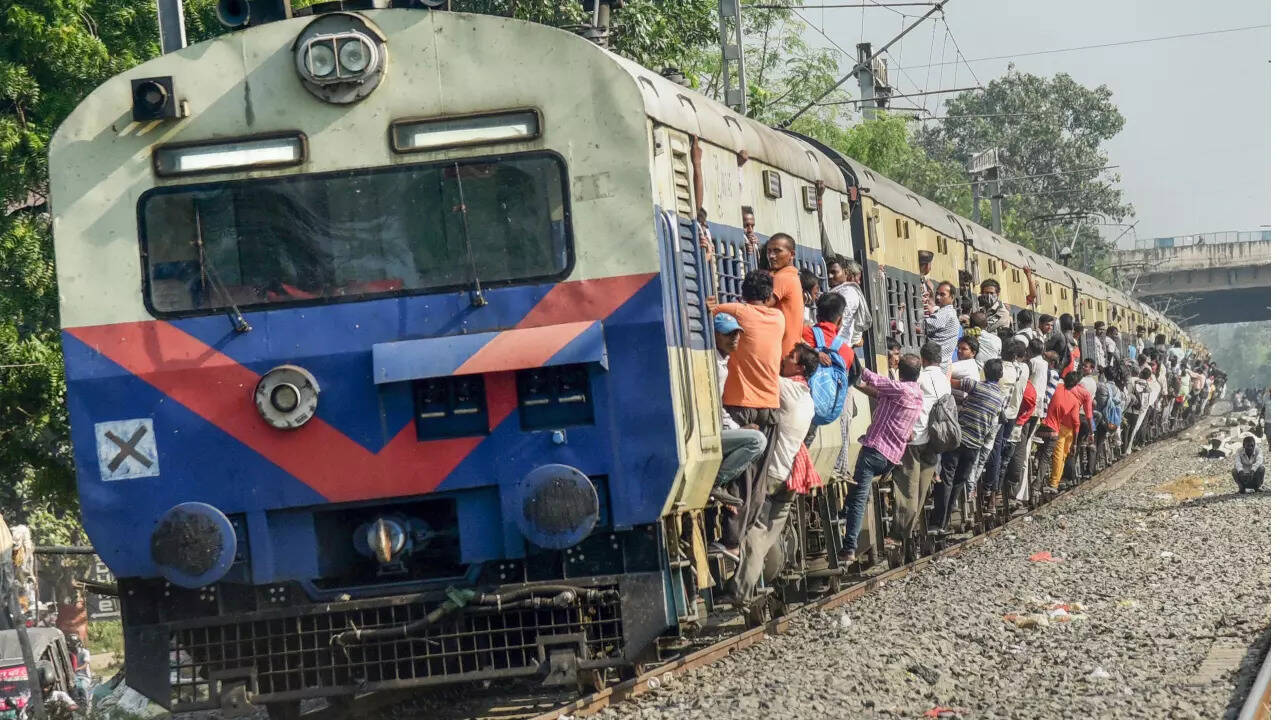 NEW DELHI: More than 1,500 cases of stone pelting on moving trains were recorded across the country in 2022 and over 400 people arrested for the offence, the Railways said Wednesday.
Vande Bharat trains have also suffered damage due to stone pelting, the most recent being in West Bengal.
Soon after its launch, the New Jalpaiguri-Howrah Vande Bharat Express fell prey to stone pelters.
Earlier this month, coaches of the Vande Bharat train were pelted with stones at the Visakhapatnam railway station in Kancharapalem area. Several windows of the train were shattered.
"During the year 1,503 cases of stone pelting on moving trains were registered by RPF followed by arrest of 488 persons. Several awareness drives are being made by RPF using different means to educate residents near railway track. In this drive more than 100 persons carrying inflammable/crackers in trains were also arrested," the Railways said in a statement highlighting the achievements of the RPF through the year.
While incidents of stone pelting on other trains remain largely unreported, cases of stone pelting on the indigenously manufactured Vande Bharat have found wide publicity.
In fact, soon after the first such train was launched it was attacked with stones in Tundla in Uttar Pradesh. It also faced stone pelters near Sadar here during which a windowpane of a coach was damaged when it left Delhi's Sakurbasti to reach New Delhi Railway Station to begin its trial run to Allahabad.
Similarly, during another trial run between Delhi and Agra on December 20, 2018, stones were hurled at the train as well in Mathura district.
The RPF has also been roped in by the Railways to counsel locals and the force has tried distributing chocolates and gifts to children living in slums to deter them from throwing stones at the semi high speed train.
The RPF has also rescued more than 17,500 children from rail premises and 559 people from traffickers so far this year, the national transporter said in a statement on Wednesday, highlighting the successes of its actions against crime on its premises.
It said under Operation Nanhe Faristey, the RPF identifies and rescues children in need of care and protection who are lost or separated from their family due to various reasons.
The Ministry of Railways has issued a revised standard operating procedure for better care and protection of children in distress in contact with Railways in December 2021 which was operationalised in 2022.
In accordance with the SOP, presently children help desks are operational at 143 railway stations. During the year, 17,756 such children were rescued by the RPF personnel.
The force has launched an operation against human trafficking called "Operation AAHT". In order to have an effective mechanism to avert attempts of human traffickers, anti-human trafficking units of the RPF were made operational at the post level (Thana level) at more than 740 locations over the Indian Railways.
During the year, 559 people were rescued from the clutches of traffickers with arrest of 194 traffickers.
The force also saved 852 lives of passengers, who slipped while boarding trains.
The RPF also handed over 5,749 criminals involved in different types of passenger-related offences under IPC to GRP/Police. This included 82 people involved in drugging, 30 dacoits, 380 robbers, 2,628 thieves, 1,016 chain snatchers and 93 people involved in crime against women.
Under Operation Dignity, the RPF rescued around 3,400 adults, including women in need of care and protection who come in contact with railways like those abandoned, drug addicts, destitutes, abducted, left behind, missing and those needing medical assistance.
Under operation Matrishakti, women personnel of the RPF assisted in 209 child births on board trains last year.

#cases #stone #pelting #moving #trains #country #Railways #India #News