India
Northeast Diary: One more election without Naga solution? | India News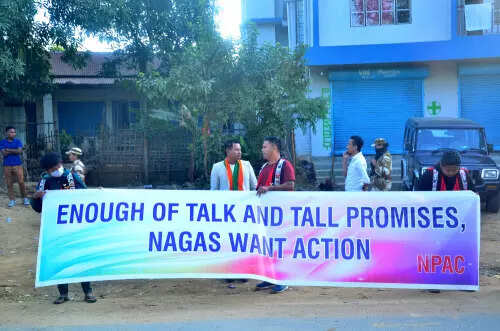 It seems like an endless wait for the people of Nagaland. One more election has been announced, but the protracted Naga issue remains unresolved. There is a sense of disappointment among civil society groups and tribal bodies which were hoping for some announcement by Christmas or New Year.
The elections to the 60-member Nagaland assembly is scheduled for February 27. This will be the third election since the 2015 'Framework Agreement' was signed between the BJP-led Centre, Naga rebel group, the NSCN(I-M), and other stakeholders in order to bring an end to India's oldest insurgency. But talks have remained inconclusive to date.
Interestingly, the BJP, which is a junior partner in the Neiphiu Rio-led all-party coalition government in the state, had coined the 'election for solution' slogan ahead of the 2018 assembly polls. Even chief minister Rio had been pushing for an early solution to the Naga political issue until recently, but a purported disagreement over tricky issues such as a separate flag and a constitution has left the fate of the peace process hanging.
In the outgoing assembly, Rio's Nationalist Democratic Progressive Party (NDPP) has 41 seats, BJP 12, NPF 4 and 2 seats are held by Independent legislators. The term of the present Assembly will end on March 12.
The Congress and the NPF, despite their reservations, will contest the polls. The Congress said the Election Commission could have deferred the polls in Nagaland but it went ahead in announcing the elections which "betrayed the aspiration of the people".
The Naga People's Front (NPF) said the top priority of the party is an honourable solution to the Naga political issue.
"We will contest the election with our manifesto on good and corruption-free governance, besides working for an honourable and acceptable solution to the Naga political problem," NPF secretary general Achumbemo Kikon said.
Civil society organisations, including apex tribal body Naga Hoho, said the Centre should prove its sincerity in solving the Naga political issue. "The slogan, election for solution, has become a rhetorical statement. They have forgotten to listen to the voice of the people," said K Elu Ndang, general secretary of Naga Hoho.
"The government of India will have to prove its sincerity in bringing about an accord respecting Naga rights and history," Naga Mothers' Association advisor Rosemary Dzuvichu was quoted as saying by PTI.
Although the election schedule has been announced, there is no clarity if the poll boycott call given by Eastern Nagaland People's Organisation (ENPO) last August still stands or not. ENPO, which represents seven tribes, demands a separate 'Frontier Nagaland' comprising six districts of the state.
An ENPO delegation had met Union home minister Amit Shah in Delhi last month during which he reportedly promised an amicable solution to its demand. It is, however, still unclear how the Centre will tackle the bigger Naga issue – given NSCN(I-M) seeks 'Greater Nagalim' comprising all Naga-inhabited areas — if it agrees to the creation of a separate state.
(With inputs from agencies)

#Northeast #Diary #election #Naga #solution #India #News