Entertainment
Nakash Aziz on plagiarism in the music industry: I don't think it's a fair practice – Exclusive | Hindi Movie News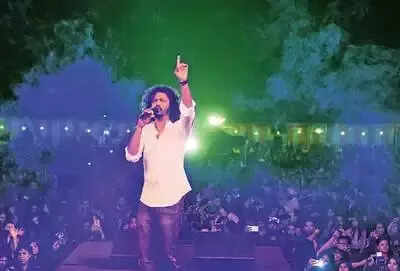 Nakash Aziz is a popular name in the Hindi music industry as well as in other languages. Hailing from Mangalore, the multi-talented singer has impressed music lovers from all over the world. 'Dhating Naach', 'Saari Ke Fall Sa', 'The Break-Up song', 'Binte Dil', 'Eyy Bidda Ye Mera Adda', "Jolly O Gymkhana", 'Ra Ra Rakhamma' are a few songs to his credit. In an exclusive conversation with ETimes, Nakash talks about his first salary, his journey in the music industry, plagiarism, and much more. Excerpts:
Most of your songs have attained the status of chartbusters. Was the journey easy for you to cement your place in the industry?

The journey wasn't easy. It required a lot of hard work to reach this point and like every journey, this one as well had its ups and downs.
You have many popular songs like 'Ranjahanaa', and 'Current Laga'. Which song is your personal favourite?
I don't have any personal favourites, I admire all my projects because I give it all I have every time I work on them.
What do you have to say about plagiarism in the music industry?
I have never accepted nor agreed with that concept and I don't think it's a fair practice.
What made you think that you wanted to opt for a career in music?
Born in a music-loving family it never occurred to me to take up music as a career cause it always seemed like something far out of reach, but it happened very organically. Even before I could think that I wanted to make a career as a singer I had already started singing for several composers and soon the songs kept coming my way.
Your first salary…
I actually got my first payment when I started doing shows in class 7. I felt like I was a grown-up and I was on top of the world.
You have assisted music maestro AR Rahman. What was the experience like?
He is an institution. There's a lot of knowledge that I have acquired from his music while growing up. But when I met him I found out what intuitive thinking, trusting your abilities, and doing your best can do.
What was that one thing that you learned from AR Rahman and are following even now?
Trust your instinct and listen to your heart.
We have heard that AR Rahman records all his songs at midnight and it is a delightful experience when one enters his studio…
It definitely is kept clean and the vibes are spiritual in every sense and everything works in favour of the music.
Though 'Cirkus' didn't do that well, your song 'Current laga re' is appreciated. How did you bag the opportunity?
It's always fun to work with the dynamic duo Lijo and Chetas. They make it look so simple and I never feel like it's work.
You are from Mangalore, what are your views on 'Kantara' and its music?
I think 'Kantara' is a strong contender for National Award.
#Nakash #Aziz #plagiarism #music #industry #dont #fair #practice #Exclusive #Hindi #Movie #News