Business
Modi: Global risks offer new openings for desi businesses
NEW DELHI: Amid the backdrop of looming risks, the emerging global environment presents new and diverse openings in digitisation, energy, health care and agriculture, PM Narendra Modi said on Friday, and urged the public and private sector to think out of the box and leverage synergies to seize the opportunity.
During his meeting with economists ahead of the Budget, the PM applauded the success of the India digital story and the rapid adoption of fintech, and the potential for inclusive growth and development it promises.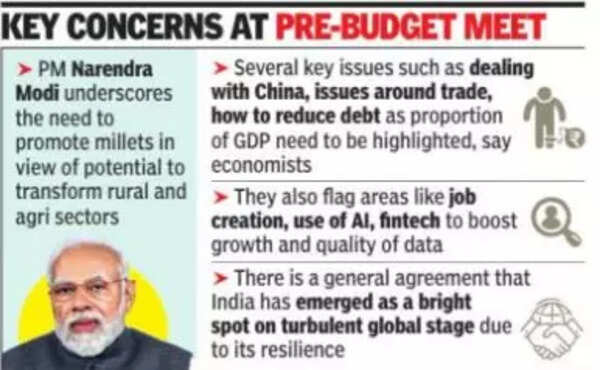 He underscored 'Nari Shakti' as a key driver of India's growth and urged to continue making efforts to enable and boost women's participation in the workforce. The statement is seen to be in the context of the low female labour participation rate in the country and authorities are making it a priority to raise the share of women in the workforce. Economists have flagged it as a key concern and the government has also taken it up during its G20 presidency.
In the ongoing International Year of Millets, the PM highlighted the need to promote millets in view of their potential to transform the rural and agri sector, with their attributes such as being carbon-neutral, conducive to natural farming, and affordable source of nutrition.
Economists flagged several key issues such as dealing with China, around trade, how to reduce debt as a proportion of GDP, creation of jobs and using artificial intelligence & fintech to boost growth. Quality of data was another issue that was highlighted by economists.
Recognising that the underlying global headwinds are likely to continue, strategic recommendations were also shared for further strengthening India's resilience. There was agreement that due to its resilience, India has emerged as a bright spot. It was suggested that new growth impulses would need to build upon this foundation through holistic development across all sectors.
The Indian economy is estimated to grow by 7% in the current fiscal year and will retain the tag of the fastest growing major economy as global recession threatens growth across the globe and a raft of issues are expected to blunt China's expansion.
FM Nirmala Sitharaman, Niti Aayog VC Suman Bery, principal secretary to PM P K Mishra, members of Niti Aayog, Cabinet secretary Rajiv Gauba and chief economic adviser V Ananthanageswaran were also present at the meet.

#Modi #Global #risks #offer #openings #desi #businesses