World
Military officers seize power in Gabon, threatening an African dynasty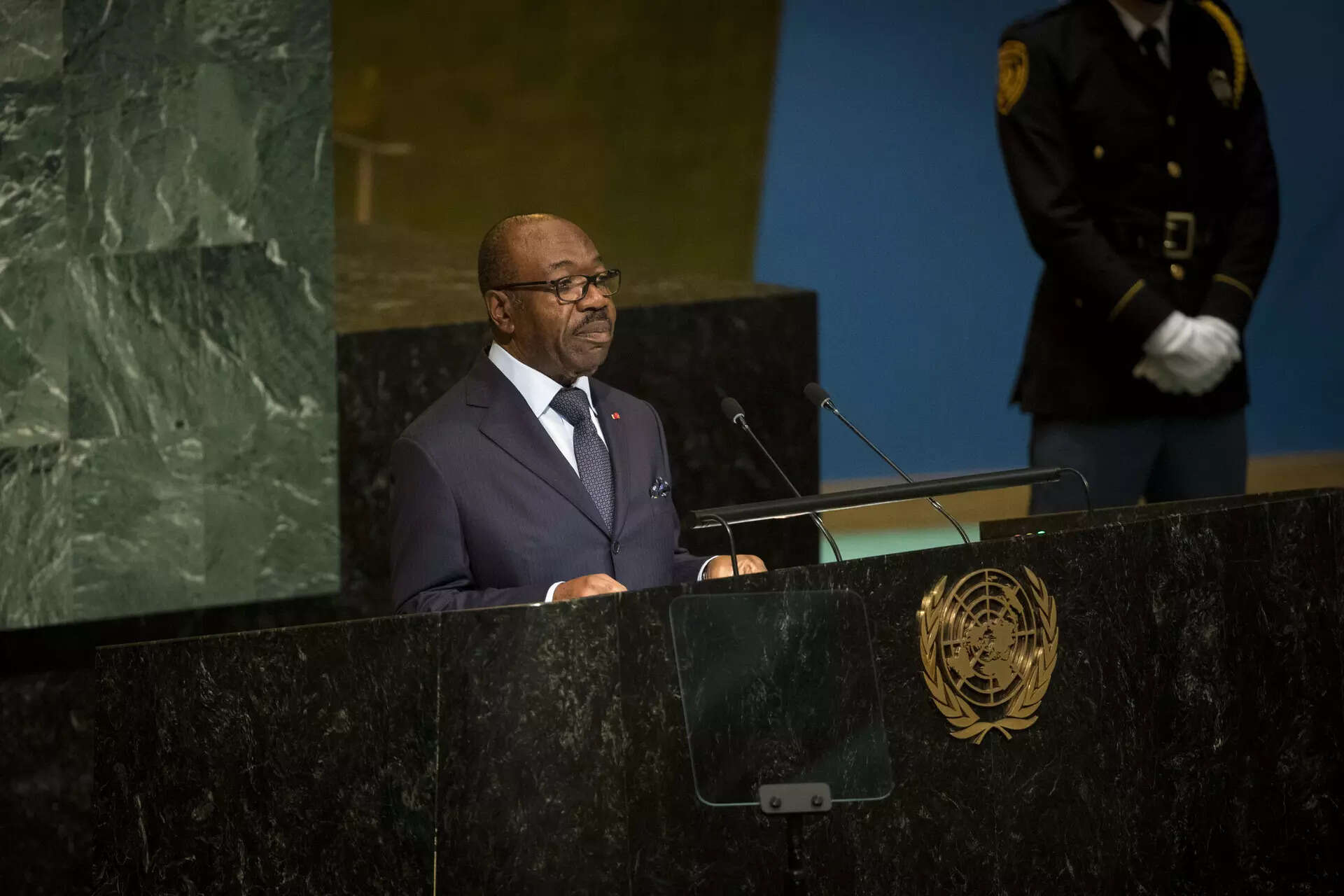 NAIROBI: Military officers said they had seized power in the oil-rich Central African nation of Gabon early Wednesday, overturning the results of a disputed election that returned the incumbent, President Ali Bongo Ondimba, to a third term in office.
If it succeeds, the coup in Gabon would be the latest in an extraordinary run of military takeovers across a swathe of Africa — at least nine in the past three years, including one last month in Niger, where President Mohamed Bazoum was similarly overthrown by the head of his presidential guard.
Bongo, detained inside his residence, issued a video plea for help. But celebrations erupted in the streets outside, as many Gabonese cheered the apparent demise of a family dynasty that has dominated for a half-century.
By evening, the officers announced Gen. Brice Oligui Nguema, head of the elite Republican Guard that is charged with protecting Bongo, as Gabon's new leader. Gabonese media identified him as a cousin of the ousted leader.
A close ally of France, Bongo won international acclaim in recent years from scientists and conservationists for his stewardship of Gabon's sweeping forests, which cover nearly 90% of the country. A member of OPEC, Gabon is Africa's seventh largest oil producer.
But Bongo, 64, also presided over a regime accused of cronyism and corruption in a country where only a minority has shared in its great wealth. Public anger has been simmering for years.
(BEGIN OPTIONAL TRIM.)
"I don't know what's happening," Bongo, seated in an ornate armchair, said in a video that was released hours into the coup, and authenticated by an adviser. "I'm calling on you to make noise, to make noise, to make noise — really."
A louder noise, though, came from his foes.
Footage posted to social media showed jubilant soldiers hoisting Oligui onto their shoulders and punching the air. The coup leader then drove through the streets of Libreville, Gabon's capital, cheered by civilian supporters shouting "freedom!"
"Thank you, thank you," Oligui said at one stop, before driving off.
As well as holding Bongo, the military said it had detained several of his advisers including a son, Noureddin Bongo Valentin, on charges of corruption and misgovernance.
The coup was a new blow to French interests in Africa, following recent takeovers in Mali, Burkina Faso and Niger. Under Bongo and his family, Gabon, a French colony until 1960, has for decades remained a staunch ally of France, even as Paris' grip on other former colonies waned.
French companies dominate Gabon's oil industry, and at least 400 French troops are based in Gabon, many at a base in Libreville.
The coup met with instant and near-universal international condemnation. But unlike Niger, where neighboring countries threatened military action to undo last month's coup, there was no suggestion of force.
A French government spokesperson demanded the election results be respected. John Kirby, a spokesperson for the U.S. National Security Council, said the attempted takeover was "deeply concerning."
China, which accounts for about half of Gabon's exports, expressed concern. So did Russia, which in recent years has benefited from several African coups by deploying Wagner mercenaries to prop up shaky military regimes.
Wagner, which has been shaken by the death of its former leader, Yevgeny Prigozhin, following the mutiny he led, has no ties to Gabon, although it has a presence at a major port in neighboring Cameroon.
Many of the recent takeovers in Africa occurred in countries hit hard by militants' violence, such as Mali and Burkina Faso, or by intramilitary tensions, such as Sudan. But the coup in Gabon was aimed squarely at one of Africa's most enduring political dynasties.
Bongo has ruled since 2009, when he took over from his father, Omar Bongo, who took power in 1967.
The voting last weekend was tense, with loud opposition claims of rigging and fears that, as in many previous elections in Gabon, it would end in violence. Many people had left the capital for the weekend, fearing trouble. After the polls closed, the government imposed a nightly curfew and restricted internet access.
When the election authority announced the results around 3 a.m. Wednesday, it said Ali Bongo Ondimba had won 65% of the vote while his main rival, an economics professor named Albert Ondo Ossa, got 31%.
Moments later, gunfire was heard in the center of the city, residents said. Soon after that, the group of about 12 mutinous officers, calling themselves the Committee for the Transition and Restoration of Institutions, appeared on a state-run television station and announced they were taking over.
They said they were canceling the election result, suspending the government and closing Gabon's borders until further notice.
"People of Gabon, we are finally on the road to happiness," a spokesperson said.
Several of the putschists wore the uniform of the Republican Guard whose leader, Oligui, only weeks ago received new French armored vehicles that bolstered the unit's reputation as an elite force.
"There was discontent in Gabon," Oligui told Le Monde. "So the army decided to turn the page and do something."
Even so, the takeover came as a surprise to many. After a half-century of uninterrupted rule under the Bongo family, residents of Libreville woke up Wednesday to news of potentially momentous change. Many celebrated openly.
"It is a feeling of joy, a feeling of freedom," said Fulgence Mintsa, a 33-year-old banker, at a food stall in Libreville. "When I woke up this morning and people were celebrating, I couldn't believe it. We're happy that even the army was fed up with this system."
Whether France was truly dismayed by the coup as yet another sign of its waning influence in Africa, or happy to accept the demise of a dynasty that had become a political embarrassment, was not immediately clear. The relationship with Bongo had wavered in recent years.
The Gabon leader banned exports of raw wood, which eliminated jobs in France, and last year brought his country into the Commonwealth, a pivot that he heralded as "a new chapter" for Gabon. When he pleaded for help from his home Wednesday, he spoke in English, not French.
Still, French President Emmanuel Macron hosted the France-educated Bongo in Paris in June, when they were pictured smiling together — a welcome contrast to France's testy relations with other former colonies.
"There is an epidemic of coups in all the Sahel," Macron said in a speech Monday, referring to the turbulent region of Africa that lies south of the Sahara.
Even as Bongo faced criticism for successive elections that were widely seen as fraudulent, and many of which ended in violence, he was lavishly praised by scientists and conservationists for his stewardship of Gabon's sprawling, carbon-reducing forests.
A regular at international conferences, Bongo won plaudits for his conservation efforts to protect rainforests filled with elephants, gorillas and chimps, and to save sensitive marine areas vulnerable to overfishing.
In recent years he also tried to monetize the forests, pitching carbon credits potentially worth billions of dollars to foreign businesses and governments.
Gabon's oil makes it one of Africa's richest nations on a per-capita basis, yet most people are desperately poor. Nearly 40% of people between the ages of 15 and 24 are unemployed, according to the World Bank.

#Military #officers #seize #power #Gabon #threatening #African #dynasty