Entertainment
MGR Birth Anniversary: Story of the demigod, his personal life, glorious career, controversies to politics
When you hear about some ruling cinema and politics, the first names to come in the head are NT Rama Rao in Telugu states and MG Ramachandran in Tamil Nadu. Today as it's MGR's birth anniversary, let's take a look into his legendary journey as an actor and politician. While he entertained and served people with his films and as Chief Minister, his personal life is quite controversial with numerous marriages, no children, and shocking death.
MGR's journey is like a beautiful book, it is intriguing and fascinating. The man was a demi good to the people of Tamil Nadu. MGR's life from a middle-class family to the legendary personality of the South is quite a big history, that shall forever be cherished. 
Rags to riches
Marthur Gopala Ramachandran (MGR) was born a Sri Lanka Tamilian and lost his father and sister just at the age of two and a half years old. MGR's mother brought up him and his brother in India. And it was in school, he recognised his love and passion for acting and the rest is history. The challenges faced by him during his early life and childhood played an important role in shaping his character and political career.
It is indeed remarkable that MGR born in Kandy to Malayalee parents later made a name for himself as an actor in Tamil films and followed it up by becoming the Chief Minister of Tamil Nadu state. He made it all the way up in the glory that he is being remembered for even after 106 years. 
Glorious MGR magic
MG Ramachandran was endearingly called Makkai Thilagam or People's King by the masses. MGR made his film debut in 1936, in the film Sathi Leelavathi, directed by Ellis R. Dungan, an American-born film director. He was only 19 at the time. MGR was paid Rs. 100 in advance for the film, which he promptly sent to his mother Sathya. Thereafter, he acted several minors like a struggler before getting his big break as the lead actor. In 1950, he got breakthrough with a film written by M Karunanidhi. He acted in only 20 films from 1936 to 1947 years. although he had every hero material quality, MGR lacked opportunities as a lead hero due to his singing voice as at that time actors also sang songs. However, after a few years, things turned good for MGR as the concept of playback singers came into place and his life changed.
Ramachandran's breakthrough came with his first lead role in Sami's swashbuckler film Rajakumari (1947) where he played a villager who marries a princess. Rajkumari became a huge success and broke several records in Kollywood. Soon he became a popular actor whose films were box-office hits. The magic initials "MGR" began garnering an incredible number of fans. He established himself as an action and romantic hero, who had a persona as Robin Hood. Ramachandran received positive feedback and commercial success for swashbuckler films such as Alibabavum 40 Thirudargalum (1956), the first South Indian full-length colour film, Madurai Veeran (1956), Chakravarthi Thirumagal and Mahadevi (1957).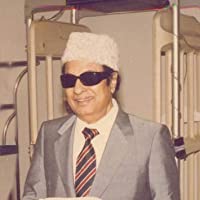 MGR formula to win audiences
MGR movies always managed to pull a huge the crowd to the theaters. His formula connected to the general public and touched hearts, which also made him win the moniker, Makkai Thilagam, or People's King. He also followed touching topics like mother-son love or brother-sister affection, like his real life and good chemistry with his partner. The actor also played roles that enabled him to adopt his ideas of fighting injustice meted out to the poor such as an outlaw. 
Despite tasting the huge success, MGR gave up acting in 1977 after he became Tamil Nadu Chief Minister. His last film 'Maduraiyai Meetta Sundarapaandiyan' (Madurai Liberator Sundarapaandiyan) was released in 1978. The interesting part of the film as his director passed away, MGR himself directed parts of the film and completed it. MGR acted in 116 films during the period from 1947 to 1978. 
Every MGR film is a blockbuster at the box office. Several MGR's films were silver jubilee hits, ran for more than 100 days, and turned out to be huge money spinners for directors and producers. There was no one like MGR. He was a legend in Tamil cinema.
MGR's politics- Demigod of Tamil Nadu
There are only two people in history, who managed to win in politics being an actor. NT Rama Rao and MGR. While MGR was taking baby steps in politics, he attracted the public with his strong-oriented films and his screen persona began reflecting DMK's image. The difference between reality and make-believe blurred, while he continued to pull crowds. In 1953  MGR joined the Dravida Munnetra Kazhagam (DMK), or Dravidian Progressive Federation, attracted by founder C. N. Annadurai. At the age of 50, he was first elected to the Tamil Nadu Legislative Assembly in 1967. After the death of his mentor, Annadurai, MGR became the treasurer of DMK in 1969 after Muthuvel Karunanidhi became the Chief Minister. The AIADMK alliance won the elections by winning 144 seats out of 234 and MGR became the Chief Minister of Tamil Nadu. When MG Ramachandran became the Chief Minister of Tamil Nadu on 30 June 1977, he was the first Indian actor to hold that position. The prolific actor, politician and humanitarian remained in office till his death in 1987.
Marriages
MGR got married to Chitarikulam Bargavi, also known as Thangamani but died due to illness. Later, he tied the knot for a second time with Satyanandavati. However, despite being married, he fell in love with VN  Janaki and began living together from 1959. And when Satyanandavati died in 1962 due to tuberculosis, MGR legally married in 1963 to V. N. Janaki a former Tamil film actress who was once his leading lady and a future chief minister of Tamil Nadu. She passed away after a few years. After that, although MGR didn't marry anyone, he was known for his affair with Jayalalitha. 
MGR has no heir as he had no children with any of his wives. 
The rememberable affair
MG Ramachandran and Late Tamil Nadu Chief Minister J Jayalalithaa are the most talked affairs in South film industry. Together, they delivered 28 hit films at the box office. Not just onscreen, they shared a special relationship off-screen as well. MGR always had a soft corner for Jayalalithaa. During a shooting with MGR for Adimaippenn, she had to be barefoot for a particular scene but could not walk on the burning sand, and noticing her discomfort, he ordered the unit to pack up. He wanted her to accompany him everywhere and at times, even waited for hours on the sets to meet her. Jaya wanted to marry him but he always backed out.
MGR and Jayalalithaa were popular as a couple, onscreen as well as offscreen until they parted ways in 1970. They parted ways and were away from each other for almost a decade. However, when MGR became chief minister, he called Jayalalithaa again to join his party All India Anna Dravida Munnetra Kazhagam and they became close again during this period. Their love story went through many ups and downs. Jaya was kept away from MGR and was not allowed to meet even when he was in the hospital. A lot of people tried to create problems between them. She even wrote a letter to the then Prime Minister Indira Gandhi to let her meet MGR but he wanted to keep her away from him.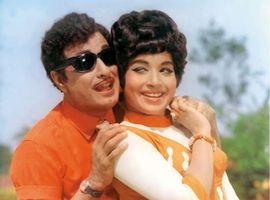 The demise that left everything and everyone broken
MGR was diagnosed with Kidney failure in 1984, which resulted in diabetes, mild heart attack and stroke. He was rushed to a hospital in New York for treatment and in 1985, he recovered and came back to Madras. The actor and politician never fully recovered from his multiple health problems and died on 24 December 1987 at 3:30 am in his Ramavaram Gardens residence in Manapakkam after his prolonged illness. He was 70 years old, just a month away. 
The death of MGR changed everything upside down as it sparked violence in the state. Shops, cinemas, buses and other public and private property became the target of violence let loose. Schools and colleges immediately announced holidays till the situation came under control. Violence during the funeral alone left 29 people dead and 47 police personnel badly wounded.
After two days of public viewing, on 25 December 1987, his remains were buried in the northern end of Marina Beach, which is now called MGR Memorial.
#MGR #Birth #Anniversary #Story #demigod #personal #life #glorious #career #controversies #politics