Astrology
Mars Direct in Taurus 2023: Date, Time and Significance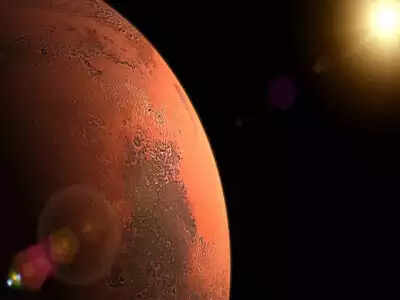 Mars Direct in Taurus 2023
:
The planet Mars signifies fire and as per Vedic Astrology, it is regarded as a signifier of land, energy, army, warrior and many other things. It makes a native ambitious, courageous, strong, bold and full of energy. As per Mythology, Mars planet is also known as the 'son of the land'. Mars even controls the anger.
It is known as Mars Transit, when Mars (the fiery planet) moves from one zodiac sign to another. It is placed in one zodiac sign for one and a half months and then proceeds forward to another planet.
As per Vedic Astrology, Mars is the lord of Aries and Scorpio and these are the first and eighth house in the Kaal Purush horoscope chart. Aries and Scorpio are the two zodiac signs that Mars rules. Mars becomes exalted in Capricorn and weakened in the sign of Cancer. It is considered to be auspicious when Mars transits in the third, sixth, and eleventh house and it gives positive results.
Mars
Direct in Taurus 2023: Date and Time
Mars Direct in Taurus
– January 13, 2023, Friday – 02:27 AM
Mars Direct in Taurus 2023: Effects
The lord of Taurus is Venus. When Mars is retrograde it does not give good results to the natives of Taurus. But after a period of two months Mars is going to turn direct in Taurus so this is a good news for the people who are born under Taurus sun sign as till now it was giving its very bad effects but from January 13, 2023 Mars will start giving its neutral effects. We are not saying that it is going to start benefit them but not that bad as they were facing it from last two months.
Mars, the fiery and red hot planet moved to Gemini sign on October 16, 2022 but went into retrograde motion on October 30 and then again moved back to Taurus on November 13, 2022. Now it will finally turn direct in Taurus. People who really wants to know the movement of Mars, can refer to the below mentioned chart :-
| | |
| --- | --- |
| Date | Transit |
| 10th Aug 2022 | Aries to Taurus |
| 16th Oct 2022 | Taurus to Gemini |
| 30th Oct 2022 | Retrograde in Gemini |
| 13th Nov 2022 | Gemini to Taurus |
| 13th Jan 2023 | Direct in Taurus |
| 13th Mar 2023 | Taurus to Gemini |

#Mars #Direct #Taurus #Date #Time #Significance