India
'Maligning our brave hearts': Congress slams BJP for criticising ex-army chief Deepak Kapoor | India News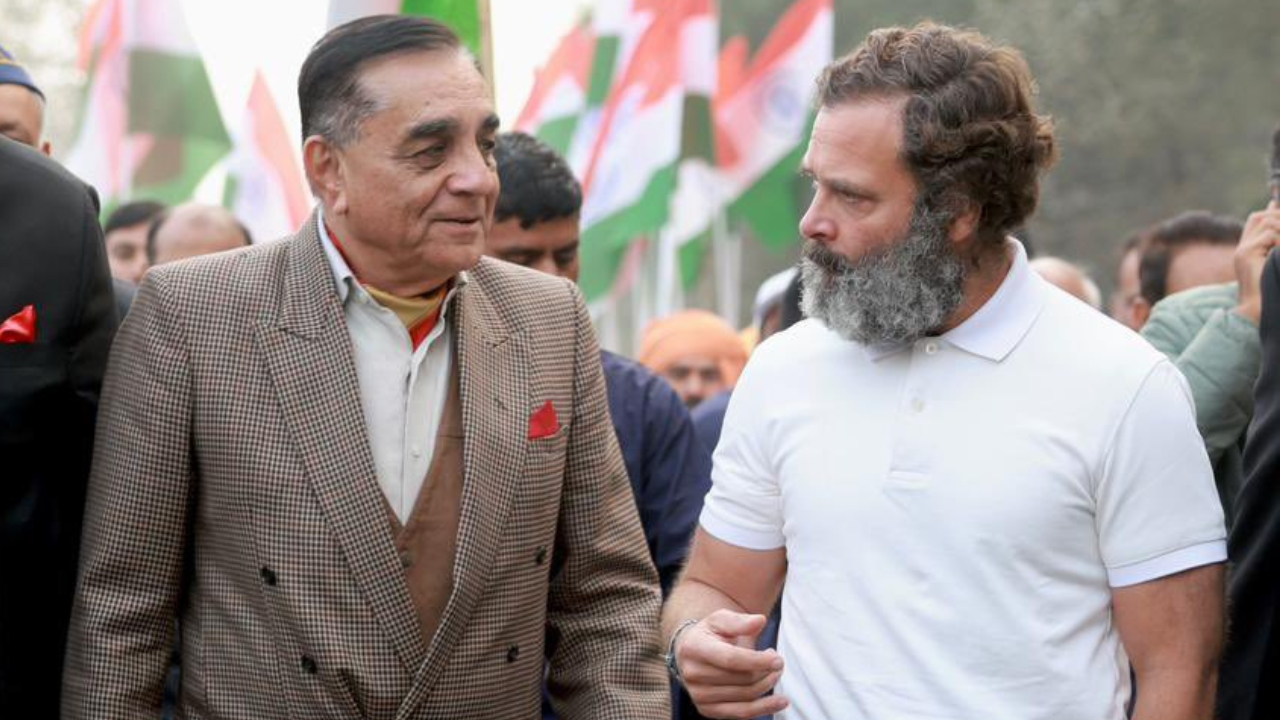 NEW DELHI: The Congress on Monday lashed out at the BJP for criticising former Army chief General Deepak Kapoor after he participated in the Bharat Jodo Yatra, and accused the ruling party of "maligning brave hearts".
Gen (retd) Kapoor and many retired top officers of the defence services joined the Rahul Gandhi-led 'Bharat Jodo Yatra' on Sunday which is passing through Haryana.
Tweeting a picture of Gen Kapoor walking alongside Rahul Gandhi in the Yatra in Haryana, BJP IT department head Amit Malviya said, "Ex-Army Chief Gen Deepak Kapoor joined Rahul Gandhi's Bharat Jodo Yatra. Kapoor was indicted in the Adarsh scam along with other senior Army officers."
"The inquiry committee had opined that they may be debarred from holding any Govt position or office for shaming the Armed Forces," the BJP leader said Sunday.
Hitting out at Malviya, Congress' social media department chief Supriya Shrinate said, "General Kapoor, a war veteran of the 1971 Indo-Pak war, recipient of PVSM, AVSM, VSM and Sena Medal among a host of other awards, served our nation from 1967 to 2010 for four decades. You should be ashamed of yourself for maligning our brave hearts. Pity you and your sorry existence."
Tagging Shrinate's tweet, Congress general secretary in-charge communications Jairam Ramesh tweeted Monday, "Do you really expect anything better from such a sick and depraved(& deprived) mind?"
Reacting to Malviya's remarks, Congress' media department head Pawan Khera said, "His boss had stooped to another level when he accused General Deepak Kapoor & Dr Manmohan Singh of plotting with ISI to defeat him in Gujarat in 2017. Jaitley had to apologise in the House for these remarks."
Tweeting about the participation of Kapoor and other Army veterans, the Congress had said Sunday, "Ex-COAS (chief of Army staff) Gen Deepak Kapoor, Lt Gen R K Hooda, Lt Gen VK Narula, AM (air marshal) PS Bhangu, Maj Gen Satbir Singh Chaudhary, Maj Gen Dharmender Singh, Col Jitender Gill, Col Pushpender Singh, Lt Gen DDS Sandhu, Maj Gen Bishamber Dayal, Col Rohit Chaudhry join @RahulGandhi at the Bharat Jodo Yatra."
Gen Kapoor (retd) had taken over as the Chief of Army Staff on 30 September, 2007.

#Maligning #brave #hearts #Congress #slams #BJP #criticising #exarmy #chief #Deepak #Kapoor #India #News