Business
Limit subsidies to vital, merit goods: Rangarajan
Former RBI governor C Rangarajan has spent several decades shaping public policies in the country and played a crucial role as part of the 1991 reforms dream team. In his latest book 'Forks in the Road: My days in the RBI and beyond', Rangarajan details several policy challenges that he tackled during his long career. In an interview to TOI, he speaks on a range of issues – from distribution of freebies to the road ahead for the Indian economy. Excerpts: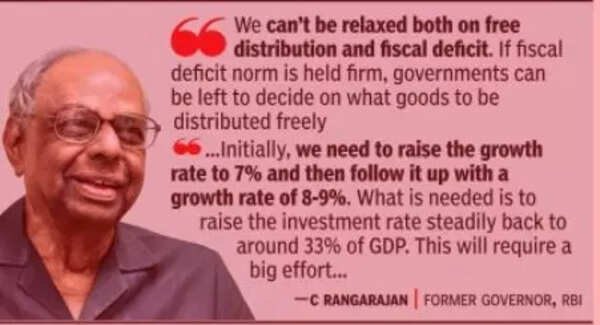 What has been the most difficult challenge for you in your long innings as a key policymaker and how did you tackle it?
The most difficult tasks were to overcome the crisis of 1990-91 and the introduction of reforms to revitalise the economy. The first required restoration of stability and the second demanded structural reforms. Both called for bold measures. I am glad I was part of the team which handled these issues under the leadership of Narasimha Rao and Manmohan Singh. Undertaking devaluation in two steps, shipping gold to raise immediately needed resources and embarking on a liberal trade policy, which was contrary to what we used to do when faced with such a crisis, were some of the steps taken to restore stability.
What are your views on the recent debate on freebies?
Provision of certain goods or services free or at a highly subsidised price has been common in Budgets. Distribution of essential goods such as food grain to vulnerable groups has evoked no criticism. There is also a category of goods which are called 'merit' goods where significant positive externalities are associated with their consumption, such as health and education. Thus, while subsidisation or free provision of essential and merit goods can be justified on the grounds of meeting social objectives, when the list of commodities expands to include such items as TVs, serious doubts arise. Perhaps it is advisable to limit the distribution of commodities and services at a highly subsidised level to essential and merit goods.
The concern about 'freebies' arises because of the burden the Budget will have to bear and the consequent rise in the fiscal deficit. Politicians will not give up their right to determine what goods should be distributed. My suggestion is that the only way to avoid excessive distribution of free goods is to be firm on the level of the fiscal deficit. We can't be relaxed both on free distribution and the fiscal deficit. If the fiscal deficit norm is held firm, governments can be left to decide on what goods to be distributed freely.
What are the challenges that you see for the Indian economy against the backdrop of the war in Ukraine and the impending recession in the developed world?
After Covid and the Russia-Ukraine war, there is a need to lay down a clear road map for India's future development. Initially, we need to raise the growth rate to 7% and then follow it up with a growth rate of 8-9%. What is needed is to raise the investment rate steadily back to around 33% of GDP. This will require a big effort. Obviously, technology change will have important impact on investment decisions. Absorption of new tech will require skill development.
India's future growth path cannot be unidimensional. We need strong export sector, both of goods and services. We also need a strong manufacturing sector domestically, both with a view to meet the domestic demand as well as to provide employment to a wide cross section of talent. Our own 'sunrise industries' will be different from those of other countries.

#Limit #subsidies #vital #merit #goods #Rangarajan