Entertainment
Kiara Advani makes hearts melt as she hugs Sidharth Malhotra at 'Mission Majnu'; shares her review of the film – WATCH | Hindi Movie News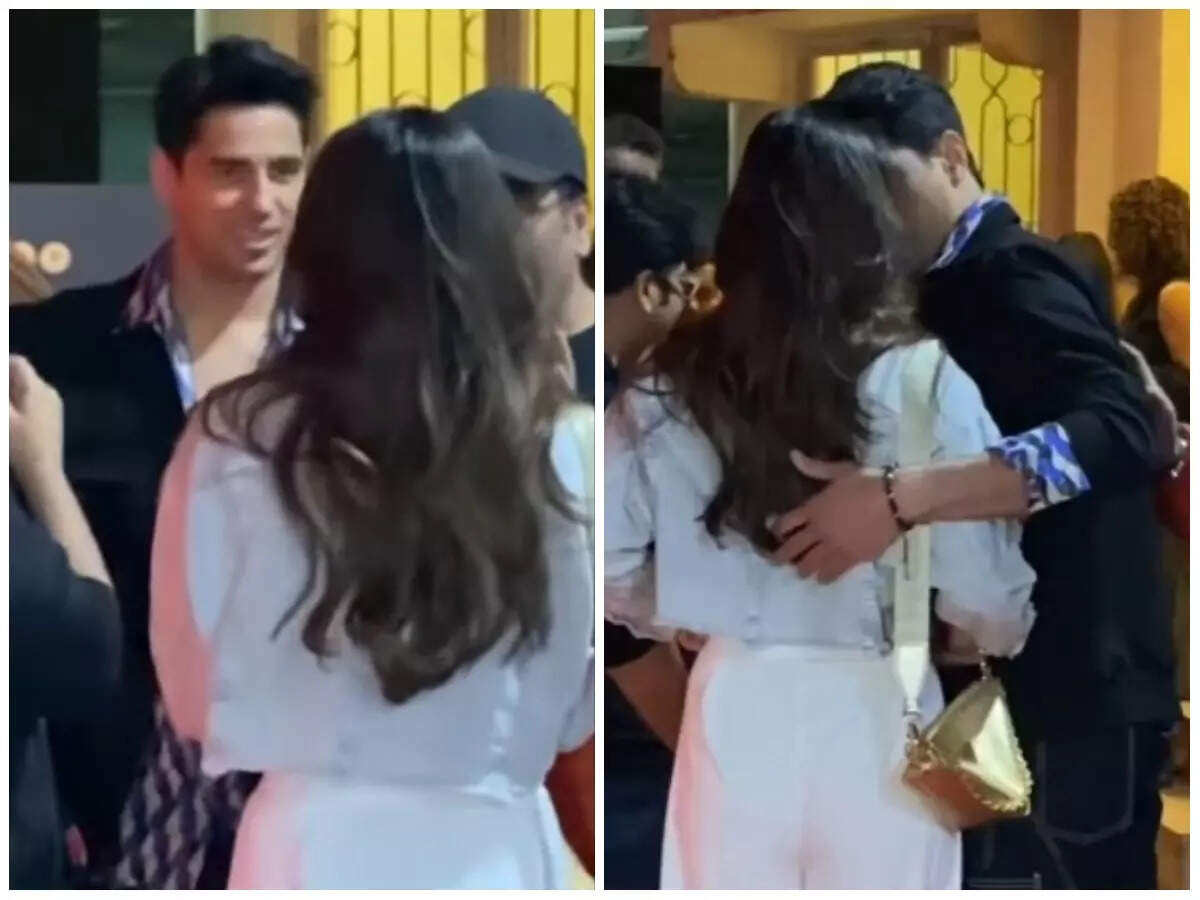 Sidharth Malhotra on Tuesday hosted a screening of his next action flick 'Mission Majnu' and there by his side, was his actress girlfriend Kiara Advani.
The couple, which is currently in the news over rumours of their impending wedding, indulged in some PDA at the grand premiere. Photos and videos from the big event saw the star couple hugging it out after the screening.
"How happy they are to have each other by their side," a fan commented while gushing over videos of Kiara embracing Sid and cheering him on.
Justt Sidharth looking at Kiara ❤️‍ How happy they are to have eo by their side #SidKiara #KiaraAdvani… https://t.co/8Sat5MkBUs

— Tisha ❤️ (@tishai1505) 1673991362000
Just her appearance is enough to make people go crazy over her‼️#KiaraAdvani #MissionMajnu… https://t.co/y8TyECDW46

— kiaraxtruefan ✨ (@kiaraxtruefan) 1674003405000
– this moment of them #SidharthMalhotra | #SidKiara | #KiaraAdvani https://t.co/rDzP981Nhi

— . (@advcnisbae) 1673985911000
The actress played the dotting girlfriend and sang praises of her beau to the paparazzi. When asked how she liked the film, Kiara gave her honest review and said "Superb… superb" with a big smile on her face.
"Esa support system to hum bhi deserve karte hai," a fan said, reacting to the actress' video.
Esa support system to hum bhi deserve karte hai #SidKiara #KiaraAdvani #SidharthMalhotra #MissionMajnu… https://t.co/0yQ4GjIfAE

— kiaraxtruefan ✨ (@kiaraxtruefan) 1674001878000
Sid and Kiara met and reportedly fell in love on the sets of their war film 'Shershaah', based on the life of Kargil hero Captain Vikram Batra.
After "Shershaah", "Mission Majnu" is yet another real-life inspired story Malhotra is part of. The 1970s-set espionage thriller features Malhotra in the role of Indian intelligence agent Amandeep Ajitpal Singh, who goes undercover as Tariq to pass on state secrets regarding Pakistan's nuclear capability to India.
The Delhi-born actor said in an interview with PTI, that he came across the script of the espionage thriller right before the lockdown and found it fascinating as it was a complete package with elements of "true story, thrill and romance".
"I found it fascinating that it is inspired by true events and yet it is fictionalized for obvious reasons because we do not know about these missions. It gives an insight into how a spy works in another country on their own while on a mission in an entertaining and interesting way… So I found it a complete film, with elements of true story, thrill and romance," he said.
The actor said his inclination for inspirational stories may have something to do with his army background.
"Maybe it is because I come from an army background that I like to portray such heroic characters. But I also feel it is imperative to showcase the efforts that our forces make, whether it is the armed forces or secret service, to protect the borders of the country."
The movie marks another effort in the action genre for the actor, who believes it is the emotion behind the action that attracts him to such stories. Following 'Mission Majnu', he will also be seen in actioner 'Yodha'.
Malhotra said though he enjoys the action genre, it is important for him that the audience find it as exciting as he does.
'Mission Majnu', directed by ad filmmaker Shantanu Bagchi also features 'Pushpa: The Rise' star Rashmika Mandana. The film will premiere on Netflix on January 20.

#Kiara #Advani #hearts #melt #hugs #Sidharth #Malhotra #Mission #Majnu #shares #review #film #WATCH #Hindi #Movie #News