India
Joshimath: Sinking town in Indian Himalayas spotlights risks of development | India News
A sinking Himalayan town is highlighting the dangers posed to the region and the fragile ecology of the mountain range disturbed by a proliferation of dams, roads and military sites near the border with China.
The risks, flagged for decades by environmentalists and activists, came to the fore recently after land subsidence — gradual sinking due to displacement of underground earth layers — led to cracks in hundreds of homes in the tiny town of Joshimath, located at an altitude of over 6,000 feet (1,830 meters) in the northern hill state of Uttarakhand.
The high seismic risk zone is dotted with several picturesque towns and villages that are gateways to hiking trails, Hindu pilgrimage sites and strategic outposts in India's lingering border dispute with China. The region is already vulnerable to frequent extreme weather events and landslides. A massive cloudburst in 2013 left more than 5,000 dead in the state.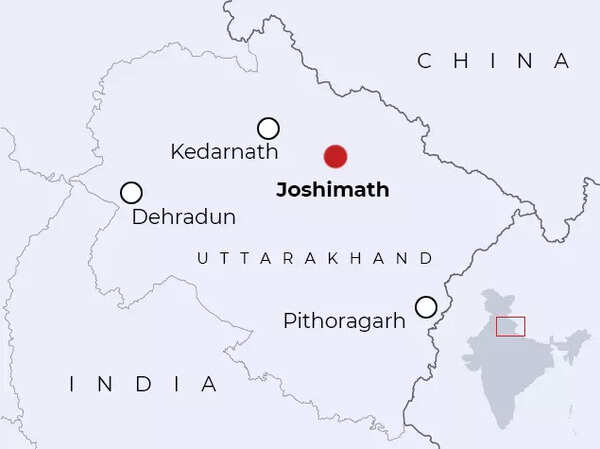 Four hydropower projects with a combined projected cost of about 155 billion rupees ($1.9 billion) are currently under construction in Uttarakhand.
"The villages and townships in the northern part of Uttarakhand are located along the major active thrust zones within the Himalayas and are very sensitive because of the fragile ecosystem of the region," said Rajeev Upadhyay, professor of geology at the Kumaun University in Nainital. "Many habitations, which are built on the debris of old landslides, are already under natural stress and man-made constructions are adding further stress to the region."
Incidents of land sinking in the Joshimath area were reported as early as the 1970s. A rapid subsidence of a maximum of 5.4 centimeters was triggered in Joshimath town in the 12 days up to Jan. 8. Slow subsidence of a maximum of 9 centimeters (3.5 inches) was recorded in the seven months leading to November last year, according to a statement and satellite images released by the National Remote Sensing Centre of the Indian Space Research Organisation.
"If you do a lot of excessive mechanical activities in the region, the land will be prone to slide," said Upadhyay. "The whole area is vulnerable to subsidence."
Here are some places in Uttarakhand that could be at risk:
Joshimath: The site of the current disaster is a major military and administrative hub. Millions of devotees cross this garrison town each year to reach Badrinath, a holy town for Hindus. The state-run NTPC Ltd. is working on a hydroelectric power project nearby. India's top court will hear a petition from a local religious leader next week seeking to halt construction of the power project blaming it for the damage.
NTPC, India's biggest power producer, has denied its construction activities led to land subsidence.
Tehri: Cracks have appeared in some houses in the region. The nearby Tehri Dam is India's tallest dam and one of the largest hydroelectric power projects. It's also a popular tourist destination. The project also raised concerns about the environmental problems of locating a large dam in the delicate ecosystem of the Himalayan foothills.
Mana: Considered the last Indian village at the border with China, it's also a key military installation where troop strength was boosted after the latest India-China border stand-off erupted in the summer of 2020.
India has relocated some troops from areas surrounding Joshimath, Army Chief Manoj Pande, said Thursday.
Mana is being linked with a national highway, part of a project promoted by Prime Minister Narendra Modi to improve connectivity between Hindu pilgrimage sites. Environmental groups have raised concern about the project saying the felling of trees in the wildlife-rich area will increase landslide risks.
Dharasu: The hill town has a landing ground critical for both locals as well as the military for moving troops and material to the disputed Himalayan border. US-made C-130 transporters land in this patch.
Harshil: An important town on the Himalayan pilgrimage route and also used by the military for operations. During the 2013 flash floods, the region was devastated and the town became an important logistical hub for troops to help with evacuation efforts.
Gauchar: An important civil and military base about 100 kilometers southwest of Joshimath and just 200 kilometers from the border. The bulk of the Indian Air Force's rescue and relief efforts in 2013 were staged from this town.
Pithoragarh: It is an important military and civil hub. Apart from being a large administrative center, it has an airstrip that can accommodate large aircraft and is crucial to the military.
Still, it's difficult to accurately pinpoint the cause of damage in Joshimath in the absence of adequate scientific data, said Kalachand Sain, director of the Wadia Institute of Himalayan Geology in Uttarakhand's Dehradun city.
"The ecology of the region and the Himalayas is complex," said Sain."There are several places where there has been rapid development and construction but are holding. There is need for a thorough and extensive scientific study of the Himalayan region."

#Joshimath #Sinking #town #Indian #Himalayas #spotlights #risks #development #India #News