India
India, Egypt vow to expand ties: All you need to know about their strategic partnership | India News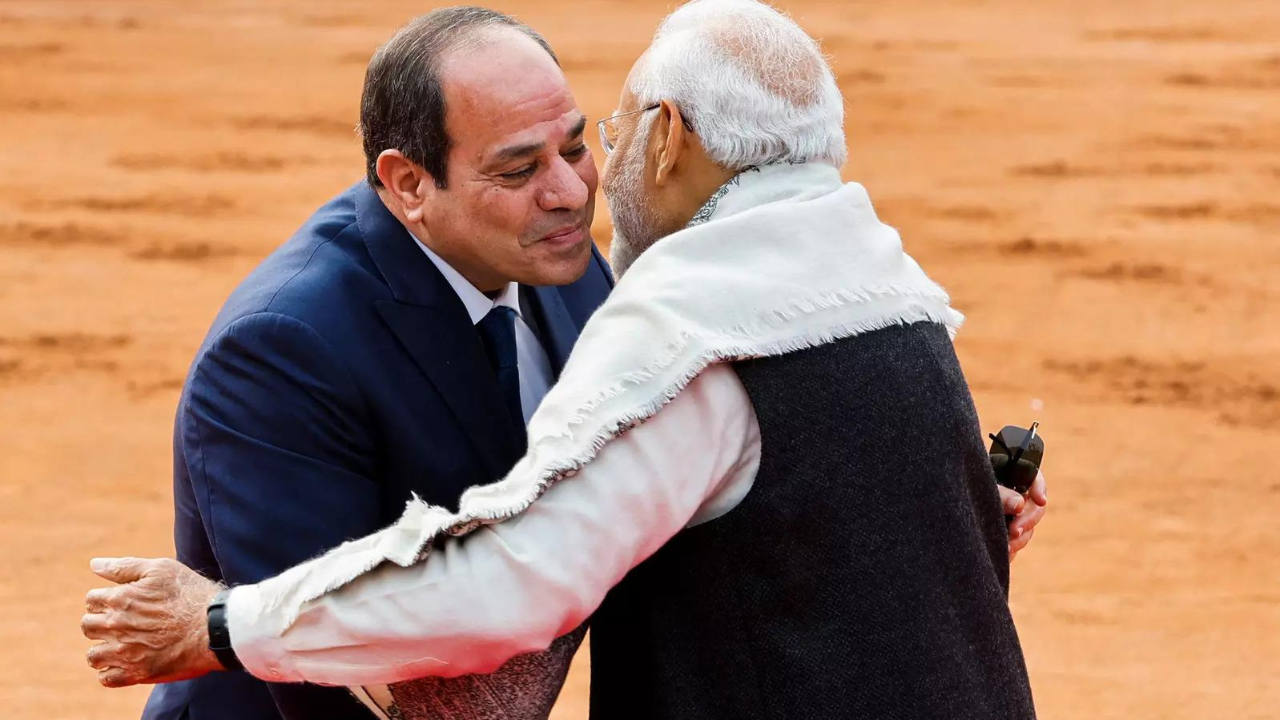 NEW DELHI: Prime Minister Narendra Modi and visiting Egyptian President Abdel Fattah El-Sisi on Wednesday vowed to expand ties in areas of defence and security, trade as well as counter-terror cooperation.
After wide-ranging talks with Sisi, PM Modi said the two sides were unanimous in their view that terrorism is the most serious security threat to humanity and concrete measures are needed to end cross-border terrorism.
The two sides inked five agreements providing for cooperation in areas of culture, IT, cyber security, youth matters and broadcasting.
Sisi, who arrived in New Delhi on Tuesday on a three-day visit, will attend the Republic Day celebrations as the chief guest. This is the first time that the President of Egypt has been invited as a chief guest. A military contingent from the Egyptian Army will also participate in the parade.
India is keen to further expand ties with Egypt, a key player in the politics of both the Arab world as well as Africa. It is also seen as a major gateway to markets in Africa and Europe.
A deeper look at India-Egypt ties:
India and Egypt — two of the world's oldest civilizations — have enjoyed a history of close contact from ancient times. Ashoka's edicts refer to his relations
with Egypt under Ptolemy-II. President Nasser and Prime Minister Jawaharlal Nehru shared a very close relationship, leading to a Friendship Treaty in 1955.
India and Egypt share close political understanding based on long history of contacts and cooperation in bilateral, regional and global issues. The joint announcement of establishment of diplomatic relations at Ambassadorial level was made on August 18, 1947 — just 3 days after India's independence.
Both countries have cooperated closely in multilateral fora and were the founding members of Non-Aligned Movement.
During the second wave of Covid in India, Egypt dispatched three planes with medical supplies to India on May 9, 2021.
The India-Egypt Bilateral Trade Agreement has been in operation since March 1978 and is based on the Most Favoured Nation clause and the bilateral trade has increased more than five times in last ten years. The bilateral trade in 2018-19 reached US $4.55 billion.
Despite Pandemic, the volume of trade declined only marginally to US $4.5 billion in 2019-20 and to US $4.15 billion in 2020-21.
Bilateral trade has expanded rapidly in 2021-22, amounting to US $7.26 billion,registering a 75% increase compared to FY 2020-21. India's exports to Egypt during this period amounted to US$ 3.74 billion, registering a 65% increase over the same period in FY 2020-21.
In FY 2021-22, the top Indian imports from Egypt were Mineral Oil/Petroleum, Fertilizers, Inorganic Chemicals and Cotton. Main items of export to Egypt from India were Buffalo Meat, Iron & Steel, Engineering Products, Light Vehicles and Cotton Yarn.
Around 50 Indian firms have invested in various sectors in Egypt with a combined investment exceeding US $3.15 billion.
Technical cooperation and assistance have been a major part of India- Egypt bilateral relationship. Since 2000, over 1,300 Egyptian officials have benefited from ITEC and other programs like ICCR and IAFS scholarships.
In the field of scientific cooperation, ICAR and the Agricultural Research Center of Egypt are working in the field of agricultural research. 'Science & Technology' cooperation is implemented through biennial Executive Programmes and Scientific Cooperation Programme between CSIR (India) and NRC (Egypt).
Space cooperation is an emerging vertical of cooperation between India and Egypt. Joint Working Group meetings and discussions between ISRO and NARSS (National Authority for Remote Sensing and Space Sciences) have been held, since an MoU was signed in 2008. With Egypt having established EgSA (Egyptian Space Agency) in 2019, both sides have agreed on drafting a new MoU to include EgSA and cover other developments in the sector and is in process.
In a media statement in the presence of Sisi, PM Modi said: "We have decided that under the India-Egypt strategic partnership, we will develop a long-term framework for comprehensive cooperation in political, security, economic and scientific fields."
He further said that both sides have decided to take the bilateral trade to USD $12 billion in next five years.
1/12
Republic Day Parade: Only made in India weapons on display
Show Captions
<br />At this year's Republic Day parade, Indian Army will showcase only Made in India weapon systems including the K-9 Vajra howitzers, MBT Arjun, Nag anti-tank guided missiles, BrahMos supersonic cruise missiles, Akash air defence missiles and the Quick Reaction Fighting Vehicles.<br /><br /><br /><br />
In his remarks, Sisi said there was discussion on boosting connectivity between the two countries. "Egypt wants to see more and more Indian tourists visiting Cairo," he said. "We discussed regional and global issues of mutual interests … We also deliberated on bilateral defence cooperation," he said.
"India and Egypt are two of the oldest civilisations. There is a history of trade relations between our two countries. In the last few years, our bilateral ties have deepened. This year Egypt has been invited as a special guest at the upcoming G20 meeting," the prime minister said.
He also invited PM Modi to Cairo to take the ties between the two countries forward. "I met PM Modi in 2015 in New York and I had full confidence in him. I knew he will take his nation forward. I have invited the PM to Cairo to take our relationship forward," said Sisi.
(With inputs from agencies)
Watch PM Modi holds talks with Egyptian President Sisi

#India #Egypt #vow #expand #ties #strategic #partnership #India #News