Business
In a first, Tata Trusts to have CEO & COO
MUMBAI: In what will be the first such management structure at the 104-year-old foundation, Tata Trusts has decided to have a CEO and COO system.
While it established the CEO role in April 2020, it has now decided to create the COO post to help improve corporate governance. It has appointed Siddharth Sharma (54), chief sustainability officer at Tata Sons, and Aparna Uppaluri (48), programme director for India, Nepal and Sri Lanka at Ford Foundation, as its CEO and COO respectively.
At a Tata Trusts meeting held on January 21, the board of trustees, led by chairman Ratan Tata, concurred to have the CEO-COO structure as it would ensure greater oversight on fund allocation (Tata Trusts has an annual distribution grant of over Rs 1,800 crore) and better governance standards at the foundation.
Unlike in the past where Tata Trusts offered education, medical and other grants only to individuals and institutions, it now supports large-scale projects like a cancer care hospital chain across India. It has granted more than Rs 1,000 crore over the last few years for building cancer care facilities and strengthening the existing infrastructure in the country.
While the CEO-COO structure will be a first at Tata Trusts, this system is in place at some of its promoted entities like TCS and Tata Consumer Products. Sharma will succeed N Srinath, who stepped down from the CEO's post last year following his retirement. Uppaluri will be the first woman outside Tata Group to oversee the philanthropic activities at one of India's oldest foundations.
In the past, Ratan Tata's half-sister Deanna Jeejeebhoy was the acting trustee at Sir Dorabji Tata Trust, one of the key foundations within Tata Trusts. This is Tata Trusts' second attempt at a new management structure in the last three years. In April 2020, it created the CEO post for the first time after discontinuing the decade-old managing trustee role.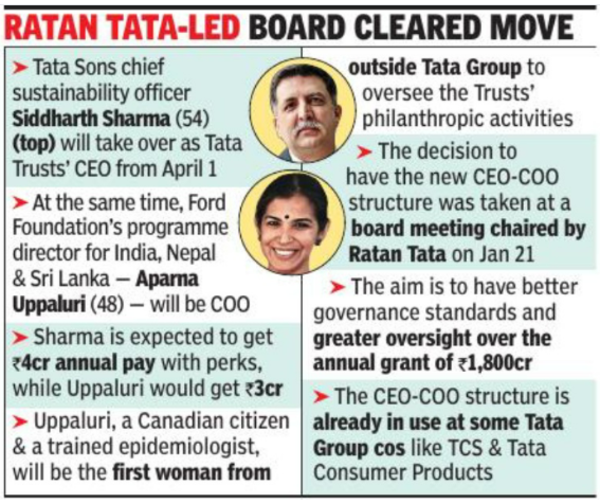 Sharma will be the third Tata Group executive after Srinath and R Venkataramanan to move to the corner office at Tata Trusts after Ratan Tata increased his focus on the philanthropic organisations following his retirement as chairman of Tata Sons in December 2012. Sharma, a former civil servant, joined Tata Sons in June 2019. Uppaluri, a Canadian citizen and a trained epidemiologist, has been with Ford Foundation for four years. She will lead and implement social programmes at Tata Trusts.
Tata Trusts chose an internal candidate in Sharma as its CEO. But for the COO's post, it went for a lateral hire in Uppaluri, who was recommended by recruitment firm Egon Zehnder. Sharma and Uppaluri will assume the CEO and COO offices in April. However, Sharma may start familiarising with Tata Trusts and its philanthropic model from January-end, said sources.
Tata Trusts created the CEO post to accommodate Srinath after it ran into trouble with income tax authorities over the high compensation it paid its then managing trustee, R Venkataramanan. The income tax department had said that Venkataramanan's compensation, which ran into a couple of crores, was not in accordance with the Tata Trusts' deed that fixed a trustee's salary at Rs 1,000.
After Tata Trusts discontinued the managing trustee post, it could formulate compensation for its executive management without any issues. Sources said that Sharma will receive an annual salary of over Rs 4.5 crore along with perks, while Uppaluri will receive a yearly pay of more than Rs 3.5 crore in addition to benefits.

#Tata #Trusts #CEO #COO